College Basketball Power 10: Kentucky Isn't The Best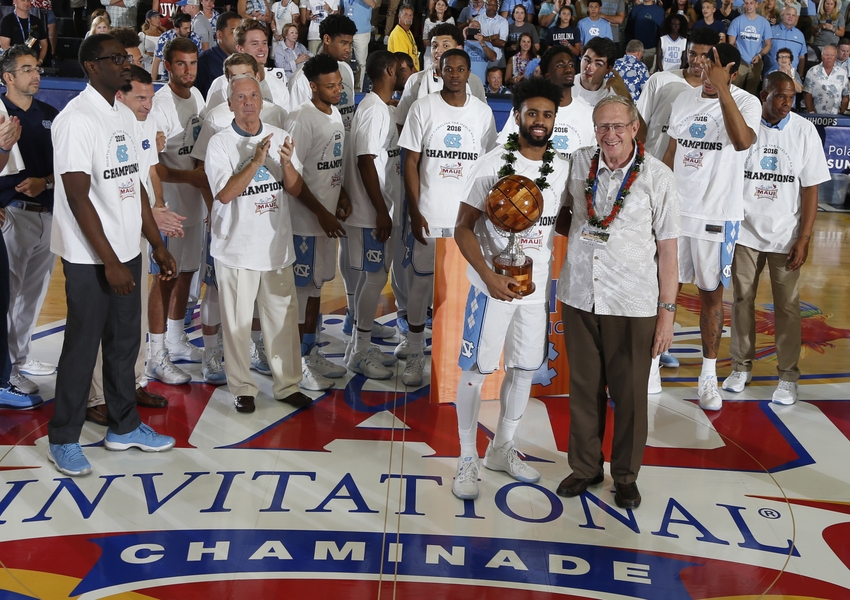 Kentucky may be ranked No. 1 in the Associated Press Poll, but read on to learn the identity of the actual best team in college basketball in the early going.
After a week of early season tournaments, there is a better idea which teams in college basketball are the best so far this season. College basketball is in full swing and teams are starting to find their rhythm and identity.
Besides a few minor upsets, there hasn't been a ton of craziness in college basketball yet. That being said, the third-ranked Indiana Hoosiers suffered the first major upset of the college basketball season last week.
Indiana-Purdue-Fort Wayne defeated Indiana on Nov. 22. The Hoosiers looked lost the whole game and lost 71-68 in overtime to a team that lost to Illinois State by 18 just six days before.
As for the rest of the nation, everyone is still waiting for Duke's freshman trio or Harry Giles, Marques Bolden and Jayson Tatum to return from injury. Also, the annual Big Ten/ACC Challenge will have the marquee games of the week.
Every Monday, the Associated Press releases its Top 25. This power ranking has nothing to do with the AP rankings, rather I base it off what teams are playing the best right now.
The potential of teams is factored in some, however a team like Duke won't be looked at as if their three freshmen are healthy.
10. Creighton (6-0)
After Doug McDermott graduated, Creighton missed the NCAA Tournament the past two seasons. This season, they're back to being a top-10 team and a contender in the Big East alongside Xavier, Villanova and Butler.
Creighton gets the nod at No. 10 this week because they're undefeated and have three quality wins. The Blue Jays faced four Power Five opponents through six games and are winning by an average of 16.3 points per game.
That's not to mention Creighton has handed three of those four Power Five foes their lone losses of the season thus far.
They don't have a McDermott leading them on offense, however shooting 54.6 percent from the field and 48.2 percent from three as a team will get the job done more often than not. That being said, Creighton does need to shoot better than 68.4 percent from the line.
Creighton's biggest win of the young season came in their second game against Wisconsin. The ninth-ranked Badgers played Creighton tough; however, the Blue Jays pulled away with about 6:30 remaining and put the game away for good with just more than a minute left.
Three players for Creighton scored in double-figures and their ability to out-play a veteran Wisconsin team in crunch time is impressive. That win exemplifies Creighton's depth and maturity early in the season.
Creighton hosts Buffalo and Akron in the upcoming week.
9. UCLA (7-0)
UCLA's offense is as explosive as any in the nation this year. They've topped 100 points three times and also scored 99 points against Portland.
They have four players averaging at least 16 points per game and the Bruins have the perfect mix of veterans and freshmen to make a deep run in the NCAA Tournament.
Lonzo Ball is one of the best freshmen in the nation. He's arguably the best passer in the nation and already has four double-doubles through seven games. Freshman big man T.J. Leaf is also playing great to start his career.
However, outside of Ball and Leaf, UCLA's rotation consists mostly of upperclassmen. Bryce Alford takes over late in games and Isaac Hamilton, Aaron Holiday and Thomas Welsh are also key contributors.
The Bruins haven't faced a ranked team yet, but their 74-67 win over Texas A&M on Sunday night is a quality win. The Aggies are a good team with a dominating front court, and UCLA contained them and pulled away at the end.
Ball and Leaf looked composed under pressure, while Alford, who struggled shooting the whole game, made four clutch free-throws to secure the win. Plus, the Bruins won with defense.
They only scored 74 points, their lowest mark of the season, and showed they can up the defensive intensity late in games.
The Bruins will have their biggest test of the season this week. UCLA plays UC Riverside and travels to Lexington, Ky., on Saturday to face Kentucky.
8. Gonzaga (6-0)
The AdvoCare Invitational is not easy to win, but Gonzaga impressed in all three wins. A win over Quinnipiac won't draw headlines; however, the Bulldogs came back from down five at halftime to convincingly beat a good Florida team.
Plus, Gonzaga controlled the entire game against a ranked Iowa State team.
Sure, Gonzaga blew an 18-point second half lead and only won by two, but they dominated the Cyclones for three-fourths of the game and made the Cyclones uncomfortable late in the game.
There was only one point scored in the last three minutes between Gonzaga and Iowa State.
While Gonzaga's offense has to be more productive, they played great defense against Deonte Burton, who finished the game with 29 points, and Monte Morris, a preseason All-American, without fouling.
Iowa State took multiple bad shots and looked out of sync after a great five-minute stretch.
Right now, Gonzaga is beating good teams, including a 21-point win over San Diego State, and blowing out bad teams. In the early season, that's all you can ask for.
Transfers like Johnathan Williams and Nigel Williams-Goss are finding their footing, and Gonzaga already has an identity through six games.
Gonzaga hosts Mississippi Valley State and a ranked Arizona Wildcats team this week.
7. Virginia (6-0)
Virginia won the Emerald Coast Classic and has won by double-digits in every game this season. The Cavaliers could be ranked higher, but they simply haven't played anyone that good yet.
Iowa and Providence were both tournament teams last year, but Iowa lost four starters from a season ago and Providence lost Kris Dunn and Ben Bentil from a year ago.
Give Virginia credit for holding potential All-American Peter Jok to 13 points and Iowa to 41 points as a team, but Virginia needs to beat a good team for people to buy into the hype.
One thing that is easy to buy into, though, is Virginia's defense. After allowing the second fewest points per game a season ago, Virginia is allowing the fewest in the nation through the first couple weeks of the season.
Teams are only scoring 41.3 points per game against them, and Virginia has held three opponents to less than 30 points.
Offensively, without Austin Nichols, Virginia is still trying to figure it out. Only one player is averaging double-digit points and freshman Kyle Guy is still inconsistent. He scored 20 points against Grambling State but followed it up with a combined seven points in the Emerald Coast Classic.
Virginia's defense will win them games against bad and even some good teams, but there is a lot of uncertainty about their offense against the top teams in the ACC.
They scored 90 points against Grambling State, however it's hard to tell if Virginia will be able to reach 70 points against great competition.
With games against Ohio State and West Virginia this week, we'll get a better idea of their offensive capabilities.
6. Duke (6-1)
Duke is a borderline top-five team without Harry Giles, Marques Bolden and Jayson Tatum, and with a banged-up Grayson Allen. When they get healthy, Duke will undoubtedly be the favorite to win the 2017 championship.
With an unhealthy roster, Duke only lost by two to a top-10 Kansas team and comfortably beat a ranked Rhode Island team that is better than most people think.
They've done it with stellar play from Luke Kennard, Amile Jefferson and freshman Frank Jackson. Kennard leads the team with 17.1 points per game on 47.7 percent shooting. Although, fifth-year senior Jefferson has been the rock down low Duke's needed while they battle injuries.
He's averaging 13.6 points, 9.4 rebounds and 2.1 blocks per game. His role will decrease if Giles and Bolden return from injury; however, Jefferson, along with Allen, is the veteran leadership Duke needs to lead their team full of freshmen come March.
It is impressive how good Duke has been in the early season without the top recruiting class in the nation. The biggest road block they'll face is if any of their three freshman sit out the whole year or incorporating them into their rotation once they get healthy.
That being said, Duke currently only has a seven-man rotation; therefore any added depth would be beneficial.
Their non-conference schedule doesn't get easier this week with a nationally televised matchup against Michigan State, while the Blue Devils also host Maine.
5. Kansas (5-1)
Frank Mason III, Devonte' Graham and Josh Jackson comprise one of the best trios in college basketball this year.
Mason, a senior, and Graham, a junior, are teaching Jackson the ropes early in the season, and the second-ranked high school prospect in the class of 2016 is already impressing.
Jackson is already starting to find his rhythm, which means he'll be even scarier later in the year. He impacts the game on both ends of the floor and leads the team in rebounds per game.
That being said, Mason is still the leader of the team and Kansas will go as far as he takes them this year.
Kansas is a veteran team with a lot of potential. Shooting 50.3 percent from the field as a team through six games shows how good they are now and how good they can be.
Kansas started the season by losing to Indiana in overtime by four, however rebounded with an impressive two point win over Duke.
They've had their ranked matchups in non-conference play already, therefore now it's Bill Self's job to get his team ready to try to win another Big 12 championship.
Kansas will host Long Beach State and Stanford this week.
4. Kentucky (7-0)
Kentucky is good, that's a fact. Malik Monk, De'Aaron Fox and Bam Adebayo are having great starts to their careers. However, Kentucky simply hasn't played anyone that good to warrant a spot higher than No. 4.
Stephen F. Austin, their first win of the season, lost star player Thomas Walkup from a year ago, and Michigan State is still trying to find their identity. Not to take anything away from two 20-point-plus wins, but it's not like the Wildcats are beating great teams right now.
In fact, outside of a struggling Michigan State, Kentucky hasn't played any noteworthy team.
Monk delivering a beautiful pass to Fox off the backboard for an alley-oop is impressive, but remember it's just one play against Cleveland State.
It highlights the athleticism and showmanship Kentucky's freshmen have, but that play alone doesn't show how good Kentucky will be this season.
Along with their stellar freshmen, Isaiah Briscoe is a big reason the Wildcats are worthy of the top ranking in the AP poll. Kentucky will have their first test of the season on Saturday against UCLA, but won't have a true road test until late December at Louisville.
If Kentucky destroys UCLA, or wins convincingly, it'll be easier to buy into the hype. Until then, it's just more noise surrounding great freshmen who haven't played in a big game yet.
3. Baylor (6-0)
Try to find a hotter team in college basketball than the Baylor Bears. They're 6-0 with wins over Oregon, Michigan State, Louisville and VCU. Oregon and Michigan State are off to shaky starts, and the Ducks didn't have Dillon Brooks, but it's still three wins over ranked teams on their resume.
It's more than just Baylor's ability to win games. The Bears are easily the best second-half team in the nation, and they've continued to prove that.
Baylor trailed by three points to Michigan State, eight to VCU and 15 to Louisville at halftime. They managed to outscore those three opponents 128-76 in the second half to win.
It's a testament to Scott Drew's coaching, Baylor's talent and never give up attitude.
Not to mention Johnathan Motley is currently playing out of his mind. Motley is averaging 17.8 points per game, 7.0 rebounds per game and is shooting 51.6 percent from the field.
It will be very hard to beat Baylor if he maintains that production. It might just be a hot start, but it's still very impressive considering Baylor's early season schedule.
Maybe ranking Baylor third is a little overreaction, but they're defying odds and keep winning. It wouldn't have surprised many people before the season if Baylor was 2-4 right now and looked lost, but they're still undefeated and a top-10 team instead.
The Bears play Sam Houston State this week and then go for their fourth win over a ranked opponent on Saturday at home against Xavier.
2. Villanova (6-0)
Losing Ryan Arcidiacono isn't easy, but it helps when you can replace him with a former McDonald's All-American and starter from last year's championship team in Jalen Brunson. As a result, Villanova hasn't lost a beat and looks arguably better than last season at this point.
Josh Hart is averaging 18.2 points per game on 57.4 percent shooting from the field and 44.4 percent shooting from three. The Wildcats needed him to become their star and go-to player on offense, and he's done just that.
Villanova's biggest win of the season came in their second game against Purdue. They forced Isaac Haas into foul trouble and controlled Caleb Swanigan in the second half.
A backcourt consisting of Brunson, Hart and Kris Jenkins is second to none, but winning against a team with an elite frontcourt answers a lot of questions for the Wildcats.
If they can win inside and out, they could be poised for another championship run. Right now, Villanova looks as good as any team in the country and as unbeatable as they come.
Their maturity, talent, poise under pressure and head coach Jay Wright will make it very hard to beat them, as they have very few flaws teams can expose.
Even though they don't have a 20-point win since their season opener against Lafayette, the Wildcats are taking teams out of the game early, which is important for great teams against mid-majors.
The Wildcats will play Penn and Saint Joseph's this week.
1. North Carolina (7-0)
North Carolina is a veteran team without a roster full of star freshmen. Therefore, many people forgot about North Carolina before the season, but they'll quickly be remembered as the Tar Heels are the best team in the nation.
Joel Berry II looks like the best player in the ACC, Justin Jackson is still underrated, and Isaiah Hicks and Kennedy Meeks form one of the deadliest front courts in the nation.
Plus, freshman Tony Bradley found his footing in the Maui Invitational and is averaging 10.7 points per game on 68.3 percent shooting.
In the Maui Invitational, Jawun Evans of Oklahoma State went off for 30 points, but the Cowboys still lost 107-75.
The score doesn't do justice to how well North Carolina played. Oklahoma State isn't a bad team, but the Tar Heels sped up the pace and took everyone outside of Evans out of the game.
Then, in the championship game, Wisconsin forced North Carolina to play at a slower tempo. It worked for a while, as both teams played great defense, but the Tar Heels eventually pulled away early in the second half and won 71-56.
The Tar Heels can score and will put up a lot of points if you allow them to play fast, but they proved that they can win at a slower pace, too.
Joel Berry II and Kennedy Meeks need to keep up their production for the Tar Heels to remain the top team in the country. If it's not just an early season hot streak from those two, North Carolina looks Final Four bound.
North Carolina travels to Indiana and hosts Radford on Sunday.
This article originally appeared on