Cody Zeller's Extension is a Steal for the Charlotte Hornets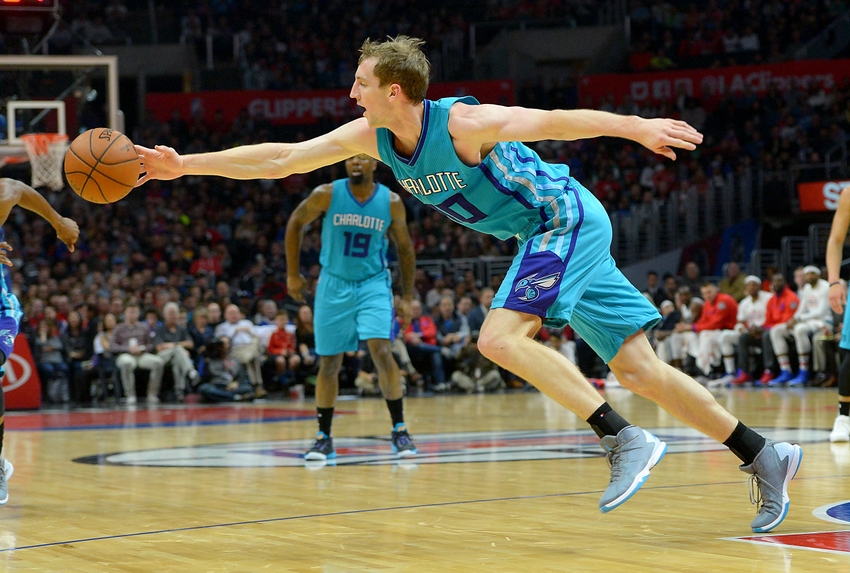 With Cody Zeller's recent team-friendly, contract extension, the Charlotte Hornets' business savvy was once again on full display.
Over the past few years, the Charlotte Hornets and general manager, Rich Cho, have made a number of team-friendly deals with their players. The latest being Cody Zeller, who signed a four-year, $54 million deal to avoid restricted free agency. This contract could be a steal for the team in a few years.
After signing Nicolas Batum (five-year, $120M) and Marvin Williams (four-year, $54.5M) this summer, Rich Cho continued his great deals with Zeller. A number of factors make this move a steal for Charlotte. Cody has upside, signed for less than similar players, and is an integral part of the team going forward. The team also avoided the struggle of restricted free agency and debating whether or not to match a potentially big offer sheet for Zeller.
The Hornets have made a living off of signing players to team-friendly deals in the past few seasons. With Jeremy Lin, Ramon Sessions, and Roy Hibbert all signing for a minimal amount in attempts to resurrect their careers in some way. As a small market team, Charlotte doesn't have the same resources as Los Angeles, Golden State, or Miami but they make do with what they have and signing Zeller to this deal is another reason why the franchise is on the up-and-up.
More from Swarm and Sting
Upside?
The 24-year old big man is entering his fourth season in the NBA and while his upside may not be that of Karl-Anthony Towns or Anthony Davis, Zeller has improved every year. Since his rookie season, Cody's numbers in points per game, rebounds per game, blocks per game, and shooting percentage from the field. In 2015-16, he averaged a career-high 8.7 PPG, 6.2 RPG, and 0.9 in BPG.
Zeller has been developing more and more of an offensive game that was raw when he entered the league. He is adding a mid-range jumper and better post moves while also becoming a better defender and rebounder. Critics will say he's undersized for the center position but his quickness and athleticism gives him an advantage over bigger opponents.
While Cody Zeller may be close to a finished product, he still has some room to grow and develop his game. With more minutes and playing time under Steve Clifford, he could average close to a double-double. His pick-and-roll offensive links perfectly with Kemba Walker.
Want your voice heard? Join the Swarm and Sting team!
Similar Deals
Other big men in the 2013 draft class signed contract extensions before the October 31st, 2016 deadline along with Zeller but they came at a much higher cost. Steven Adams (four-year, $100M) and Rudy Gobert (four-year, $102M) got paid and rightfully so. They are the current/next wave of all-star centers.
Only one other big man, Gorgui Dieng, signed a contract extension and that was for four-years, $64 million. It makes the most sense to compare Zeller to Dieng because Adams and Gobert have been much better and deserve the money they got. Gorgui got $10 million more than Cody but is he really $10M better?
Dieng has averaged 1.1 more PPG, 1.6 more RPG, and 0.6 more BPG than Zeller in his career. These differences are minimal but Gorgui has been slightly more productive. Age should also be factored into the equation as Dieng is 26 and Zeller only 24. The Minnesota Timberwolves' big man got his money but Charlotte was able to get a bit of a discount with the re-signing of their big.
Cody's Future in Charlotte
The 7'0 big man has largely been used as a back-up during his time with the Hornets. Zeller only started three games his rookie season, 45 in his sophomore year, and a career-high 60 last season only because Al Jefferson went down with injuries. Other than that, Cody hasn't been given a large amount of opportunity with the starting unit.
Even in limited minutes, he has showcased good skill and production. Now in his fourth season, most thought he would take the starting center role with Big Al leaving in free agency. Instead, Roy Hibbert has made the spot his own with the team.
Even if Hibbert does man the starting five spot, Zeller is the long-term option. Roy will probably have a bounce-back season and leave in free agency for a larger contract than Charlotte will give him. (i.e. Jeremy Lin) That leaves Cody as the Hornets' big man going forward.
Many are split on Cody Zeller as a player but the Charlotte Hornets believe in their 2013 first round pick. After signing the extension, "The Big Handsome" said that "I'm a simple kid from Indiana… I'd play this game for free." If that was the case, Rich Cho and company messed up big time.
This article originally appeared on