Coach Dave Joerger: Offensive History and Expectations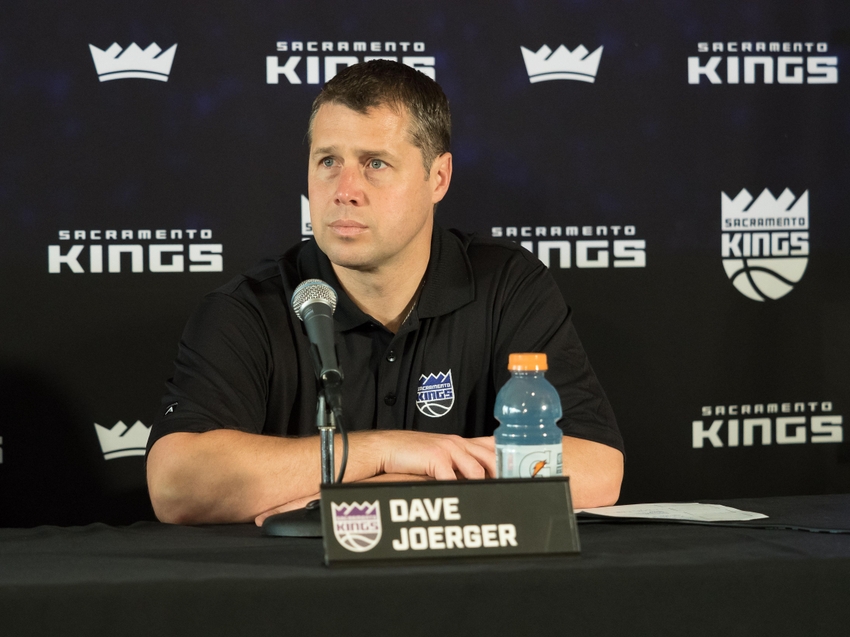 This article takes a look at the offensive statistical history of Sacramento Kings new Head Coach Dave Joerger to try to figure out what to expect from the Kings offense this season.
The Sacramento Kings hired a very successful young head coach this offseason.  Below is the video of Dave Joerger's introductory news conference with the Kings.
Dave Joerger brings along 3 years of head coaching experience to Sacramento.  In those 3 years, Joerger won 59.8% of his regular season games and made the playoffs every season in Memphis.  In 2014-2015, Joerger's Grizzlies even advanced to the 2nd round of the NBA Playoffs.  Stats courtesy of Basketball-Reference.  Joerger is only 42 years old and the Kings did well to hire a coach of his age and experience level.
Now, let us take a look at how Joerger's Grizzlies operated on the offensive end of the floor to attempt to gauge what the Kings offense will look like for this season.
Coach Joerger's Career Pace
First, let us examine the pace of his teams.  Last season, the Kings lead the NBA in pace 102.24 possessions per 48 minutes.  Joerger's Grizzlies finished 30th (92.25), 26th (94.21), and 27th (95.65) in each of his seasons in chronological order.  Joerger's teams improved their possessions per 48 each season but topped out at 95.65 or 6.59 possessions less than the Kings created per game last season.  Stats courtesy of NBA.com/stats.
Expect the Kings to slow things down this season and run some slower offensive sets.  The Grizzlies were not a team built to run up and down the floor, but Coach Joerger seems content to slow things down and try to create effective offense.  I could see the Kings moving faster than 95.65 possessions this season, but I would guess they finish around 98-99 possession per 48. That will put the team around the middle of the pack (10th-18th) in the NBA in pace this season.
3 Point Production
The Kings rated 21st in 3 pointers attempted last season taking 22.4 attempts per game.  The Grizzlies ranked 30th (14.0 attempts per game), 29th (15.2), and 26th (18.5) during Joerger's tenure.  Joerger's teams do not shoot a high volume of 3 pointers.   The Golden State Warriors led the NBA last season with 31.6 3 point attempts per game or 13.1 more attempts than the Grizzlies took.  Stats courtesy of NBA.com/stats.
I look for the Kings to shot a similar number of 3 pointers as they did last season.  I think Joerger wanted to run a little more and shoot a few more 3's in Memphis but did not feel he had the roster to do so.  The Kings should settle in around 23 3 point attempts per game and with the addition of some quality 3 point shooters this offseason will probably shoot a relatively high percentage compared to the rest of the NBA teams.
Advanced Metrics
Now let us examine some advanced metrics to see how Coach Joerger's Grizzlies ranked among the analytical numbers.  If you view offensive rating (the number of points scored per 100 possessions for the team), the Grizzlies rated 22nd in the NBA last season at 102.6 points.  Injuries wreaked havoc on the Grizzlies last season, but in his other 2 years, they ranked 13th (103.1) and 17th (103.3).  I think Joerger has shown he can be relatively league average in this category.  This should create an even keel as the Kings rated 14th in this category last season.
If you look at true shooting percentage it tells a different story.  The Grizzlies ranked 27th last season at 52.4%, but 18th (53.1%) and 21st (52.9%) in his other 2 seasons.  True shooting percentage as a stat includes the value of 3 pointers and free throws, which shows that Joerger's teams struggle in those areas.   I hope that Joerger can keep the Kings around their ranking of last season at number 11, but if history tells the story the Kings will slide in true shooting percentage.  All stats courtesy of NBA.com/stats.
I do not want to weigh you down with too many numbers, so let us now put a bow on this and draw some conclusions on what the Kings offense will look like this season.
Summary
Coach Dave Joerger's win/loss record and coaching history speak for itself.  3 years as Head Coach of the Memphis Grizzlies winning almost 60% of his regular season games and making the playoffs every season.  I do not doubt his coaching ability because he clearly is well-equipped in that area.
His Grizzlies teams were never run and gun or 3 point shooting teams.  They ranked no better than 26th in either category during any of his 3 NBA seasons as head coach.  He may bend that philosophy slightly to fit the Kings roster better, but I do not see him making a seismic shift in his offensive system.  Expect the Kings to be middle of the pack in pace and around 20th in 3 point attempts.
If you like to view advanced metrics, I suspect Joerger's Kings to rate about the middle of the road in offensive rating and true shooting percentage.  Joerger's teams have historically struggled more in true shooting percentage and I suspect that trend will continue.
Overall, you will not see the Kings leading the NBA in pace again this season unless Coach Joerger makes a massive shift in philosophies.  I suspect the Kings to slow down and be more ball control on offense this season.  It will be interesting to see if that leads this Kings squad to be more effective or less so.  I will be monitoring their pace closely early in the season and look forward to seeing the cascading effects that pace has on the Kings offense.  Here is to hoping the Kings are up there in pace and even more effective on offense this season with their recent additions.
This article originally appeared on