Cleveland Cavaliers: The Return Of All-Star Level Kevin Love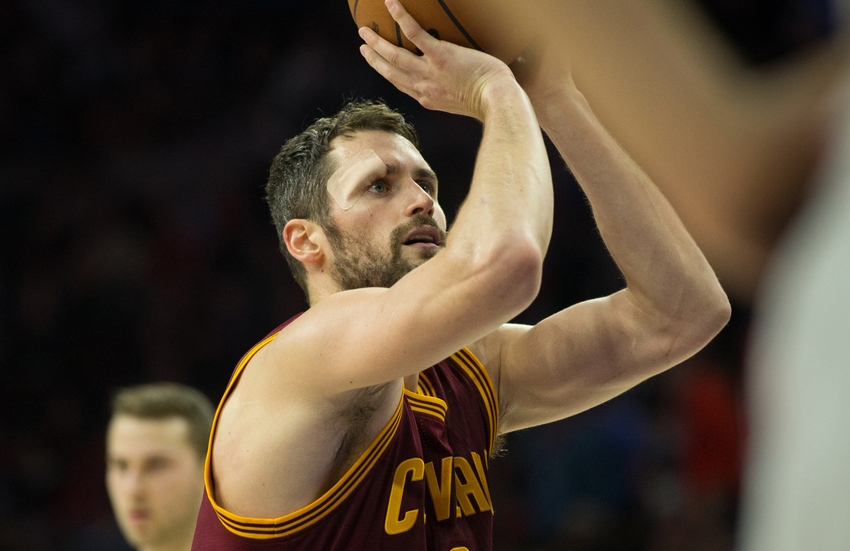 Not to anyone's surprise, the Cleveland Cavaliers have opened the season in spectacular fashion.  However, what has been surprising has been Kevin Love's return to form as an All-Star caliber player.
For the second straight season, the defending champion Cleveland Cavaliers have came out soaring to start the year.
At 13-3, the Cavaliers arguably have never looked as smooth as they have right now, at least during the regular season under LeBron James' second tenure with the team.
Obviously, that's not particularly surprising coming off their monumental title-winning season last year.
Yes, we're only a month into the regular season, but the Cavaliers currently have the third-best offense in the league (per NBA.com/stats), trailing only the Golden State Warriors and Toronto Raptors.
That has been led by the likes of James as well as Kyrie Irving, who have both started the season terrific in their own respective ways.  But the most surprising contributor in some ways joining them this year has been their fellow "Big 3" cohort, Kevin Love.
Since arriving in Cleveland more than two years ago, no player in the NBA has been questioned more than Love.
From his fit next to James and Irving to his top-level status as a player in the league, practically every aspect of Love as a player has been scrutinized to ridiculous degrees.
Some of it was certainly warranted as the strengths of Love's production during his days playing with the Minnesota Timberwolves largely took a hit in his move to Cleveland.
Of course, other key factors such as injuries came into play for Love, often at critical times as well, like in the playoffs in the last two seasons.  Nonetheless, Love's place within the Cavs certainly looked in question, even as they were on their way towards their second straight NBA Finals appearance last year.
Now that the expectation of delivering a title have been met, however, the endless speculation surrounding Love has died down.  And any doubt that still lingers around Love, he's doing his best to squash that once and for all based on his play this year.
In the Cavs' first 16 games, Love has looked a lot like his former self as he's averaging a double-double in both points per game (21.8) and rebounds per game (10.9).
Along with those impressive numbers, Love's efficiency has never been as strong as it has been right now, shooting 41.9 percent from three-point range (on 5.8 three-point attempts per game!) and averaging a true shooting percentage of 60.5 percent in 31.7 minutes per game.
For the sake of comparison, only Stephen Curry, Kevin Durant, Jimmy Butler and George Hill (albeit in 11 games) are in the realm of efficiency and scoring output that Love is currently at, according to Basketball-Reference.com.
When it comes to his level of efficiency, scoring output and rebounding numbers, Love is in a class all to himself so far to start the year.
Again, it's early, but Love's significant uptick in production, having performances such as his first quarter eruption against the Portland Trail Blazers last week and earning player of the week honors have certainly caught the eyes of many recently.
With that said, it can't help but feel like Love's resurgence is still flying under the radar.  Now more than ever has Love looked as integral playing alongside James, Irving and the Cavaliers as a whole.
It's also not just on the offensive end as well and there's no bigger indicator of that than the Cavs being eight points per 100 possessions worse defensively in the 261 minutes Love is off the floor.
Even with the Cavs being a middle of the road defensive team at this point, it's still surprising to see only James rank ahead of Love in that category.
It may be a matter of wanting to let the season play out just a little more, but there are more signs suggesting Love is reasserting himself as a top-level player again in the NBA, maybe even more.
To put it simply, most of what Love is doing right now is unmatched by even what the unquestionably best players in the league have to offer.
Whether Love's strong start changes for better or for worse remains to be seen, but make no mistake that he's playing back to his former All-Star-like level, just now as part of an elite team.  It's just time we start consistently saying that.
This article originally appeared on