Cleveland Cavaliers: Kevin Love Steals The Show In Win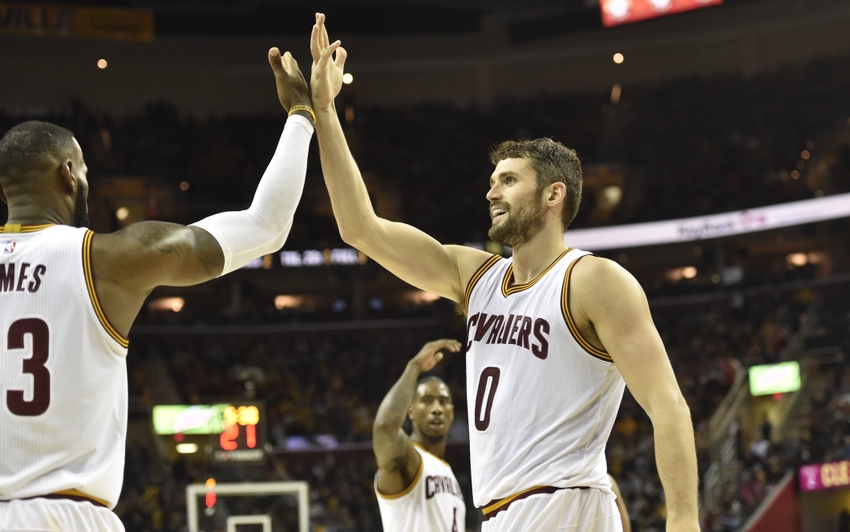 The Cleveland Cavaliers defeated the Portland Trail Blazers in an offensive battle, 137-125. Can Kevin Love keep up this level of production?
I think it's time to put to rest any Kevin Love trade rumors ever again.
This was the best offensive performance I have seen from him since being traded to the Cleveland Cavaliers for Andrew Wiggins in 2014. All the doubters and different scenarios for him being traded should never be discussed again.
If last postseason, and the beginning of this season haven't convinced the naysayer's, I don't think anything will. Love set the record for points in the first quarter by scoring 34. He was only four points shy of breaking Golden State Warriors' Klay Thompson record of 37 scored in any quarter.
He single-handedly outscored the Portland Trail Blazers 34-31 in the first.
Love went 8-for-12 from three-point range, and likely would have had more if his teammates saw him on a few more open opportunities. He shot 12-for-20, and finished with his first 40-point game since his last season with the Minnesota Timberwolves.
No matter where he was spotted–at the top of the key, or on the wings, he couldn't miss. There also wasn't much defense played, given the season-high 125 points the Cavaliers allowed. While Love was white-hot from three-point range, the Cavaliers as a whole were right behind him.
According to Joe Vardon of Cleveland.com, the Cavaliers set an NBA record with 16 first-half three-pointers, and a team record with 21 three-pointers on the night. They went 21-for-36 overall from long range.
However, there were more records set on the historic night.
LeBron James recorded his 44th career triple-double and passed four-time All-Star Guy Rodgers for 17th place on the all-time assist list. James now has 6,927 assists for his career.
Damian Lillard tried his best to keep the Trail Blazers in the game by scoring nearly half of their points. He finished with 40.
The outcome of this game was a far cry from the 29-point annihilation handed to the Cavaliers by Portland on Dec. 26 of last season.
David Blatt was still the coach of the Cavaliers at the time, but comparing the progress of where the Cavs were then as opposed to where the group stands today is fascinating.
It's also interesting how much the Trail Blazers have struggled compared to last season.
It's still the same team with C.J. McCollum and others, but they aren't catching opposing teams by surprise as they did last year, when the team was unburdened by expectations.
Teams realized that if you let Lillard score and force his teammates to shoot and make plays, it's a recipe for victory–especially with such a young team.
It was a great Thanksgiving Eve victory for the champions, but will they be able to keep this pace of three-point attempts up and win games?  We shall see as the season gets deeper.
This article originally appeared on