Cleveland Cavaliers: Jordan McRae appears as a trade target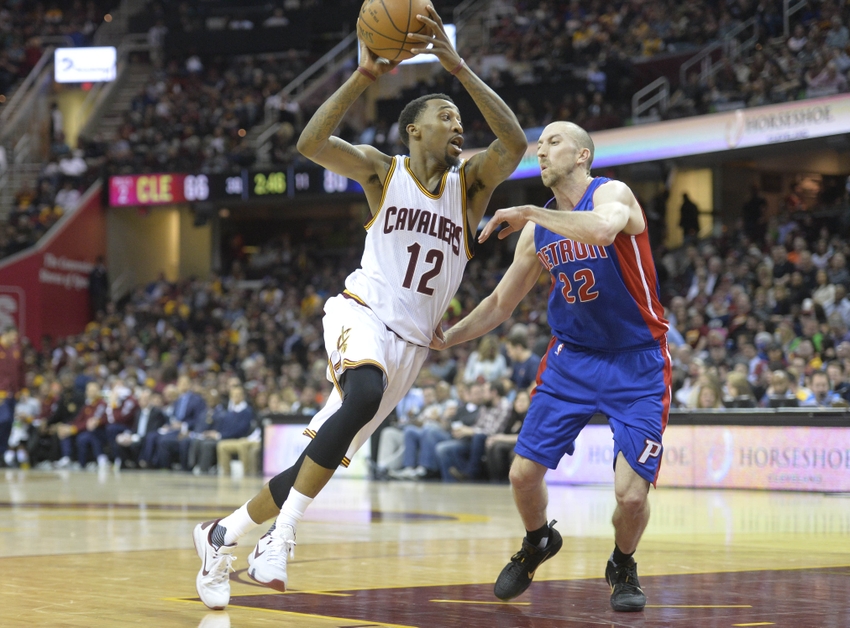 Cleveland Cavaliers guard Jordan McRae is a trade target.
It appears as if the Cleveland Cavaliers aren't the only team that believes in Jordan McRae. According to Terry Pluto of cleveland.com, other teams have been asking about McRae's availability in a trade.
This isn't very surprising. McRae, a 25-year-old shooting guard who was selected with the 58th pick in the 2014 NBA draft, has bounced around the league in his first couple of years. However, since arriving on the Cleveland Cavaliers, he's been in a stable basketball environment. This has allowed McRae to blossom into a valuable role player for the a championship team.
Here's a brief rundown:
After being drafted by the San Antonio Spurs, he was traded to the Philadelphia 76ers on draft night. He was waived by the 76ers and signed a 10-game contract with the Phoenix Suns after two seasons in the NBA D-League. A stint that was culminated by a record-breaking 61-point-game with the Delaware 87ers.
The Cleveland Cavaliers, on a championship run, then signed McRae to a multi-year contract.
While showing flashes of his potential in his first year in Cleveland, including a 36-point game against the Los Angeles Lakers. McRae entered this summer looking like he had captured his lighting in a bottle. He sizzled his way to a 24.3 points per game performance in the Las Vegas Summer League circuit and earned NBA Summer League first-team honors.
This preseason, McRae has generally been stellar. He's averaged 15.4 points per game through five preseason exhibitions. In addition, he's averaging 4.0 assists per game as he learns how to use his driving ability to open his teammates for open shots.
McRae scores from all over the floor and he's an impressive slasher who draws a lot of contact. That's why teams want him.
As for his defense, he hasn't been a notorious defender but he's on a championship that prides itself on defense. He's added 10 pounds this season and has a 7-foot-0 wingspan. Though he's not incredible athletic he has a physical profile that will allow him to be a strong defender.
The Cleveland Cavaliers plan to use McRae as a spark plug of the bench, in a Jamal Crawford-sense. So, ultimately, the Cavs don't want trade him. Especially since he's endeared himself to core members of the group such as LeBron James, Kyrie Irving and Iman Shumpert. However, it's still interesting to note that he has drawn trade interest.
Because he's signed to a minimum contract, McRae has a salary just under $1 million and there aren't many players making a minimum contract worth trading for. However, the Cleveland Cavaliers have a $9.6 million trade exception from the three-team trade that sent Anderson Varejao to the Portland Trail Blazers and brought Channing Frye to Cleveland.
When the Cavs look around the league, there could be players with $10-$12 million salaries worth trading for.
McRae's trade availability going to be a storyline to follow this season as the Cleveland Cavaliers try to repeat as NBA champions. The Golden State Warriors have a superstar-laden that looks like the team to beat, so the Cavs may be forced to make a move to put them over-the-top. Whether they need to remains to be seen, still, it's an option David Griffin has in his back pocket.
Do you think the Cleveland Cavaliers will trade Jordan McRae? Let us know in the comments section or Twitter @KJG_NBA.
More from King James Gospel
This article originally appeared on