Cleveland Cavaliers: J.R. Smith returns against the Washington Wizards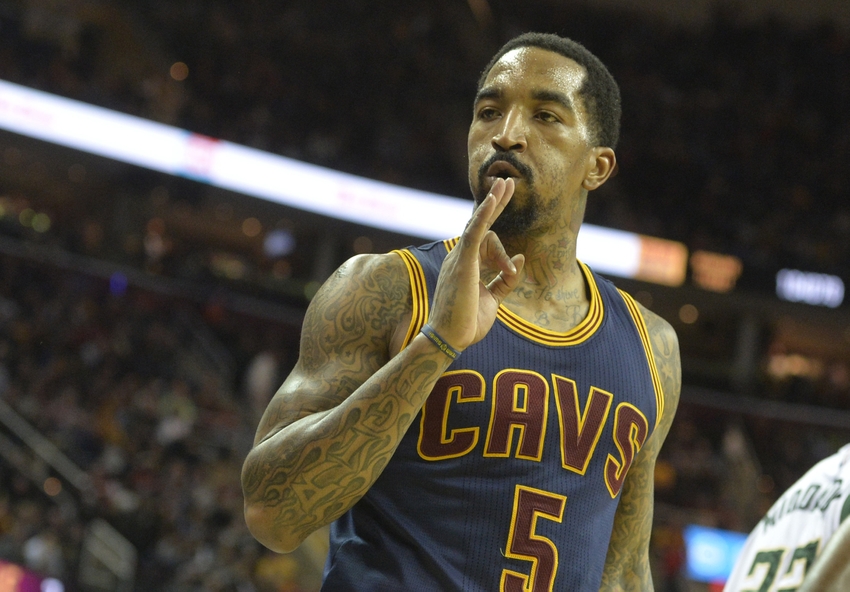 The Cleveland Cavaliers face the Washington Wizards in what will be a preseason game with the feel of a regular season matchup.
The Cleveland Cavaliers (2-3) will face the Washington Wizards (2-3) in a preseason matchup that places them at a neutral site, kind of, the Ohio State University campus. This will be an exciting game for the teams and the Ohio State University family alike as the Cleveland Cavaliers will play their full regular season rotation for the first time this preseason. For the Cavs, fan favorite J.R. Smith has returned and LeBron James will play in his first preseason game since an October 8th matchup against Philadelphia 76ers.
This preseason James is off to a hot start, shooting 75.0 percent from the field in both preseason contests on shots that weren't around-the-rim. He'll hope to keep his shooting stroke alive against the Washington Wizards. He doesn't usually have issues against the Wizards small forwards who are simply to slight and inexperienced to content with the cerebral behemoth that is James. James also whipped the ball around like a hot potato in his first two preseason contests. His teammates, and namely Smith, should be ready to shoot.
Smith, for his part, definitely will. He was in a holdout while in a contract dispute with the Cleveland Cavaliers and hasn't been around for any of the Cavs team basketball activities. He;s getting the start against the Washington Wizards and will get an opportunity to join his brothers on the court for the first time since their victory in Game 7 of the NBA Finals. Smith, who is known for his three-point ability, will also be looked to for his defense in this game. The sharpshooting Bradley Beal is averaging 15.0 points per game this postseason and is coming off a game where he scored 22 points in 22 minutes on 5-6 shooting from three.
The other guard matchup will be interesting to watch as well. Kyrie Irving and John Wall are two point guards who have some level of validation in their NBA careers but are still seeking to be considered the best point guards in the game. They get it done in different ways. Wall, who is recovering from injury, is an athletic speed demon who drives hard to the rim. He's also a true floor general who loves to set up his teammates and rack up assists. Irving, who is less athletic than Wall, will get an opportunity to prove he's ready to take a step forward on the defensive end.
Irving, who is averaging 14 points points per game this preseason, is a some sort of trickster-god with the ball in his hands. He makes wondrous things happen that can't simply be explained because he's, simply, a natural. He has a silky-smooth shot to boot and has looked more interested in passing the ball this preseason than he has in recent memory. He still will force the issue at times and take a bad shot or hold on the ball to long. He's also still prone to getting caught on screens. He'll need to use this game to work on his defensive fundamentals and use both angles and his stance to get the results he wants when defends on-ball.
Kevin Love doesn't have a big time matchup but will get to test his new quickness and strength out against Markieff Morris. Love will look to continue to be aggressive and take shots from all over the floor. Defensively, Morris is a big man who can do a bit of everything himself. He's not a gifted athlete and Love should be able to play solid defense against him. The Cavs will hope he can do more than that.
The second units of both teams will be important as well. Kay Felder, who was named the backup point guard earlier this week, and Jordan McRae need to keep their momentum going against the Washington Wizards. The four-guard lineups have been prevalent for the Cavs this preseason and players like Iman Shumpert, Richard Jefferson and Mike Dunleavy Jr. may be seen on the court at the same time as Lue goes through his rotation.
While the rotation players will most likely play the entire first half, there is still competition between players hoping to make the Cavs roster. DeAndre Liggins, John Holland. Johnathan Holmes, Dahntay Jones, and Cory Jefferson may all see extensive time in the second half in will be facing a Wizards second unit that lost Ian Mahinmi but is still strong nonetheless. This matchup is a good test for the entire team and there will only be added excitement from the Ohio State University environment.
Who do you think will win? Let us know in the comments section or Twitter @KJG_NBA?
More from King James Gospel
This article originally appeared on