Cleveland Cavaliers All-Time Roster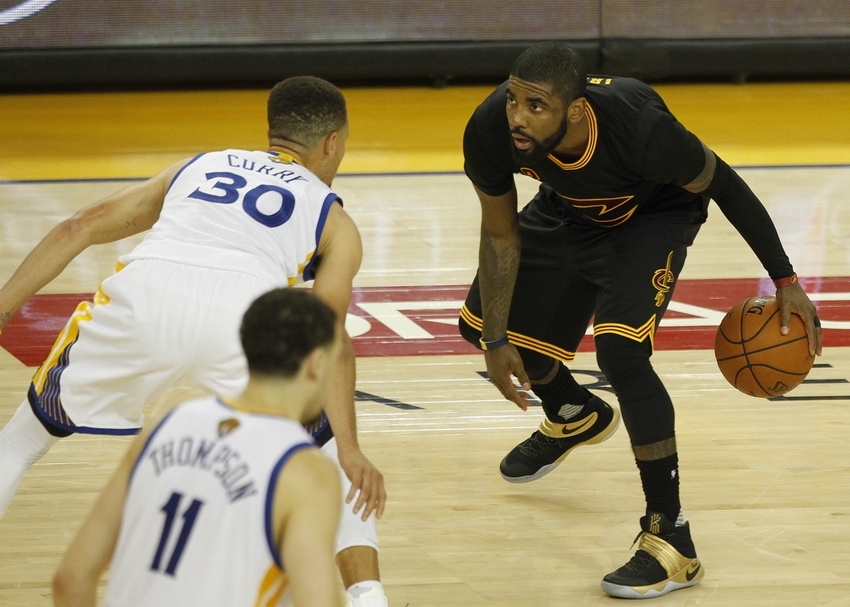 The current Cleveland Cavaliers roster is pretty good, but which players would make the Cavs all-time roster?
The Cleveland Cavaliers may have only won their first NBA title last season, but since their inception in 1970, several stars have donned the famous wine and gold colors.
While the current iteration of the Cavs features the biggest star in the franchise's 46-year history, who are some of the other stars that could potentially make up an all-time Cavs roster?
Are there any other players from the current team that would make an all-time roster?
We searched through the Cavalier annals to put together the franchise's all-time roster.
Point Guard: Mark Price (1986-1995)
This one may not be too popular with Cavalier fans who have hopped on the bandwagon recently.
However, for long-time Cavs fans, the selection of Mark Price should not come as a surprise.
Acquired by the Cavaliers in a draft-day trade with the Dallas Mavericks, Price would become a four-time All-Star during his time in Cleveland.
Playing for arguably the best Cavalier team pre-LeBron, Price was the prototypical point guard who could pass and shoot as well as any.
Price's ability to facilitate as well as shoot from long-distance in an era where shooters were at a premium results in many believing he is one of the more underrated players of his generation.
Price was also a two-time, NBA three-point shootout champion during the latter part of his Cavalier career, winning the award in 1993 and 1994.
Price's best year as a Cavalier was in the 1988-89 season, where joined the esteemed 50-40-90 club.
With 9,543 points and 4,206 assists during his time as a Cavalier, Price ranks fifth and second overall respectively in franchise history.
Shooting Guard: Kyrie Irving (2011-present)
This selection might rub the long-time Cavalier fans the wrong way.
Despite having played just five seasons, Kyrie Irving is undoubtedly one of the all-time Cavalier greats.
At just 24, Irving already has a three-point shooting title and three All-Star games to his name.
In his five seasons as a Cavalier, Irving has 6,416 points and 1,696 assists, ranking him 10th in both categories on the all-time franchise leaderboard.
Of course, just this summer, Irving hit the biggest shot in the franchise's 46-year history to help bring a title to the starved city of Cleveland.
With Irving having at least another five seasons as a Cavalier, expect him to rocket up the franchise leaderboards.
No matter what happens from hereon in, Cavalier fans are likely to always think of the point-guard as one of the franchise's best players.
Small Forward: LeBron James (2003-2010; 2014-present)
What can be said about King James that hasn't already been said?
At just 31 years of age, not only is he already the undisputed best player in the Cavaliers' franchise history, he is firmly in the discussion for the best player of all time.
14 years into his career, LeBron James has his sights firmly set on climbing up the record charts. With 26,833 career points to his name, only Dirk Nowitzki is higher among active players.
Additionally, James is also currently 18th overall in assists with 6,815, making him the only player besides Oscar Robertson to be in the top 25 for both points and assists in NBA history.
Unsurprisingly, James' name is at the top of almost every relevant list in the Cavaliers' franchise and it was only right that he was the one to break the city's curse and deliver a title.
It is unlikely that the franchise is ever blessed with a player better than LeBron James, something that makes you feel pretty lucky to be a Cavalier fan in this era.
Power Forward: Brad Daugherty (1986-1994)
If LeBron James is the best player in franchise history, Brad Daugherty might just be number two.
Daugherty's career was tragically cut short at just 28 years of age due to recurring back problems, but he was a star in his time in the league.
In his eight-year career, Daugherty was a five-time All-Star and made the All-NBA Third Team in 1992.
With Daugherty as the team's centerpiece, the Cavaliers were a force in the early 90's, reaching the Eastern Conference Finals in 1992.
Daugherty's ability to pass the ball as a big man would have made him a star in today's NBA, as he averaged 3.7 assists per game over his career.
Daugherty finished his career with career averages of 19.0 points and 9.7 rebounds per game, and is truly one of the greatest what-if stories in NBA history.
Center: Zydrunas Ilgauskas (1997-2010)
Like Daugherty, Zydrunas Ilgauskas' career could have been so much more if it weren't for cruel injury problems.
A myriad of foot and ankle issues troubled the 7-foot-3 Lithuanian at the start of his career, limiting him to just five games in his second season.
However, Ilgauskas was able to rebound from his injuries and be a productive member of some of the best Cavalier teams in the latter part of his career.
While Ilgauskas was known later on for his ability to block shots and rebound the ball, what is forgotten is his versatile offensive game.
Unlike most men his size, Ilgauskas was an excellent mid-range shooter and even added a three-point shot to his game during the back end of his career.
A two-time All-Star in 2003 and 2005, Ilgauskas finished his career with 10,976 points, 6,191 rebounds and 1,327 blocks in 843 games.
Ilgauskas remains the franchise leader in total rebounds and blocks.
Ilgauskas' famous No. 11 jersey was retired by the Cavaliers in 2014 and he is probably the one player besides LeBron James who deserved to be a part of a Cavalier title.
Sixth Man: Austin Carr (1971-1980)
When you're known as 'Mr. Cavalier' chances are you are one of the franchise's all-time greats.
Austin Carr was a star shooting guard at the University of Notre Dame before being drafted first overall by the Cavaliers in the 1971 NBA Draft.
However, Carr's career was affected by injuries, as he suffered from a series of foot issues early on in his career.
The 6-foot-4 shooting guard was able to rebound to be named an All-Star in 1974, and was a part of the historical "Miracle of Richfield" Cavaliers team that met the Celtics in the 1976 Eastern Conference Finals.
Carr finished his career with 10,473 points, placing him fourth overall amongst Cavaliers and his No. 34 jersey is one of seven retired by the Cavs.
Honorable Mentions
Anderson Varejao (2004-2016): Varejao soured the opinions of many Cavalier fans by moving to their arch rival Golden State Warriors this past season. However, he was a fan-favorite during his time in Cleveland. Played his best years following 'The Decision' where he averaged a double-double in consecutive seasons.
Bingo Smith (1970-1979): Another one of the 'Miracle of Richfield' squad, Smith was an electric scorer from the shooting guard position. Averaged 13.2 points per game in 10 seasons with the Cavs, shooting 45 percent from the field. His No. 7 jersey is retired by the franchise.
John 'Hot Rod' Williams (1986-1995): The late 'Hot Rod' Williams was a mainstay of the great Cavs teams of the early 90s. Williams made his mark on the defensive end, averaging 1.6 blocks per game during his time as a Cavalier. Hot Rod ranks just second to Ilgauskas on the all-time Cavaliers' blocks list.
Larry Nance (1988-1994): Nance had made his name well before becoming a Cavalier at the age of 28, but had a hugely successful time in the Wine and Gold. Posted averages of 16.8 points, 8.2 rebounds and 2.5 blocks per game in six seasons with the Cavs. His No. 22 jersey is retired by the franchise.
Campy Russell (1974-1980: 1984-85): Campy Russell was the Cavs' best small forward before LeBron came along. Another member of the Miracle of Richfield team, Russell averaged 16.1 points per game in seven Cavalier seasons.
Terrell Brandon (1991-1997): Brandon was one of the best young point guards in the league during his time in Cleveland. He made consecutive All Star appearances before being traded to Milwaukee.
This article originally appeared on