Christian Wood is the Charlotte Hornets Most Unpredictable Player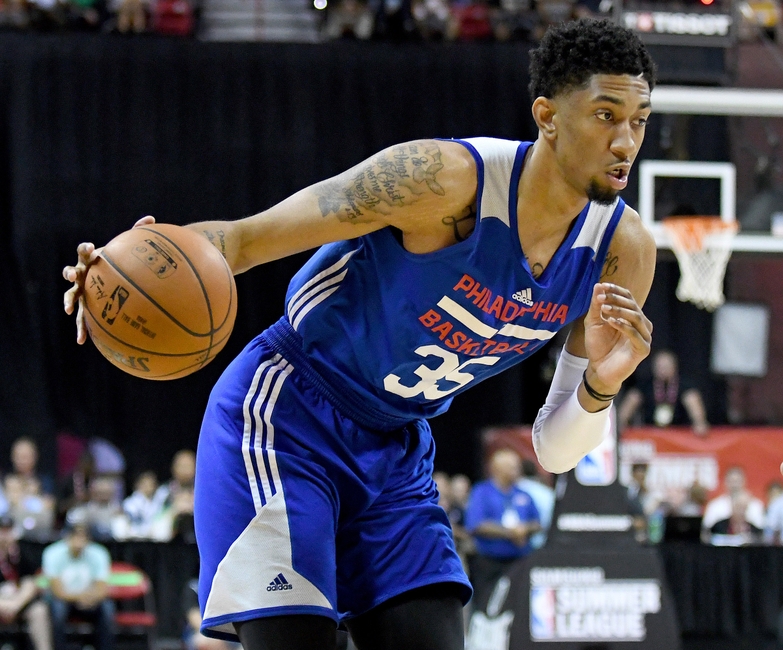 Most players have an expected role for the Charlotte Hornets entering the 2016-17 season but Christian Wood is the team's most unpredictable player this year.
As the 2016-17 regular season draws closer, most of the players on the Charlotte Hornets' roster have loosely defined roles. A few have questions surrounding them but none bigger than the question mark that hangs around Christian Wood. He is the team's most unpredictable player in terms or role and production going forward.
The Hornets acquired Christian this summer when they signed him to a two-year, $1.8 million contract with a team option for the second season. Wood is a young and promising prospect that could develop into a big time player one day. Although it is unlikely that he will have a huge impact this season, he has shown that he could be productive and possibly surprise people with the Hornets.
The 6'11 power forward averaged 3.6 points per game and 2.2 rebounds per game last season for the Philadelphia 76ers. He only appeared in 17 regular season games and averaged 8.5 minutes per game. In his short playing time, Wood shot 41.5% from the field, 36.4% from the three-point line, and 61.9% from the free throw line.
More from Swarm and Sting
Where Will He Play?
One of the biggest unknowns surrounding Wood is where he will play next season. It isn't yet clear if he will play for the Charlotte Hornets or the Greensboro Swarm next year. Does the team see him as a valuable member to the squad or do they want him to continue to develop as a young prospect?
After playing in 32 D-League games last year with the Delaware 87ers, staying in the NBA Developmental league this season with the Greensboro Swarm could be a viable option for Wood. He averaged 17.3 PPG, 9.4 RPG, and 1.1 BPG as he started 22 games for the 87ers last year. He also shot 52.9% FG/ 25.3% 3P/ 70.7% FT in 28.8 minutes per game.
The 20-year old big man put up some big time numbers in the D-League last season and staying there for too long could hurt his development. It may be wise for Charlotte to keep him on the 13-man gameday rosters rather than keep him with the Swarm for the 2016 campaign. Although, he would need consistent playing time in order for his game to continue to grow going forward rather than remaining stagnant.
If Christian spends a majority of the year in the D-League, he will likely dominate like he did last season. If he stays on Charlotte's roster, he could be stuck on the bench with very limited playing time.
The Hornets could also have Wood bounce back and forth between the NBA and the D-Legaue like he did last season. That way he would be able to get consistent playing time in the Developmental League while also getting experience at the NBA level. This is likely the most plausible outcome.
Want your voice heard? Join the Swarm and Sting team!
Unknown Role
If the Hornets choose to keep Wood on the roster, they will then need to decide what his role will be. Taking a closer look at Charlotte's current setup, Christian will likely be behind Marvin Williams, Cody Zeller, Frank Kaminsky, and Roy Hibbert for minutes this season. All of them are currently ahead of Wood and most have a defined role. He may even be behind Spencer Hawes.
Marvin Wiliams and Cody Zeller will be the two starting big man heading into the regular season while Hibbert and Kaminsky are the likely backups. Spencer Hawes will occupy the emergency big man role behind those four and that leaves Christian as the sixth big man in a crowded front court.
The former UNLV player will have some struggle breaking through in Steve Clifford's rotation with these players ahead of him in the lineup. He may take over Hawes' role as the emergency big man, especially if Spencer is traded as previous rumors said.
Wood has great potential with his athleticism, versatility, and ability to rebound and score in a variety of ways. If he cuts out a defined role with the Hornets this season, Christian could develop into a strong, young player for the team. I think that he has the ability to contribute this season when called upon in short spurts. Plus if an injury occurs to any of the big men in front of him, Wood will be the first player called up by Clifford and Charlotte.
These are just a few unknowns following Wood heading into the 2016-17 season. These questions aren't going to have answers until the season begins or until Steve Clifford/Rich Cho give us more information. One thing that is certain for Christian this year is that he will be the team's most unpredictable player.
This article originally appeared on