Chris Paul will not play for Team USA in 2016 Summer Olympics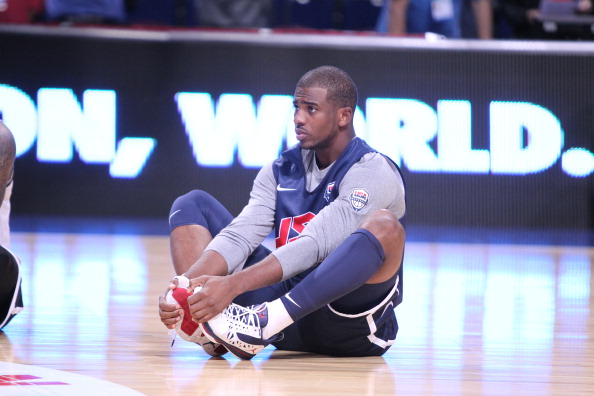 Chris Paul, one of the best point guards in NBA history and a two-time Olympic gold medal winner, has withdrawn his name from Team USA's pool for the 2016 Summer Olympics.
After more than a decade of contribution to USA Basketball, Paul told SI.com on Monday that he is withdrawing from consideration for this summer's Olympic team, likely ending his international career. "I feel my body telling me that I could use the time," he said. Few NBA players have expended more this season than Paul. Although his traditional stats do not vary much from his career norms—19.9 points and 9.8 assists in 33.2 minutes—he has piggybacked the Clippers in Blake Griffin's absence.
Paul turns 31 in May and has stacked thousands of pressure-packed minutes onto his ankles and knees over the years. From that perspective, this news is not very surprising. He can enter free agency the following summer, and obviously would prefer to do so at his healthiest.
But it still affects USA Basketball's selection process, and could open the door for another point guard who's never made the team before.
Which direction will Jerry Colangelo and Mike Krzyzewski go? Will they plug in another floor general like John Wall, Damian Lillard or Kyrie Irving (who may no longer be a lock in light of this season's struggles, despite his college coach being a primary decision maker)?
Maybe Paul's public drop out is an indication that Team USA is indeed looking to trend in a younger direction, and this was the best way for him to avoid embarrassment as a final cut. (Related: Dear Carmelo Anthony, please stop talking about the Olympics. It's super awkward.)
Stephen Curry and Russell Westbrook are mortal locks, but beyond them maybe Team USA decides to load up on athleticism and versatility by replacing Paul and the injured Anthony Davis with hybrid wings who can play up or down a position.
Imagine a Paul George, LeBron James, Kawhi Leonard, Kevin Durant, Draymond Green five-man unit? How scary does that sound?
Team USA is going to be so, so good no matter who they pick in late June.
Paul played for the U.S. in 2008 and 2012 and could have joined James and Anthony in trying to become the first men's players to win three Olympic basketball golds.
The Associated Press contributed to this report.