Chris Paul makes one of the best bounce passes you'll ever see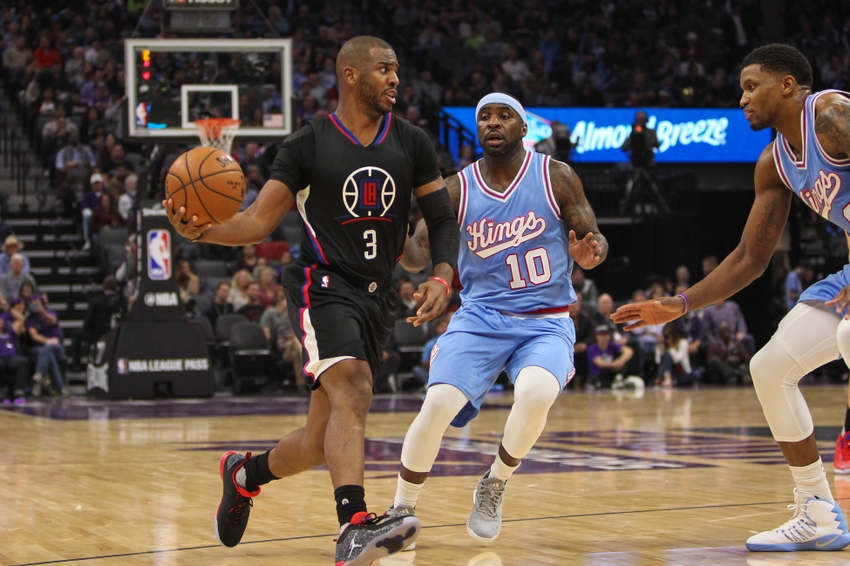 Watch this amazing bounce pass from Chris Paul in the LA Clippers' win over the Sacramento Kings, rifling the ball through four defenders for an assist.
Chris Paul has been known as one of the best passers in NBA history for years. He's established himself as the Point God over the course of his career due to the exceptional vision, passing and poise he has on offense and the strong, relentless defense he has at the other end of the floor. From his time in New Orleans to his current days as the floor general of the LA Clippers, he's been racking up All-NBA and All-Defensive First Team honors with a level of two-way play that's unmatched by anyone else at his position.
His passing is also nearly unmatched. His career average of 9.9 assists per game is great enough for the third most in NBA history, and it's because he has the ability to read the floor and deliver the ball with pin-point, jaw-dropping accuracy like this.
You could be waiting a long time to see a better bounce pass than this one:
The Clippers (primarily the bench) let the Sacramento Kings get back into their game on Friday night after going up by 26 points in the first half. The Kings benefited from some improved shooting and the Clippers' lapses from the bench and a few defensive errors, but Paul helped keep his team in front to win 121-115 with plays like the dime above.
Bringing the ball up court, Paul dribbled past Blake Griffin and drew two defenders (his man, Darren Collison, and Matt Barnes) further away from the paint, freeing up a few inches of space around Griffin inside.
Then, even though there was still such a slither of space for most players to even attempt the pass, Paul fired the ball past Collison and between Barnes, Ty Lawson and DeMarcus Cousins to find Griffin for a finish under the basket. Out of this host of defenders, even if they are Kings, you'd think one of them would be able to break up the pass.
Want your voice heard? Join the Clipperholics team!
But clearly not when it's delivered with the perfect speed, timing and angle from Chris Paul.
This article originally appeared on