Chris Paul, J.J. Redick talk how they used to hate each other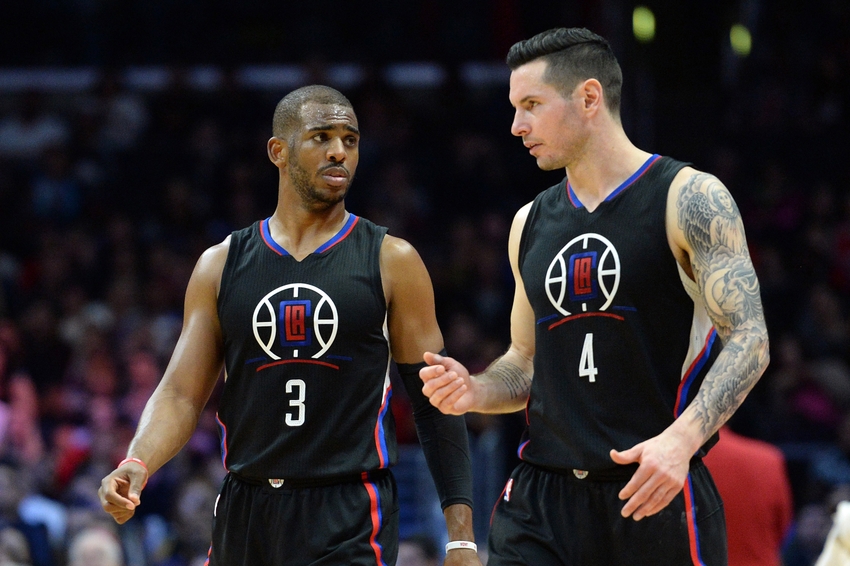 LA Clippers teammates Chris Paul and J.J. Redick used to hate each other during their college days, from talking trash to laying their hands on each other.
Before they became LA Clippers teammates in the 2013-14 season, the relationship between Chris Paul and J.J. Redick was a little different. In fact, it was the polar opposite to what it is now. As college opponents, with Paul at Wake Forest and Redick at the most hated college in Duke, the distaste between the two schools and between the two players is something neither of them will forget.
Redick invited Paul on his latest podcast for The Vertical, and they touched on a number of topics. First, how they knew of each other in high school before they simply grew to hate each other in college:
"JJ: When I was at Duke, and I was a year ahead of you, we did not like each other.

CP: Oh, by no means. I didn't like anything to do with you.

JJ: Like, I would say we hated each other.

CP: Hate is a very strong word, and that is probably the correct word. Definitely the correct word.

JJ: The second time we played you guys, we played you guys at home on a Saturday afternoon game. I think you guys had moved up to, like, the top five in the country. You were undefeated or had one loss at the time, and we got you guys that game.

CP: That was at Duke?

JJ: At Duke. This is your freshman year. Then we came back later in the year and y'all beat us. But in the first half, you guys were being a little physical with me. And over by…

CP: We were being physical with you?

JJ: And over by your bench, you just started mother effing me to my face, and you were a little too close to my personal space. And so, I wouldn't call it a hit, I wouldn't call it a slap…

CP: You know better than that.

JJ: I did put my hands on you.

CP: You guys were full of yourselves. You guys were smacking the floor every time we dribbled the ball up the court. Sean Dockery… and all that, we just really weren't with all that. I was a freshman, I had been there watching the games the years before, and you know what it's like in the ACC, you just train to hate each other. You know, it was a lot different then. But, yeah, I didn't care for you running off all those screens, and making the threes, and dancing. If they could see me now, they'd see my hands in the air twirling like you. You had a lot more hair on your head at the time and it was shaking. Yeah, I really wasn't with none of that.

JJ: Yeah, it wasn't good."
To listen on, go to around the 8:30 minute mark of the podcast. It's worth your time.
Redick went onto say that Wake Forest won and he had a career-low two points that game.
Redick also mentioned a time at a Jordan Camp later that year when he approached Paul to apologize for putting his hands on him in the game. And, according to Redick, Paul brushed the apology off with a, "yeah, whatever, dude." Of course, Paul said that wasn't the case and he was more understanding.
After that, Redick brought up one Duke player, Patrick Davidson, who used to guard Paul with a level of physicality that Paul thought was too much. Paul said that even on the way to the court for the jump ball Davidson bumped into him.
However, Davidson only played a little over one minute that game, and purely came in to foul Paul in an attempt to rattle him. And when Davidson left the court, he got a standing ovation and a hug from the coach. Seriously.
It's those kind of situations that made people hate Duke, and it's a reason why Paul hated both the college and Redick at the time.
When it came to the time that the Clippers could acquire Redick through trade, though, Paul said he quickly replied, "make it happen," when he received a call from Doc Rivers.
Thankfully for the Clippers, Chris Paul and Redick have left the competitive hate in the past and are now one of the top backcourts in the NBA, benefiting from immense shooting and playmaking between their combined skill sets. On top of that, they love being teammates.
This article originally appeared on