Chris Bosh has earned the right to fight for his career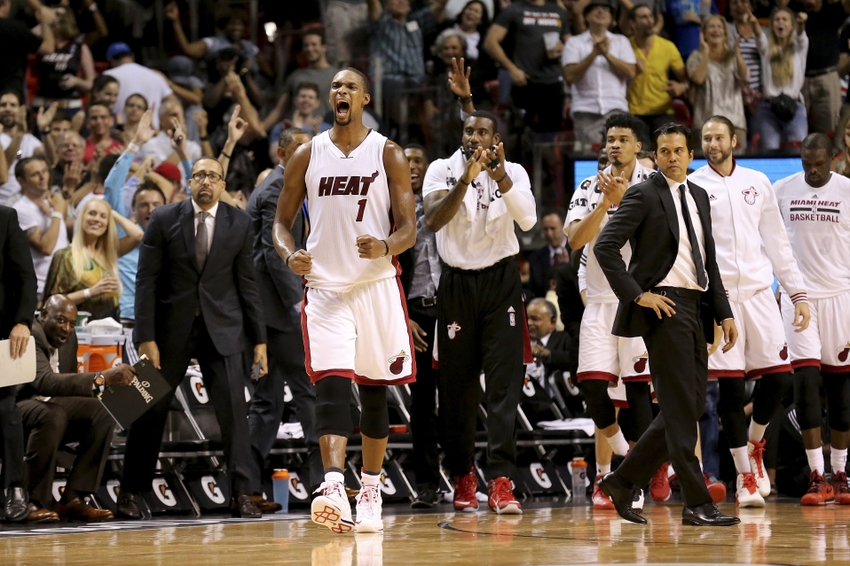 In his sixth game after signing with the Miami Heat, Chris Bosh scored an underwhelming 15 points in a loss to the New Orleans Hornets. Miami lost 96-93. The Heat, as often happened during this era, were dominated on the glass, out-rebounded 42 to 36 by the Hornets, including 10 offensive rebounds. It was the difference in the game, and it didn't help that Bosh, a power forward, grabbed just one rebound. It really didn't help his case that his teammate Dwyane Wade, a guard, came down with 10. It was after that game when former ESPN hot-taker Skip Bayless, started using the nickname "Bosh Spice" to criticize Bosh for what he considered a series of soft performances.
In 2011, a year after his first season with the Heat, Bosh walked onto the set of ESPN's First Take to confront Bayless about the nickname. Bosh didn't have to appear on the show. Bayless has half-witted and insulting nicknames for plenty of professional athletes, and very few of them ever bother to confront Bayless about it. For Bosh, however, it was a matter of defending his pride.
"My only problem is just the whole misuse of the name. If I stink it up on the court that's fine, I don't have no problem with you. I love jokes, I love cracking on folks," Bosh started. "My thing is, my family, we take a lot of pride in our name. My ancestors, my great grandfather, my father, my grandfather, my aunts and uncles, we're very prideful with the Bosh name … because that's all we have."
Bayless jumped back in and gobbledygooked for a while. Bosh sat on the other side of him and never fully re-engaged. He said what he needed to say. He got on national TV and defended his name. His pride. In this case, they are the same thing. Like he said, that's all he's got.
After five years, three more NBA Finals appearances, two championships, five more All-Star games and, unfortunately, two blood clots that sidelined him for the last two seasons, Bosh is again defending his pride.
Bosh failed his latest physical with the Miami Heat, reportedly due to more blood clot concerns, and the team believes his career may be over. Even as Bosh shares his story through a self-produced documentary and on social media, he still has his critics who wonder why he would even bother trying to get back into the NBA. They call him a distraction to the team, or foolish to risk his life for basketball. They say he should just retire.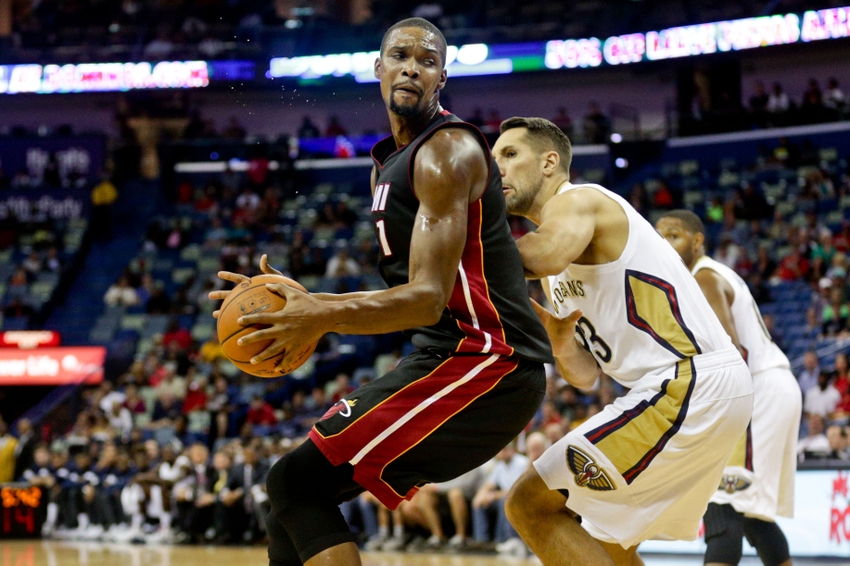 This time, though, no one questions his toughness. He's got two rings now, the second of which he saved with one of the most important rebounds in NBA history. After his first blood clot two seasons ago, Bosh returned last season and made his 11th All-Star Game.
In 2011, he defended the sanctity of the last name he was born with. In 2016, he is defending his basketball talents against the attack of some un-seeable illness. To many, he is even defending his will to play. But just like 2011, Bosh is sharing his side of the story with the world.
"I'm in the gym every day. I'm taking care of my body every day. That gives me the confidence to know that I can go out there and do my job," Bosh says in the second episode of his documentary series for Uninterrupted.
"I'm one of the best players in the league and, whether I've been in the hospital or been in different situations, it doesn't matter. I can still play the game."
For anyone who wonders why in the world Bosh would risk his life to play basketball again, this is the most revealing quote.
He's talking about being in the gym. About his body giving him confidence. He's working out every day, getting into probably the best condition of his life, but none of that matters against a blood clot. It's irrelevant. And Bosh, who has done a ton of research and has talked to a ton of doctors, for sure knows that. But he can't escape the mirage. He can look in the mirror and see a 6-foot-11 basketball player in great shape. He can watch a basketball leave his hand and swish through the basket, over and over again. He can't see a blood clot.
You don't often hear Bosh say something like "I'm one of the best players in the league." It's completely out of character for him—always the humblest of the Big Three. It's almost as if he's telling himself "you're one of the best players in the NBA, and you're going to let some blood clot keep you down?"
How must that make a professional athlete who has spent years — his entire life — conditioning his body to earn a living feel? Pride is back in play, and pride won't let you give up.
Just like an attack on his family name, or an ill-timed abdominal strain, this latest failed physical is just another hurdle for Bosh. A down moment before an upswing.
"Setbacks happen but that doesn't change my intentions and what I want to accomplish," Bosh said in a video posted to Instagram. "It's a down moment right now, but everything is gonna be alright."
For someone who escaped a poor Texas neighborhood, went to college, spent a career overcoming the usual injuries of a professional athlete, used failure to drive himself toward success, dealt with incomparable scrutiny, climbed to the peak of his sport and is generally regarded as one of the most well-rounded players in the NBA, a blood clot may seem to be just another setback. No doubt he understands the severity of it (in the documentary, he remarks how for the first time in his life he felt like a patient), but that only makes the challenge greater.
During the Heat's media day Monday, team president Pat Riley said the team won't be working towards Bosh's return, but that he believes Bosh is still "open-minded."
None of this is to say that Bosh will come back, even as he always has. This latest episode is extraordinarily serious, if only for the cumulative nature of these clotting issues. But giving up is a matter of pride, and Bosh has spent far too long defending his pride to go down without a fight.
More from FanSided
This article originally appeared on