Chicago Bulls: Would LaMarcus Aldridge Be A Good Fit?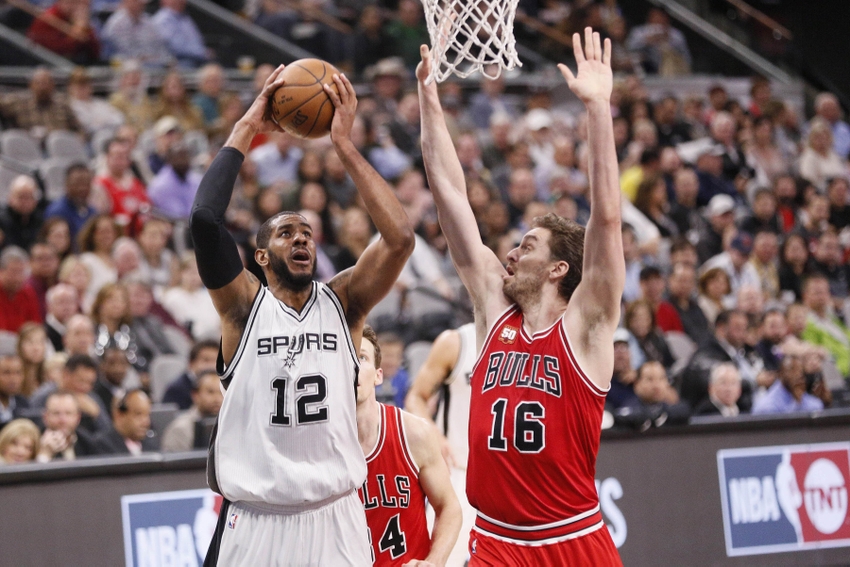 NBA forward LaMarcus Aldridge has recently been at the center of league trade rumors. So should the Chicago Bulls think about making an offer?
The 2016-17 NBA season has yet to begin, but that has not stopped the trade rumor mill from once again taking off.
Just yesterday, the Miami Heat were said to be shopping around Goran Dragic.
And let us not forget about the Chicago Bulls themselves already moving Tony Snell for Michael Carter-Williams.
But perhaps the biggest story of them all is the San Antonio Spurs being open to moving LaMarcus Aldridge.
Crazy, right?
Since then, the organization has denied there being any truth to this. But fans in this league know that realistically, that does not mean anything.
So, taking this possibility at face value… should Aldridge be someone the Bulls look into?
In one word: absolutely.
For those who were not following Chicago in 2006 or need a memory refresher, the front office made a colossal mistake (sadly to the surprise of no one) and traded the No. 2 pick in Aldridge to the Portland Trailblazers in exchange for Tyrus Thomas.
The 31-year-old went on to become a five-time NBA All-Star, and Thomas was amnestied by the Charlotte Bobcats and has not been in the league since.
(T-Time supporter or not, there is no mistaking the absurdity of this move.)
Aldridge stayed with the Trailblazers until 2015 when he signed a four-year, $80 contract with the San Antonio Spurs — a move that the entirety of the NBA was excited about. He was even given permission to wear No. 12, despite it having been retired already for Bruce Bowen. He was ready for a fresh start. The Spurs were happy to add such a talent to their roster.
But it seems the fairytale has come to an end.
There is no question about whether or not the Bulls could use him, however.
For starters, the only starting big man they have is Robin Lopez. So they could certainly afford to have more size out there on the floor. Then, there is the problem of power forward; with Nikola Mirotic still not meeting expectations and Taj Gibson needing to step up as a starter, it will be hard for Chicago's fours to keep up with the likes of Karl Anthony-Towns and Draymond Green.
The problem is, of course, what the Bulls could offer the Spurs.
Because while San Antonio may not be as needy when it comes to only acquiring blockbuster names, they would still be giving up a heck of an asset in Aldridge. Therefore, Chicago would have to offer up a handful of guys that would work well in head coach Greg Popovich's system.
(And the Bulls will want to unload guys with bigger contracts, to match.)
So, how about Gibson?
Aside from guys like Dwyane Wade, Rajon Rondo and Jimmy Butler, Gibson is certainly the next best thing on Chicago's roster. And although he may not be a top power forward, he is still as dependable as they come. On both ends of the floor.
Doug McDermott is developing nicely as well. The 24-year-old has far to go before he finds his place in the NBA, but so far his three-point skills are something to take note of. And in the right environment, he would blossom into an even sharper shooter.
But that is about where the brainstorming hits a wall.
Sure, if Aldridge were to play center for the Bulls, Lopez could also be thrown into the mix. But then once again, Chicago is left small, with only Cristiano Felicio to man the five.
And the rest of the squad is not exactly moveable. Yet.
Maybe if Bobby Portis continues to improve. Or Denzel Valentine proves himself his rookie year. Or even Spencer Dinwiddie makes tremendous stride (although especially in that case, the Bulls should hang on tight here).
Are the Spurs even going to put Aldridge on the chopping block right now? Probably not. But when they do, if they do, Chicago should certainly go ahead and try to put a deal together, to toss their way.
This article originally appeared on