Chicago Bulls vs. Washington Wizards: Game and Watch Info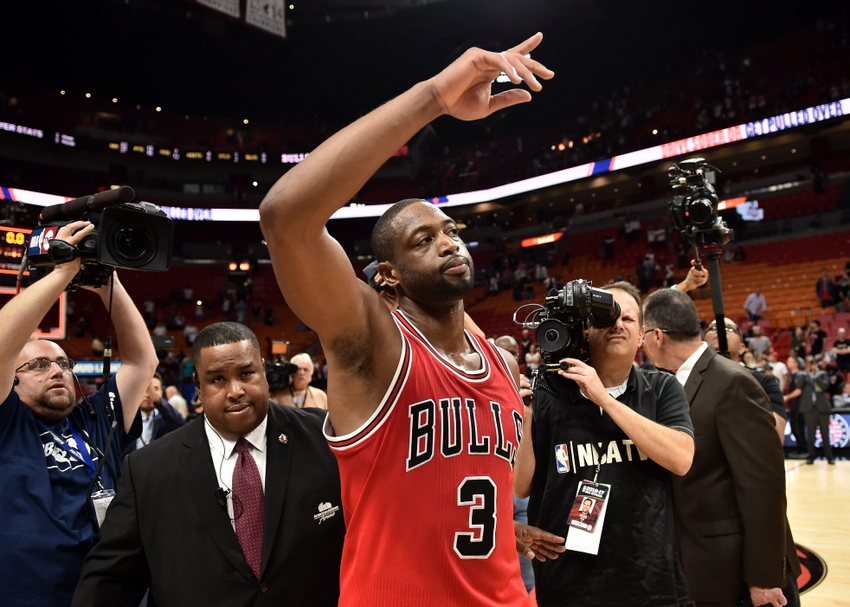 The Chicago Bulls have a brief stopover in the United Center against the Washington Wizards before embarking on their massive November road trip.
Chicago is riding high after big performances by Dwyane Wade and Jimmy Butler in Miami on Thursday night. The Bulls were coming off a Wednesday night loss to the Atlanta Hawks, but didn't look it, holding on to lock up their fifth win of the year.
As for the Wizards, it has been a rough start to the year. John Wall is getting himself ejected from games at a pace that even DeMarcus Cousins would find impressive and the frustration is apparent – the Wizards are just 2-6 this season despite a coaching change.
Wade is going to continue to be a big question mark. It wasn't at all surprising that he went for 30-plus minutes against the Heat on Thursday, but it was something of an eye-opener when he did the same the night before in Atlanta. While he's known more as a player who sits out games and plays a decreasing numbers of minutes as he gets older, that hasn't been thing early in the year with Chicago. With a night off and two days rest after this game before their road trip to the west coast, you had to assume that Wade will be available and playing a full slate of minutes, but it is worth keeping an eye on.
More from Pippen Ain't Easy
On another note, Butler is becoming the player that he always was capable of being. The pairing with Rondo relieves him of the full offensive burden and stalls help defense while improving the looks that Jimmy will get. Rondo doesn't bring shooting help, but he is a facilitator that doesn't take shots away from Butler, which is also a nice piece fitting in in with the star wing.
The Bulls will have everyone healthy, except Michael Carter-Williams, who will be sidelined the next few weeks, possibly into mid-December.
For Washington, it's going to look a bit dismal. This game will be the second of a road back-to-back, the night after they took on the Cleveland Cavaliers. Wall played 35 minutes and had a stat line of 28 points, two rebounds, three assists and two steals. Rotowire has Wall listed as playing Friday, but out for Saturday. Adding to their woes, Bradley Beal is day-to-day and Ian Mahinmi is out until the end of the month.
This game sets up to be a big win opportunity for Chicago. Washington will likely be without their two best players in Wall and Beal, plus they are already shot of their newest big man addition with Mahinmi. A Bulls win would bring them to 6-4 on the season heading into their big road trip and that means they could have a bad trip and still be at .500 when they finally return home later this month. It won't be easy, they'll have to face off against some of the best teams in the league: Los Angeles Clippers, Portland Trail Blazers, Utah Jazz. Momentum could go a long way to help carry what is sure to be tired Chicago legs by the time they fly east to take on the 76ers at the tail end of their journey.
Date: Saturday, November 12
Time: 7:00 PM CST
Venue: United Center
Television: WGN-TV
Radio: WLS-AM 890
Stream: NBA League Pass
This article originally appeared on