Chicago Bulls vs. Toronto Raptors: Game Info and How to Watch
Ryan Mackenzie/FanSided via Pippen Ain't Easy

Fansided
Tonight the 18-18 Chicago Bulls look to beat the second-seeded Toronto Raptors and continue to their winning streak against the Raps that's been running since 2013 New Year's Eve.
A lot has changed since 2013. Tony Abbot is no longer Prime Minister of Australia, Luol Deng is no longer a member of the Bulls and One Direction are no longer making peoples ears bleed from their annoying music. One thing that has remained however is the Chicago Bulls' dominance over the Toronto Raptors. Can they continue the dominance tonight?
I'm sure every Bulls fan reading this is just as sick as hearing about the Bulls consistency problems as I am. However, until Chicago can prove they can win games back-to-back and build some sort of momentum the critics shall remain to inform us of the obvious.
Of course there is an easy way to silence these critics. It's called winning consistently. And what better way to start this new trend then against the Toronto Raptors. A side that the Bulls always seem to have a mental advantage over.
Whether its they're scared of Butler or just haven't seen how bad Chicago really are Toronto just never seem to be able to put a win together against the Bulls.
All this could change tonight however with the Raptors coming off a 101-93 win over the Utah Jazz. A dark horse team in the Western Conference (at least in my eyes).
The Raptors, however, seem to be experiencing similar consistency issues to the Bulls winning just two out of their last five games.
DeMar DeRozan is unquestionably Toronto's leader offensively averaging 27 points per game on 47 percent shooting. One look at his 3-point percentage and you'd think he's a member of the home team Bulls, yet DeRozan has still managed to put up big numbers despite being inefficient from deep.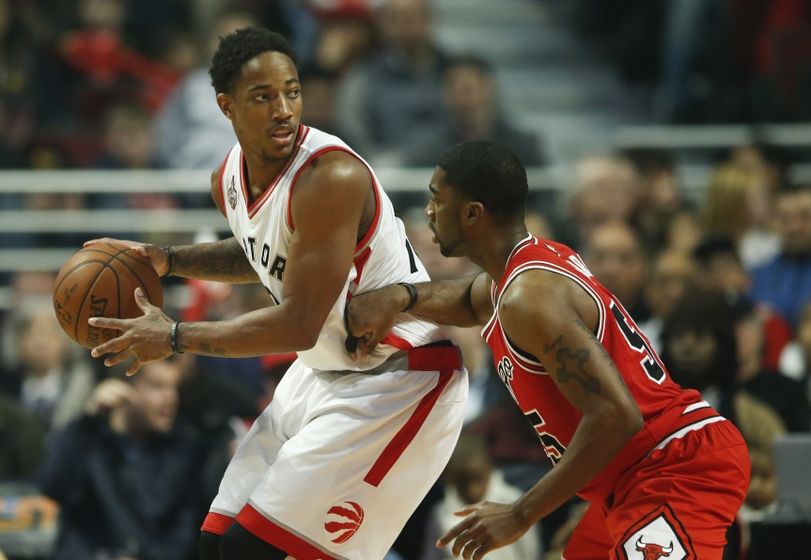 The Bulls on the other hand are coming off an important, yet not too optimistic win against a heavily undermanned Cavaliers side who were missing Kyrie Irving (hamstring soreness), Kevin Love (sick), and JR Smith (finger).
Nevertheless, Chicago still managed to find a way to win and with how tight the Eastern Conference is at the moment that is all that matters.
More from Pippen Ain't Easy
If you want to watch the Bulls host the Raptors, here's how.
Matchup: Chicago Bulls (18-18) vs. Toronto Raptors (24-11)
When: 7:00 p.m. CST
Where: United Center, Chicago, IL
TV: WGN TV
Radio: WLS-AM 890
This article originally appeared on