Chicago Bulls vs. Portland Trail Blazers Game Info and How to Watch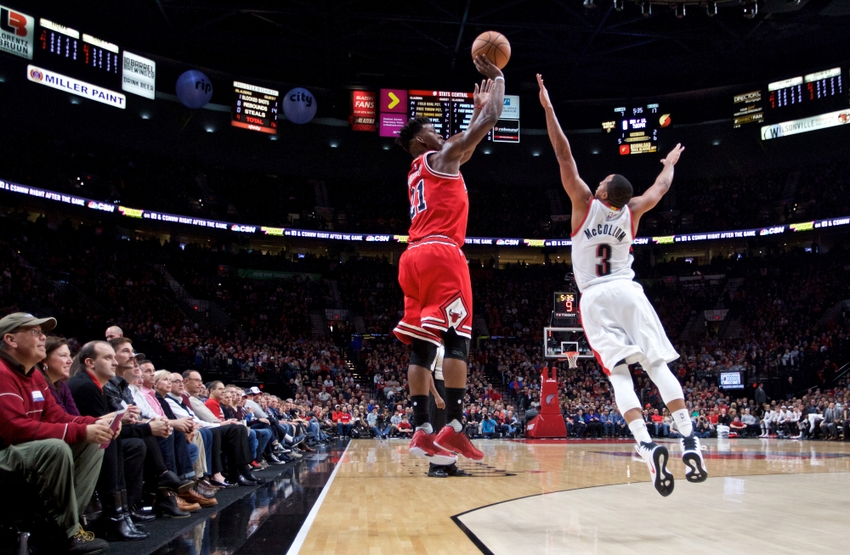 It's a rematch from the Circus Trip on Monday night when the Chicago Bulls host the Portland Trail Blazers in a rematch of their November showdown in Portland.
You might have forgotten about the last time the Bulls and Blazers played, it was November 15. You can be sure than neither team has forgotten that game.
Chicago used that game, which was a 113-88 blowout victory, as a springboard for a remarkable 4-2 road trip. They were led by a massive 27 point, 12 rebound performance from Jimmy Butler. Now, the Bulls will be trying to hold homecourt and sweep the season series and they'll probably be following the same formula – Butler has led the team scoring in five of their eight games since that last meeting.
Portland might have other intentions. After the smackdown handed out by Butler and friends, the Blazers went on a brutal five-game road trip, during which they went just 1-4 before returning home for a four-game home stand. Those four home games seem to have Portland back on track. They went 3-1 during that stretch, beating the Pelicans, Pacers and Heat.
After that string of success, Portland is back to 11-10, good enough for eighth in the Western Conference. Despite a record that looks mediocre for a team that made it to the second round of the playoffs last season, the Trail Blazers aren't a poor team. In fact, they're top five in both 3-pointers and offensive rating. That hints at the meager 88 points they put up against Chicago seem like an outlier.
Damian Lillard is the man in Portland. While he hasn't been in the national headlines early this season, he's led Portland in both points and assists four times since he last faced the Bulls. His backcourt partner, C.J. McCollum, has been taking the lead in those two categories on the seldom occasion that Lillard is the top man on the leader board.
The Trail Blazers are also getting back Al-Farouq Aminu, who missed 13 games with a calf strain, just in time for this matchup. He should be healthy and ready to go against the Bulls. His return won't come a moment too soon for a Portland team that needs more significant contributions outside of McCollum and Lillard given the disappointment that has been Evan Turner this season.
More from Pippen Ain't Easy
The Bulls won their last meeting in blowout fashion and the Trail Blazers just had a disaster of a road trip, so this game should be a winnable affair for Chicago. Of course, they also should have won in Dallas on Saturday night and that game went way off course in a hurry.
Matchup: Chicago Bulls (11-8) vs. Portland Trail Blazers (11-10)
Where: United Center
Time: 7:00 p.m. CST
TV: CSN-Chicago
Radio: WLS-AM 890
Stream: NBA League Pass
This article originally appeared on