Chicago Bulls vs. Orlando Magic: Game Recap and Highlights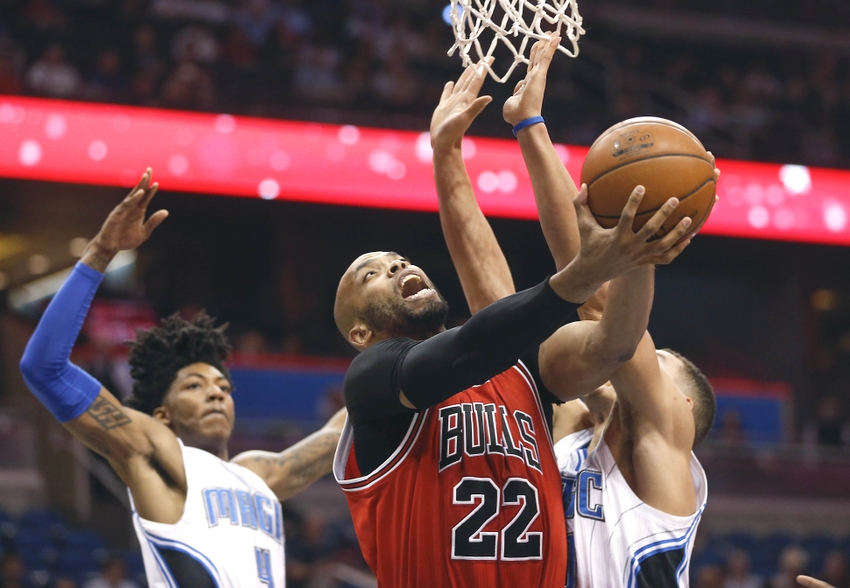 Coming off three straight losses, the Chicago Bulls hosted the Orlando Magic at the United Center Monday night. Here is a quick game recap, and some highlights from their much-needed 112-80 win.
The game got off to a wickedly fast start, even with both teams' big men being featured early. The Bulls looked dreadful through the first five minutes tonight at home, and their transition defense was non-existent. But they responded after Rajon Rondo was subbed out early for Isaiah Canaan, who helped spark their initial push.
Dwyane Wade and Jimmy Butler both played well in the first half, while Taj Gibson continued to flourish in his starting role. Butler asserted himself by getting to the free-throw line at will, helping give the Bulls their 17-2 first half free-throw advantage. Wade had some easy transition baskets, and some vintage isolation jumpers.
The Bulls went on a 14-0 run between the end of the first and the start of the second quarter, and they looked poised to blow it open before half time. But that would have to wait as they led by only nine, 61-52.
After letting the lead get down to only five early in the third quarter, the Bulls went on another huge run shortly into the second half. And the night was pretty much over from there. Gibson continued to dominate the Magic big men with clinically simple post moves and jumpers.
The game was completely in hand by the start of the fourth quarter so some of the Bulls' young bench got to play. Denzel Valentine, Jerian Grant, Cristiano Felicio and  Paul Zipser played some non-meaningful yet important minutes. Bobby Portis got some early minutes tonight, but he threw down a nice second half.
Three Stars
Butler, Gibson and Wade: Butler went for 20 points. Gibson had a double-double. Wade added 14 points.
End-of-the-Bench-Guys: Many of the young Bulls who have seen little playing time got to play most of the fourth quarter.
Amazing microphones: For those listening closely enough, the quiet United Center crowd provided some great audio from players and coaches.
Highlights
Wade and Butler dominated in the first quarter.
Wade finished strong in transition with a dunk.
Another high scoring third quarter for the Bulls.
Next Game
The Bulls head to Atlanta to take on the Hawks, in Philips Arena. Tip-off set for 6:30 p.m. CT, Wednesday.
Paul Millsap leads Atlanta in scoring, while the newest member of the Hawks, Dwight Howard, is averaging a double-double. The Hawks will be on the second night of a back-to-back, after they face LeBron James and the defending champion Cavaliers in Cleveland, Tuesday. Look for the Bulls to take advantage of a possibly tired Hawks team, as they try to make it two in a row.
More from Pippen Ain't Easy
This article originally appeared on