Chicago Bulls vs. Detroit Pistons: Game Info, How to Watch, Live Stream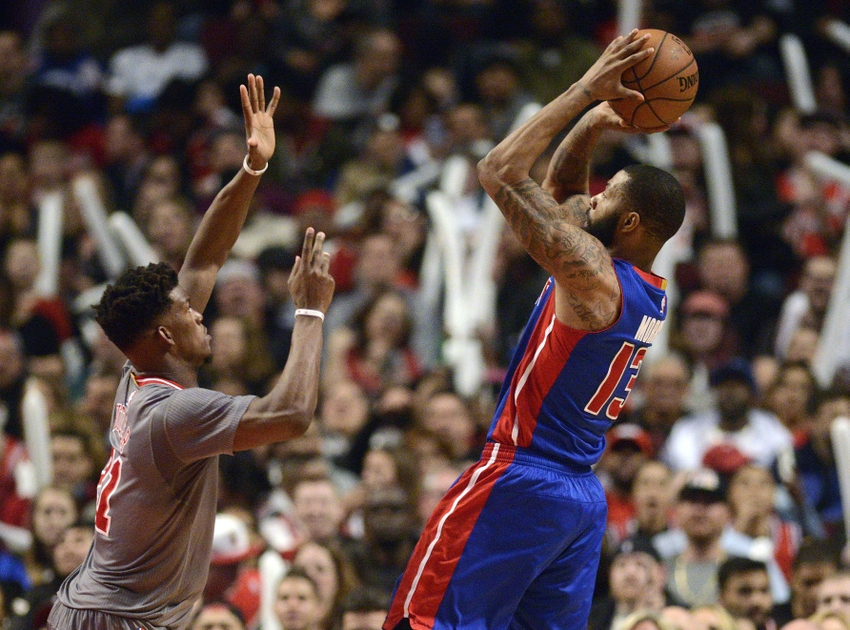 Here's how you can watch the Chicago Bulls' matchup with the Detroit Pistons on Tuesday night in Michigan.
The Chicago Bulls wrap up a four-game-in-five-nights span on Tuesday night in Detroit against Andre Drummond, the returning Reggie Jackson and the Pistons.
Tuesday night marks the first meeting between the old division and playoff rivals. The Bulls were defeated by the Portland Trail Blazers in a tight ballgame on Monday, while the Pistons fell to the Orlando Magic in their most recent contest.
After winning four in a row, the Bulls have now lost five of their last eight and appear to be trending downward to a degree. The Bulls will get Rajon Rondo back on Tuesday night after serving a one-game suspension on Monday night.
As for the Pistons, Tuesday marks the second game in the return of Reggie Jackson, who has missed the whole season (up until Sunday night) with some knee issues. It'll take some time, but the Pistons will become a much better team with Jackson the floor running pick-and-rolls with Andre Drummond, who has been a nightmare for the Bulls over the years.
For the Bulls, this is one of their two road games over the next eight games (up to Dec. 21). Both of their road games are against division opponents (Detroit on Tuesday night, Milwaukee on Dec. 15). It's a tough game to finish a tough stretch for the Bulls.
Here's how you watch and tune into Tuesday night's game in Detroit, along with links to Bulls radio coverage and a live stream to all of the action between the Bulls and Pistons.
Date: December 6, 2016
Place: The Palace at Auburn Hills, Detroit, MI
Time: 6:30 p.m. CST
Channel: CSN-Chicago
Radio: WLS 890 AM in Chicago
Live Stream: CSN-Chicago
More from Pippen Ain't Easy
This article originally appeared on