Chicago Bulls vs. Boston Celtics: 5 Takeaways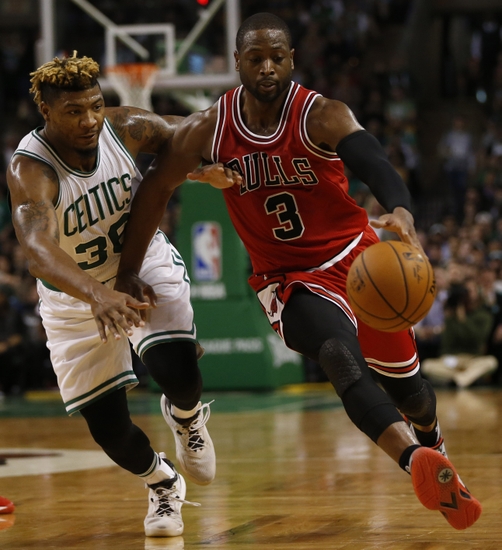 Devout Cubs fans Brad Stevens and Fred Hoiberg had to duke it out in Boston last night rather than witness the initial innings of one of the craziest World Series games ever.
Thanks to a rain delay and a 10th inning, they definitely had time to check out the end of the proceedings.
In the mean time, though, their teams had a basketball game to play. Let's look at why the Chicago Bulls dropped to 3-1 against the Boston Celtics in a bummer of a 107-100 loss.
1. Turnovers
The Bulls had 19 turnovers on Wednesday night, tying their spooky season high set on Halloween. They got away with it then against a talent-poor Brooklyn Nets team, but they can't stay that careless against a great defensive team like the Celtics.
We definitely saw got some of Rondo's old-school Rondo tendencies on display last night. At one moment, five minutes into the first quarter, he had a good look at a layup, and instead coughed up a turnover on a dumb pass attempt.
I know they want to make quick passes in their Hoiball pace-pushing scheme, but they shouldn't sacrifice ball protection to do it.
2. Shooting
Chicago made 7 out of 20 on 3-point attempts (35%), but Boston drained 14 out of 32 attempts (43.8%).
The fact that the Celtics took 60% more triples is ominous, and indicative of the Bulls' personnel issues.
To be fair, power forward Amir Johnson made all four of his attempts. He is a career 32.8 percent shooter from long distance, which is not horrible (for reference, Jimmy Butler's career three-point percentage is 33.1% at present), but not too great, either. It could have been worse, too, as wing Jae Crowder (part of Boston's haul in their 2014 Rajon Rondo trade with Dallas, by the way) was 2-of-2 from outside before having to leave the game upon badly rolling his ankle (on Rondo's foot, actually) after just 13 minutes of playing time.
From the field, the Bulls converted 35 of 81 shots (for a decent 43.2%), but the Celtics made a better 41 of 87 (47.1%). The real disparity was the 3-point shooting. 2017 Sixth Man of the Year candidate Nikola Mirotic was responsible for much of the positive three-point shooting output. All six of his field goal attempts (30% of the team's total output) were from downtown, and he made half of them.
But, he played 35 minutes, tying Jimmy Butler and Dwyane Wade for the most on the team last night. A shooter taking just six shots playing starter's minutes isn't great, especially with a team as shooting-challenged as the Bulls were anticipated to be coming into the season.
That being said, he also got to the free throw line at a great clip, where he finished 8-for-11.
So. I'll give him a pass for now, especially since Butler, Wade and Rondo only combined to take 11 free throws (Rondo took a very Rondo-esque zero free throws, he needs to get better at drawing contact).
3. The Bulls missed Doug McDermott tonight
I can't believe I just said that.
Let's move on.
4. The Bulls also missed MCW
Young, athletic guards are going to be a weakness for the Bulls' starting back court, which is why a piece like the long-limbed, bench off-guard Michael Carter-Williams can be so crucial, especially since Hoiberg staggers the starters' minutes.
5. The Bulls were surprisingly un-clutch.
The Bulls couldn't buy a basket down the stretch when it mattered.
When the clock wound down to 1:25 remaining in regulation, the tally was 101-100 Boston. Chicago would not score again.
When Dwyane Wade isn't feeling it, Butler has to be "The Guy" in these types of late-game situations.
This season, he goes to the free-throw line 7.5 times a game, making 83.3 percent of his attempts.
It's a crucial skill, especially when easy looks prove hard to come by.
This article originally appeared on