Chicago Bulls: To Trade Or Not To Trade Nikola Mirotic?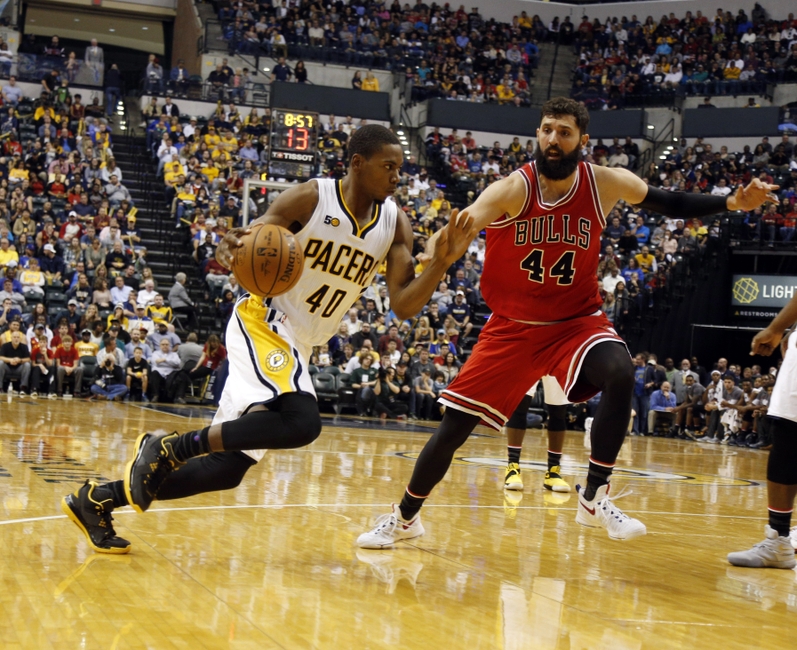 The Chicago Bulls did a great job of making moves this offseason to secure a revamped roster, but is it time to let go of one more player?
Say what you want about the Chicago Bulls front office, but they did one heck of a job reconstructing their roster this summer.
Between letting go of Derrick Rose and Joakim Noah, bringing aboard Rajon Rondo and Dwyane Wade, and even finding a potential hidden gem in the likes of Isaiah Canaan … the organization deserves major props on their work this offseason.
But now, it may be time to start thinking about making another move.
Specifically, trading Nikola Mirotic.
Currently 7-4 and one game into their last ever Circus Trip, the Bulls need as much consistency as possible moving forward.
They already had plenty to overcome in regards to building chemistry amongst each other and settling into head coach Fred Hoiberg's system, with some kinks still remaining to be worked out.
And unfortunately, consistency is not panning out to be Mirotic's strong suit.
Drafted in 2011 by the Houston Rockets, the 6-foot-10 power forward was then traded to Chicago. However, in order to enter the league from playing overseas, the Bulls had to buy him out for approximately $3 million, on top of then signing him to a three-year, $16.6 million contract.
In other words, the organization put up a pretty penny to take a chance on the young talent.
It paid off though. At least at first.
As a rookie, Mirotic averaged 10.2 points and 4.9 rebounds a game on 20.2 minutes of play. He made it to the NBA All-Star Rising Stars Challenge and even finished second in Rookie of the Year voting. Chicago and its fans alike saw big things ahead for Mirotic.
But sadly, he did not improve all that much during his second year.
Finishing the season averaging 11.8 points and 5.5 rebounds a contest on 24.9 minutes of play, Mirotic was also sidelined with acute appendicitis that limited him to 66 games in 2015-16.
This summer things were looking up though; the 25-year-old was a part of the Spanish national team in the 2016 Summer Olympics and ended up taking home a bronze medal.
He reportedly came into training camp looking like a better rounded, more aggressive version of himself, ready for a more productive third year.
In fact, many had him pegged for getting the starting role over Taj Gibson.
However not only did Gibson out play him and looks to be the glue holding the newly formed Bulls together, but Mirotic is still causing just about everyone to scratch their heads.
The problem is not his skill-set. Because truth be told, the talent is there.
Just Saturday, he put up 17 points and 11 rebounds in 23 minutes against the Washington Wizards. But the team cannot count on him on a consistent basis.
And with Gibson reaching 31 years of age and Bobby Portis being the only other option … Chicago needs to think about its future.
Whether Mirotic is just stuck in a rut or perhaps Hoiball simply is not for him, is still up for debate.
But a guy that goes scoreless one day (like on Nov. 5 against the Indiana Pacers), but produced 14 points and six rebounds the night before against the New York Knicks is not a reliable solution to success.
Some have said confidence is key. And that may be so. But it is hard to believe that is the only thing standing in the way of Mirotic developing into the player he could be. A guy that should be producing more than an average of 10.3 points and 5.7 rebounds a game in his third season.
As much of a fan favorite that Mirotic has become, with his pretty stroke from downtown and kind disposition, it may be time to reconsider keeping him on board.
Not only for the sake of the Bulls competing for a title, but for the forward as well: just as Mirotic is holding Chicago back, the organization is likely doing the same to him.
This article originally appeared on