Chicago Bulls: The New And Improved Jimmy Butler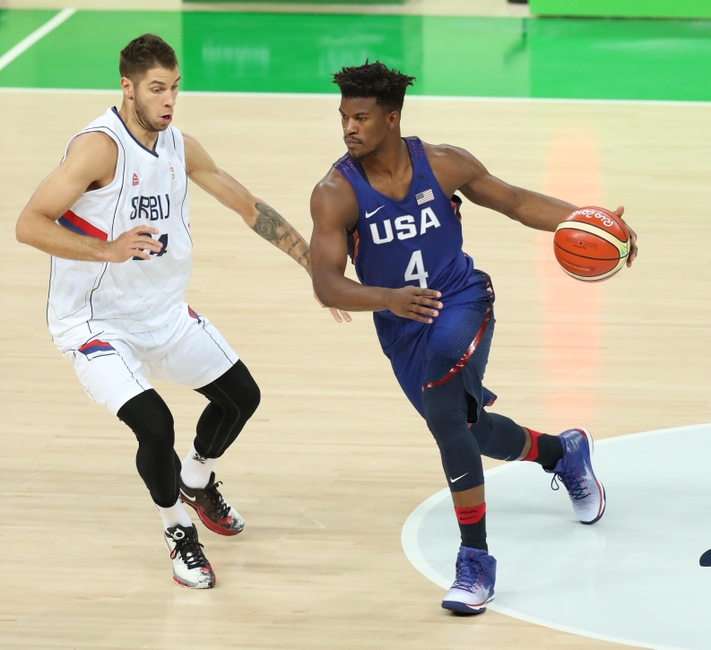 Chicago Bulls star Jimmy Butler has had quite a summer, gearing him up for a successful 2016-17 run.
Chicago Bulls fans have a lot to look forward to in 2016-17.
For one, the fact that they can finally put last season's woes, behind them.
Of course, there are also new faces to be excited about: Rajon Rondo and Dwyane Wade, for example.
And the relief of no more locker room drama, as Derrick Rose and Joakim Noah are starting a new chapter of their lives in New York.
But perhaps the No. 1 most exciting thing about this upcoming year is the new and improved Jimmy Butler.
Drafted in 2011, the Houston native was seemingly a fan-favorite right off of the bat; having had to work through many obstacles in his life to get to the league, his story resonated with many. Butler was the talk of the NBA, his upbringing being compared to The Blind Side.
Everyone wanted to see him succeed and moreover saw that he had the drive to do so too.
Unfortunately, his rookie year was lackluster. Not given much of an opportunity, Butler only averaged 8.5 minutes a game. But that did not stop him from soaking up knowledge from those around him.
After all, he was being coached by Tom Thibodeau and playing alongside the likes of Rose and Noah.
Fast-forward to 2014, and it was clear the shooting guard was working his way to becoming the next face of the franchise.
With Rose having undergone a handful of injuries, and Thibodeau's coaching style obviously being a great fit and of great influence, Butler was on the fast-track to stardom. He ended the season by averaging 20.0 points, 5.8 rebounds and 3.3 assists a game, on 38.7 minutes of play.
However, then the 26-year-old hit a bump in the road. Chicago got rid of Thibodeau, bringing aboard head coach Fred Hoiberg, a move Butler clearly did not appreciate. Things went sour between him and some of his teammates. He also dealt with injury.
So despite his numbers only getting better during 2015-16 (20.9 points, 5.3 rebounds and 4.8 assists per matchup), Butler was slowly going from being cast as the Bulls' savior, to a villain.
To the point that many fans were calling for a trade this summer.
But fortunately, management kept him around. And instead of reprimanding his behavior, they reworked the team in a way that has finally given Butler a chance to be the leader he has always wished to be.
And although the season has yet to start, it is already paying off.
For one, it seems that he, Rondo and Wade are actually on the same page:
"We're not going to go through this all year. This is Jimmy Butler's team," said Wade. "Myself and (Rajon) Rondo are here to bring what we bring as athletes to this team and to this city. (Butler's) a young bull on this team. He's a 26-year-old that can play 40 minutes a game if coach wants him to and maybe more. I ain't trying to do all that. And we're going to depend on him a lot.
Rondo also chimed in, mirroring the same sentiment.
"Jimmy's the youngest, he's the engine here. It'll be Jimmy, Wade, and then it will be a pecking order. The main thing is that we have three alphas. There will be three alphas on the team. Just trying to mesh together and try to make sure we are doing the best thing for the team."
Chicago is now Butler's team. So gone should be the days of ego clashes and a fight for power.
Butler also got a chance to represent the United States as a member of the men's basketball Olympic team, sharing a gold medal with talent like Carmelo Anthony and Kevin Durant, who both sung his praises during their road to victory.
"You can tell he's just a team guy," Durant said of Butler. "He's been someone that I've gotten close with, someone that I didn't know too well coming in."

"Jimmy is a workaholic. He's in the gym all the time," said Anthony. "With his confidence and work ethic, he's going to continue to grow."
And coming off of the Olympics, Butler has just signed onto a new venture: being the national face of Bonobos. A New-York based menswear brand that has been around for nine years, the chain now has two Chicago locations.
"Jimmy exhibits what it means to wear 'no doubts' both on and off the court. We are honored to welcome him into the Bonobos family," said Bonobos CEO Andy Dunn.
Yes, Butler has been an offensive powerhouse for the Bulls for a few years now. But his new attitude and mindset will only help to further develop his skill set, while also going back to being beloved by Chicagoans.
This article originally appeared on