Chicago Bulls: Taj Gibson Deserves Credit For Early-Season Success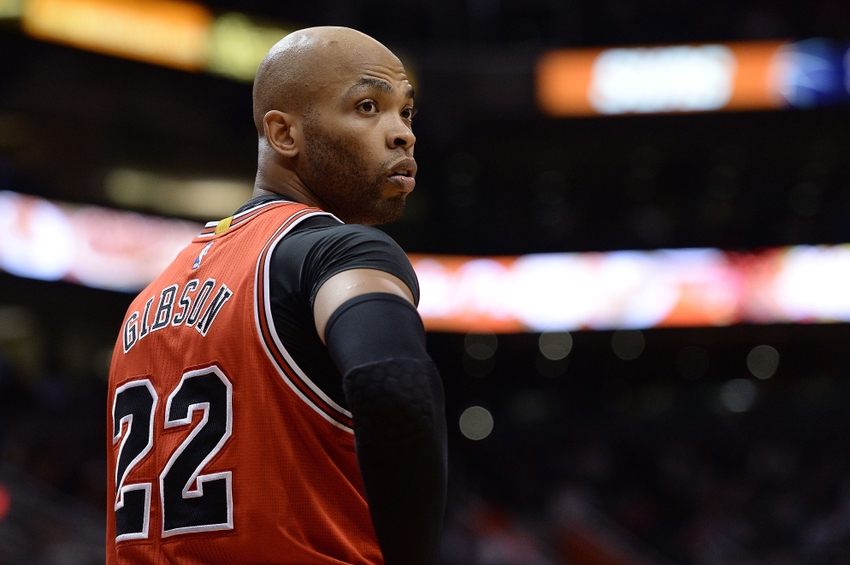 Chicago Bulls power forward Taj Gibson has paid his dues in the NBA and it has finally paid off.
After years of making his mark on the Chicago Bulls as a key contributor off the bench, Taj Gibson got the nod as the team's starting power forward this season.
After averaging 13.8 points, 7.7 rebounds and 0.7 blocks per game in the preseason, he edged out Nikola Mirotic and finally got the opportunity to show what he could do as a starter after seven years of backing up Carlos Boozer, Pau Gasol and Joakim Noah.
Gibson started 55 of 73 games played a season ago, although it was mostly spot starts for an injured Noah or Gasol. That's been the theme of Gibson's career. He's never been the unquestioned starter for longer than a couple of weeks.
He became a key player of the Bulls' bench mob in 2010-11 under Tom Thibodeau and eventually the Bulls sixth man over the past couple of seasons. During this time, the notion that Gibson could thrive as a starter has always been there.
He has contributed 8.7 points, 5.6 rebounds and 1.2 blocks per game as a bench player, but 10.2 points, 7.7 rebounds and 1.4 blocks per contest as a starter during his seven-year career.
Despite his promising potential as a starter, the Bulls always chose to sign a big name power forward to complement Noah and keep Gibson on the bench.
With the Rajon Rondo and Dwyane Wade signings, and Derrick Rose trade that sent starting center Robin Lopez to the Bulls, Gibson garnered less media attention.
Still, the Bulls spent their money to build a formidable backcourt and put their trust in the last member of the bench mob, Taj Gibson.
Through the Bulls' first eight games, the move has already paid off for Chicago. Gibson has proved to be Chicago's most complete big man. He's posted 12.3 points, 9.0 rebounds and 1.0 block per game with four double-doubles after only recording seven last season.
It's a small sample size, and it's not to say that Gibson has transformed into an All-Star caliber power forward, but his hot start has been as beneficial as anyone's on the Bulls. His hustle, rebounding and defense has all continued to be a big part of his game, but at a more efficient level.
He leads the team in rebounding, and he ranks second in blocked shots behind Robin Lopez. While Lopez has been the better rim protector for Chicago, Gibson's athleticism has again made him one of the better defenders on the Bulls.
He's the only player to average at least one steal and one block per game so far this season. Not to mention his ability to switch onto any position gives the Bulls an advantage when teams run pick-and-rolls against them.
Gibson has made a living off of his efficient rebounding — career 9.2 rebounds per 36 minutes and 13.3 per 100 possessions — and defense, however, he is giving the Bulls his best offensive production since backing up Carlos Boozer in 2013-14.
Gibson has been an inconsistent mid-range shooter in his career. He mostly scores off of put-backs and dunks. His athleticism and leaping ability makes him an underrated dunker, and he becomes a deadly weapon in transition.
Just ask now-teammate Dwyane Wade.
Even though Gibson has continued to score off his career-high 2.8 offensive rebounds per game, he has also extended his range to an unprecedented area for him.
A career 39.6 percent shooter from 10-to-15 feet out, Gibson has connected on 60 percent of his shots from that range in the early season. Not to mention shooting 44.4 percent from 16 feet or farther, despite only shooting a measly 37.1 percent from that range in his career.
The Bulls can't expect Gibson to continue to be that efficient for 82 games, but it's a hot start that can be attributed to his starting role and work ethic.
As a starter, Gibson has a much bigger offensive role, rather than being used as a defensive specialist and rebounder.
It's evident by Gibson attempting double-digit shots for just the second time in his career and his significant increase in production, despite averaging the same minutes per game as a season ago.
Plus, Gibson is one of the hardest working players on the Bulls every year. It's led to Gibson's offensive game improving mightily over the past couple of seasons.
In fact, he has shot above 50 percent from the field in each of the past two seasons and is shooting a career-high 53.4 percent this season — ranking ninth in the NBA out of players who are attempting at least 10 shots per game.
Taj Gibson is likely a sixth or seventh man on a championship-caliber team, but his efficiency so far warrants having him in the starting lineup.
That holds especially true on the glass, as he ranks 17th in rebounds per 36 minutes out of players with at least 100 minutes played.
For as many big games as Gibson has had as a starter in years past, it shouldn't be a huge surprise that he's almost averaging a double-double. It seems like having Gibson in the starting lineup has been in the works for a long time, yet it's just finally coming into fruition.
There's still a lot of games left to be played, and Gibson will probably see a decrease in production at some point. Although, for now, Chicago should just enjoy the ride because Gibson has consistently been very good this season.
This article originally appeared on