Chicago Bulls: So Much For The Clashing Of Egos…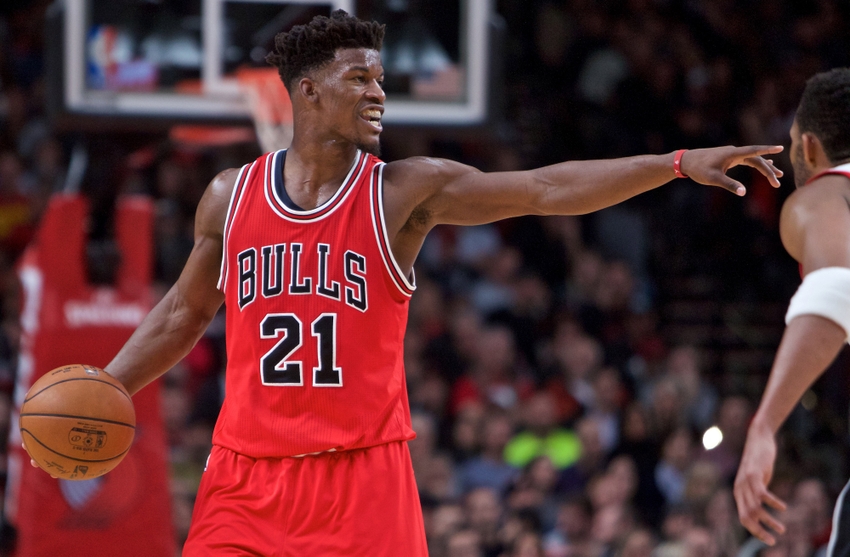 Egos inevitably clashing in 2016-17 for the Chicago Bulls? Think again.
It feels like just yesterday that the Chicago Bulls announced their signing of Rajon Rondo, shortly thereafter only to reveal that Dwyane Wade had also chosen to join the men in red.
This was alongside budding star Jimmy Butler of course, a Bull since he was drafted in 2011.
First came shock; shock that a front office who has for so long preached against drama was welcoming Rondo with open arms; shock that Wade was going to leave behind South Beach, his home for the last 13 years.
And then came doubt.
Doubt that bringing together such big names, each known for being leaders in dramatically different ways, would ever work.
Because after all, with stardom comes egos.
Something that in a dose too large, can easily equal trouble.
However here we are, 16 games into the season, and well… it seems as though the Alpha Three are getting along just fine. Both on, and off of the court.
Going into 2016-17, both Rondo and Wade made one thing clear: this would be Butler's team. But whether or not anyone believed them, was an entirely different story.
Although Butler had been ready to step up as the dominant force he always knew he could be, many questioned whether a hot-head like Rondo and a superstar like Wade could really just step aside for a 27-year-old who had only recently started to show signs of greatness.
That is exactly what happened though.
In fact, Wade has basically taken a step back to Butler, more so acting like a mentor passing the torch.
"I'm a chef, he's a cook. Trying to make him a chef. He's having an unbelievable season. What he's doing now, this is not a facade. This is not luck. This is the way he can play night in and night out."
Wade's goal goes beyond just making sure Butler is playing well, however. It is insisting the rest of the league takes notice.
"The league is on notice. Everybody is on notice that Jimmy Butler is a player. What everyone is seeing this year, I think everyone has been a little surprised, but we all knew he could play. You've seen the potential."
And Butler appreciates it too. Not just for the obvious reasons either. The young fellow knows first hand from experiences with the likes of Derrick Rose and Joakim Noah that without good chemistry between teammates, the team simply cannot be successful.
"We realize we're all we have when we step out into the United Center floor or an away game. It's us. These coaches, this organization.''
Yes, that includes Rondo, a guy who although has been praised for his playmaking abilities, has also been at the center of controversy regarding bad behavior.
Gone are those days though.
Partly, because of his relationship with head coach Fred Hoiberg.
"Fred does have more of a laid-back personality. He doesn't micromanage as much as some coaches do in the league. For me, that's big."
And more important than people may realize.
Though it is true that the concern for the future of this team stemmed from the worry of the Alpha Three not knowing how to play together, Hoiberg also factored into the equation. While 2015-16 was his first year as a NBA coach, things did not exactly go how he imagined.
Partly because Hoiball was so drastically different than the style of former head coach Tom Thibodeau. But also due his apparent inability to really connect with the guys, causing outcries in the media from players like Butler himself.
And nothing bruises an ego more than public humiliation.
However it seems like the organization has left the past where it belongs, instead focusing on what is to come. Success, for example.
Rondo, Wade, Butler and the rest of the Chicago Bulls may individually have varying strengths and weaknesses, aspects that on paper may not look promising. But with the team off to a good start this season, they have clearly found a way to work as a unit.
This article originally appeared on