Chicago Bulls: SI.com's Top 100 Reveals Changes To Come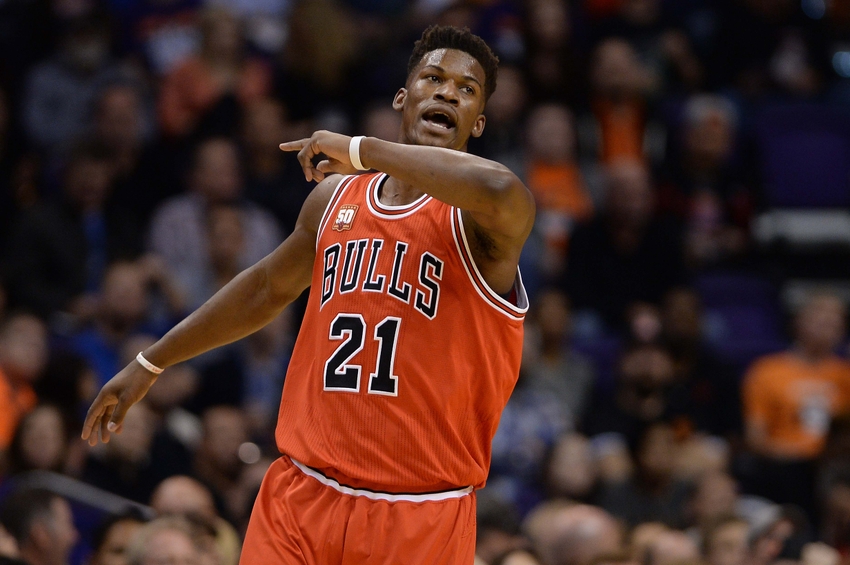 According to SI.com's Top 100 list, it seems the Chicago Bulls have let go of some declining familiar faces just in time, and have some serious talent to work with in 2016-17.
For the fourth year in a row, SI.com has released their NBA Top 100 list, and among those ranked this year for the Chicago Bulls are Jimmy Butler, Dwyane Wade and Robin Lopez.
(Meanwhile, Derrick Rose and Joakim Noah failed to impress…)
With Butler poised to become the new face of the franchise, the combo guard/forward made the list at No.16, after being No.18 one year prior. This shows that Butler is indeed developing into an even better player, and that the organization certainly made the right call in keeping him around.
"Take a look at Jimmy Butler these days, and it's hard not to hear the Fresh Prince rapping "My life got flipped turned upside down" in the background. In 2014–15, Butler's breakout year, the Bulls were coached by Tom Thibodeau and the most-used lineup featuring Butler included Derrick Rose, Mike Dunleavy, Pau Gasol and Joakim Noah.

Two years later, Butler is significantly richer and more decorated, but he's also surrounded by entirely new faces: Thibodeau is in Minnesota, Rose and Noah are in New York, Gasol is in San Antonio and Dunleavy is in Cleveland. Almost as soon as the 26-year-old Butler arrived, he was left as the last man standing.

The good news: Butler (20.9 PPG, 5.3 RPG, 4.8 APG, 1.6 SPG) is, much like Paul George before him, a two-way game-changer whose stabilizing presence makes it possible for management to pursue a dramatic makeover. While the 2016 All-Star and All-NBA Third Team selection remains a cut below the NBA's A-list wings, he is dynamic enough on offense and committed enough on defense to carry a team to respectability as long as he can stay healthy.

The most curious aspect of Chicago's retooling effort, however, is how few of the moves seemed to play to Butler's strengths. Fred Hoiberg's softer touch led to some friction last year.

Rajon Rondo will take touches away. Dwyane Wade, pitched as some sort of star mentor to Butler, feels more like unnecessary competition for attention and shots. Perhaps, then, Butler is best off keeping his head down in the event that there's another round of dramatic changes coming sooner rather than later."
Then there is newbie Wade, who came in at No. 32. Although he may have fallen two spots from 2015-16, this is still impressive given his age.
Dwyane Wade will be a first-ballot Hall of Famer in part because he expertly navigated through ego minefields. Make Shaquille O'Neal feel appreciated? No problem, ring number one. Convince LeBron James and Chris Bosh to team up in Miami? No problem, rings two and three.

But what awaits Wade in Chicago is a different beast entirely: he's no longer the franchise icon, he's no longer on a team with enough talent to harbor serious title aspirations, and he's no longer a top-10 talent himself.

What's more, Wade is leaving a Heat team where he was the meal ticket who was surrounded by, for the most part, deferential personalities like Goran Dragic, Luol Deng and Justise Winslow who could help cover up some of his flaws.

In Chicago, Wade will tussle with ultra-stubborn point guard Rajon Rondo for control of the ball and he will jockey with rising star Jimmy Butler for the marquee attention. He'll also approach those tasks without the backing of an experienced, proven and trusted coach like Erik Spoelstra.

The good news: Wade, 34, arrives with some positive momentum. Last year, he appeared in 74 games, his most since 2010-11, he posted All-Star worthy numbers (19 PPG, 4.1 RPG, 4.6 APG), and he delivered in a big way when it mattered in the first round of the playoffs.

The bad news: he's leaving a Heat organization that was long designed to win on his terms for a Bulls organization that spent this summer proving that it doesn't have anything resembling a big-picture vision.
And Robin Lopez was listed at No. 82, after not even being ranked last season. This should definitely excite Chicagoans, who have sadly yet to show any real interest in the center.
"There's a delicious contrast to be found between Robin Lopez's zany interests and the eminently overlooked nature of his game. By day, Lopez is a Star Wars superfan, comic book freak and Disney addict who dives into his passions as deeply as can be, often joining hundreds of like-minded devotees in mass celebration.

By night, Lopez sets screens, dives hard to the hoop, flings in clunky hook shots, crashes the offensive glass, protects the basket area, and diligently boxes out—all of the underappreciated and forgettable things that ensure his more recognizable teammates can get their numbers and his teams can win a few more games.

He's rarely been a player of note on the NBA's postseason stage, and even his new coach, Fred Hoiberg, accidentally called him "Brook" (his more decorated twin brother's name) during a press conference this summer. Truthfully, man NBA fans probably knows him better as "The guy with the weird hair that fights with mascots" more than anything that has to do with his actual job description.

Even so, Lopez is a very fine all-around center who can be a positive contributor on both sides of the ball if the personnel around him plays to his strengths and helps cover up his weaknesses."
Unfortunately however, Taj Gibson was unable to hang on this year. Similarly, Rajon Rondo did not make the cut.
But that does not mean they will not have breakout seasons for the Bulls
A new era is here, Chicago. Better hang on.
More from Hoops Habit
This article originally appeared on