Chicago Bulls: Rajon Rondo Proving to Be Upgrade Over Derrick Rose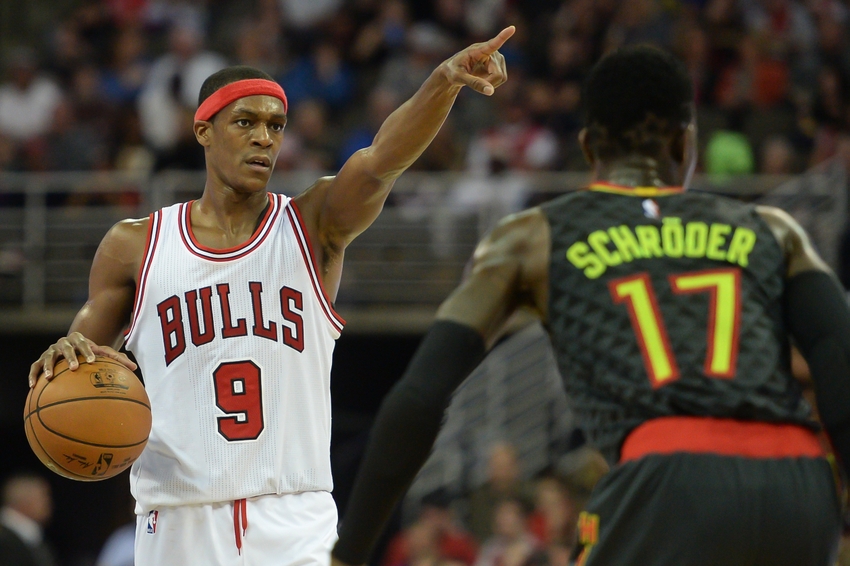 It's only been two games, but Rajon Rondo already looks like a perfect fit on the Chicago Bulls.
Rajon Rondo is already winning over Chicago with his stellar play. After watching Derrick Rose for several years play at a level that was a mere shell of his 2010-11 MVP season, Rondo has brought life back to the point guard position, and it's made all the difference for the Chicago Bulls.
Rose is a Chicago kid and that was enough to excuse a lot of his inefficiencies for many fans. Although, through only two games, the Bulls look better on both ends of the court than they did with Rose in the past five seasons.
Even though Rondo doesn't score as efficiently or as often as Rose, his pass-first style of play has worked well for the Bulls. His playmaking sets up his teammates wherever they are on the court, and it puts less of a focus on outside shooting, an area where the Bulls struggle in.
Besides, it's not like Rose's scoring couldn't be replaced. He averaged 16.4 points per game last season, but hasn't shot above 43 percent from the field since the 2011-12 season and shot under 30 percent from three for the second straight year.
The biggest hindrance on the Bulls' offense over the past four years wasn't Rose's poor shooting, however, but rather the need to get him shots.
Despite his horrid shooting at times, he still averaged 15.9 shot attempts per game — tied for 24th in the league. He averaged 0.5 more shots per game than Jimmy Butler despite becoming a liability at times on offense when he couldn't get to the basket and had to rely on his jump shot.
Rondo is only shooting 21.4 percent from the field in his first two games as a Bull, but he doesn't demand shots like Rose to be effective. His passing creates chances for other players, therefore the Bulls don't need to run specific plays for him, and that helps the flow of the offense a lot.
As a result, six different players have scored double-digit points in at least one of the first two games. While it's a small sample size, it's evident that Rondo's passing consistently creates chances for other players.
It's not to say that Rose was a selfish player, but his 4.7 assists per game last season lack in comparison to Rondo's 22 assists in two games. In fact, Rose has only had one 11-assist game since the 2013-14 season.
The point guard position has evolved to fit Rose's style of play as a scorer, but the Bulls felt that they needed to get him going on offense to win, and he never returned to be an effective scorer.
While scoring point guards have become more common nowadays, the role of the point is to still get everyone involved and be the floor general.
Not every point guard needs to actively search for assists like Rondo, because it causes turnovers at times when he passes up an open shot in search of an assist. But Rondo knows his role on the team, and that's an important part of why the Bulls offense has clicked so fast.
Last season, the offense revolved around Butler, Rose and Pau Gasol. Doug McDermott and Nikola Mirotic had a big game here or there, but the Bulls' main focus was to get their starting trio going.
However, with Rondo playing the point, everyone knows they have to be active on offense because he's always looking to pass.
It creates more movement since players know it won't be an isolation for Rose, rather Rondo penetrates the defense and dumps it off to Robin Lopez when the defense collapses. Or he kicks it out to McDermott or Mirotic for a three.
Either way, the ball is constantly moving, and it becomes contagious. The Bulls lead the league in assists per game with 29.5, and a remarkable 72.9 percent of their makes this season have come off an assist.
Even though Rondo makes up more than a third of their assists this year, everyone on the Bulls have become more willing to make the extra pass since the Bulls are running fewer isolation plays.
It makes the Bulls lack of outside shooting less of a problem in the regular season since the constant ball movement eventually finds the open man.
Also, Rondo's playmaking creates easy scores in transition, which is a big part of Hoiball.
Rondo certainly has flaws of his own.
He's not a great defender, but neither was Rose. Rondo averages 1.8 steals per game in his career, and that's an area the Bulls needed help in last year as they finished 29th in steals per game as a team.
He's a liability outside of three feet. However playing off of him gives him more passing lanes but playing on top of him lets him use his quickness to blow by defenders. Then, when he gets to the basket, he's a deadly playmaker.
He shoots a respectable 63.9 percent from inside of three feet but isn't afraid to dump it off to his center for an easy dunk or find a shooter on the perimeter.
Despite all the flaws his game has, Rajon Rondo is the exact point guard the Bulls needed leading this team. The Bulls didn't need Rose's poor shooting and unwillingness to accept a smaller role in the offense, especially after signing Dwyane Wade.
Chicago needed Rondo's willingness to pass and get everyone involved because they don't have a superstar that they can give the ball to and consistently score in one-on-one situations, rather they have a solid all-around roster.
Butler and Wade can both score, although neither are great outside shooters and benefit from having a point guard who can deliver a pass to them as they cut to the basket for a layup.
The Bulls will face problems down the road due to their poor three-point shooting, especially if Nikola Mirotic cools off. Although, the notion that these three ball-dominant players — Rondo, Wade and Butler — can't play together is crazy. Rondo might need the ball in his hands to be effective, but it creates chances for everyone on the court and easier scores for Wade and Butler.
It's a small sample size, but when the offense looks better with Rondo at point than it has since Rose's MVP season, it says a lot about how the two point guards fit with the Chicago Bulls.
This article originally appeared on