Chicago Bulls: Organization Continues To Make Changes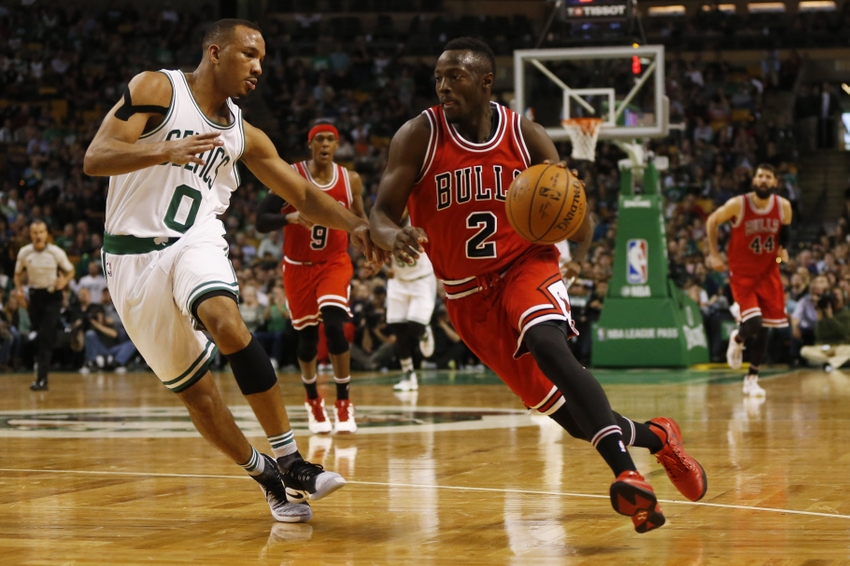 The Chicago Bulls made a handful of changes this offseason, and are continuing to do so regarding their roster.
Gone are the days of a stagnant Chicago Bulls front office.
After missing the postseason in 2015-16, general manager Gar Forman and vice president John Paxson had enough. It was time to make some major changes to the organization. It was time to revamp the team.
And not just through low-level signings and/or trades so low-key most fans never realized they even happened in the first place.
Gar/Pax were ready for a total makeover. And that is exactly what they got.
So far so good, too.
As of Monday night, the Bulls are 10-6. They went 4-2 on their dreaded Circus Trip, putting them third in the Eastern Conference.
Headlined by the so-called Alpha Three of Jimmy Butler, Dwyane Wade and Rajon Rondo, Chicago also has been relying on guys like Robin Lopez and Taj Gibson to carry a bulk of the load.
Head coach Fred Hoiberg seems to be getting a better handle on Hoiball as well, a term coined regarding his style of play. The players too, seem more well equipped to fit themselves into his system.
Of course, there are still improvements to be made however.
An area which could definitely use some help, for example, being the bench.
With Doug McDermott just returning to practice after being placed on concussion protocol for the second time already this season, and Nikola Mirotic continuing to struggle, the Bulls need some added aid. And it seems as though they might be making room for exactly that.
The organization recently announced they are sending Jerian Grant, Cristiano Felicio and R.J. Hunter to the NBA Developmental League's Windy City Bulls.
While Grant got some good minutes on the Circus Trip, covering for Rondo while he was out with an injury, he is currently only averaging 4.4 points, 1.7 rebounds and 1.4 assists per game on 13.3 minutes of play in 10 games.
Felicio, Chicago's backup center to Lopez, has only played an average of 9.5 minutes in 11 games this year. Having been seemingly replaced by Bobby Portis, his numbers have fallen to 2.1 points and 3.2 rebounds a matchup.
As for Hunter, who actually came from Windy City, he has only appeared in two games for the Bulls.
Aside from sending those three off to the D-League though, it may actually also be time to recall Spencer Dinwiddie. Having been traded to the Bulls from the Detroit Pistons for Cameron Bairstow in June, the point guard was waived on July 7, only to be re-signed on July 28.
Unfortunately however, he was once again waived on October 21 and assigned to Windy City.
But despite this setback, Dinwiddie has been thriving. Leading the team in scoring, the 23-year-old is averaging 20 points and 8.6 assists a contest.
A confident sharp-shooter with playmaking abilities to boot, Dinwiddie may be just the spark Chicago needs to get its second unit going.
And there are plenty of other D-Leaguers to keep an eye on.
Say, like Zeke Upshaw.
At 25 years old, the 6-foot-6 swingman spent one year at Hofstra, where he averaged 19.8 points and 4.1 rebounds a game.
He then went overseas, playing for Helios Domzale in the Slovenian SKL in 2014-15, averaging 9.5 points and 3.1 rebounds per matchup and Basket Esch in Luxembourg's Total League during the 2015-16 season, having averaged 20.8 points and 7.6 rebounds a contest.
Recently having been drafted by the Grand Rapids Drive, the young buck is ready to dominate.
And it just so happens he will be going up against the Windy City Bulls on Friday, December 2.
The Bulls have certainly started this year off strong, but it is clear the organization is still on a mission to rebuild the franchise and make it the best it can be once again.
This article originally appeared on