Chicago Bulls Notes: Cristiano Felicio Needs More Minutes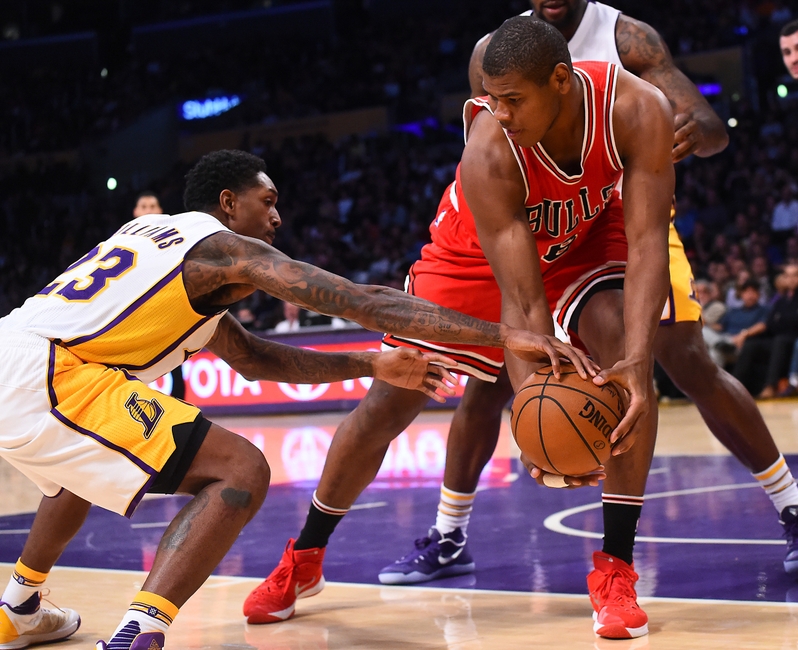 If you were trying to come up with the prototypical exciting backup center prospect for the Chicago Bulls, you would come up with someone that looks a lot like Cristiano Felicio.
He's 24 years old, with a few years of development still ahead of him. He's a strong, competent rim protector who can hedge in pick and roll coverage without getting too out of sorts, and do a pretty good job rolling hard on the other end. The only problem? He can't seem to get on the court. His minutes have been spread between starters Robin Lopez and Taj Gibson, a big chunk of them being ceded to Bobby Portis, the man responsible for this gem:
It hasn't been this way all season. Felicio averaged 12.7 minutes for the first seven games of the year, right around where he should be with Taj Gibson playing a bit at center in front of him. During those games, Felicio averaged 3 points and 3.3 rebounds per game. That's nothing spectacular, but it's fine for the role he's in.
Something happened between game seven and game eight, however, because since then, Felicio has played less than 16 minutes total in nine games for the Bulls. He's racked up five DNP-CDs in that time, and when he has played, it's been strictly in garbage time.
Meanwhile, Bobby Portis has seen his minutes jump from 10.1 minutes per game over the first seven games (a number greatly inflated by extended garbage time in blowouts against Indiana and Orlando) to a much less inflated 12.3 minutes per game over the last nine games. In that more recent chunk, he's put up 3.2 points per game and 2.8 rebounds. Sound familiar?
More from Pippen Ain't Easy
In terms of traditional production, Felicio during the first seven games and Portis since then are very similar. The difference can be seen when we look at the net rating for both players over their respective periods. Over the first seven games, Felicio boasted a net rating of +8.8. Over the last nine games, Portis has registered a net rating of -9.7.
It's unclear why Felicio's minutes disappeared so suddenly when we examine the numbers like this. He was contributing just like a third center is supposed to, and the defense was good when he was on the court. Despite that, he's been relegated to the bench save for a few irrelevant minutes here and there.
This isn't to say Felicio doesn't have flaws. Of course he does. His offensive skill set is far from polished, and since his minutes have vaporized, he's managed to sink only one field goal out of 10 attempts. But the only thing that can help the Brazilian improve is more playing time.
This also isn't to say that Bobby Portis is completely hopeless, just that he's completely hopeless at center. Portis has seen his traditional per game stats dwindle slightly even as his minutes have increased. My guess is that this is due to him being forced into a center role that he has no business occupying.
Portis played most of his minutes at the beginning of the season at power forward, but since Felicio has vanished, he's playing mostly at center, and he simply doesn't have the defensive skills to handle such a task. To make matters worse, a good chunk of those minutes are with Nikola Mirotic at power forward, and these two cannot be on the floor together if the Bulls want to play any modicum of defense. The Bulls have a defensive rating of 110.1 when Portis and Mirotic share the floor, per NBAwowy (The Blazers are currently in last place with a rating of 110.5).
The opposing team going on a run when Hoiberg plays Mirotic+Portis is like clockwork. You can't have them out there together.

— Sean Highkin (@highkin) November 26, 2016
If Portis is going to get time, it needs to be at power forward. The problem is, that means fewer minutes for either Taj or Niko. Taj has been a force this season and one of the Bulls' most consistent players, and Hoiberg needs Mirotic's shooting, pump fakes and all, while Doug McDermott recovers from his mysterious concussion.
So the choice Hoiberg faces is to either plant his first round pick on the bench, or condemn his second unit to having piss poor interior defense. He should split the difference, sending Portis in for a few minutes a game at power forward when Taj slides over to center.
Hoiberg should also keep Felicio's development in mind and get his minutes back up to what they were at the start of the season. We already saw that Felicio is capable of anchoring the second unit defensively, and if Butler stays in to prop up some bench units, the two of them could have the makings of a solid defensive lineup for the Bulls to antagonize other teams' benches.
Don't just listen to me. Jake Weiner from BlogaBull is similarly upset. Stephen Noh of the Athletic has been wanting more Felicio for a while:
Nate Duncan expressed on his podcast that the Bulls second unit defense would benefit from more Felicio. In sum, the internet has spoken, and we say #Freelicio.
This article originally appeared on