Chicago Bulls: Nikola Mirotic Searching For Consistency In Year 3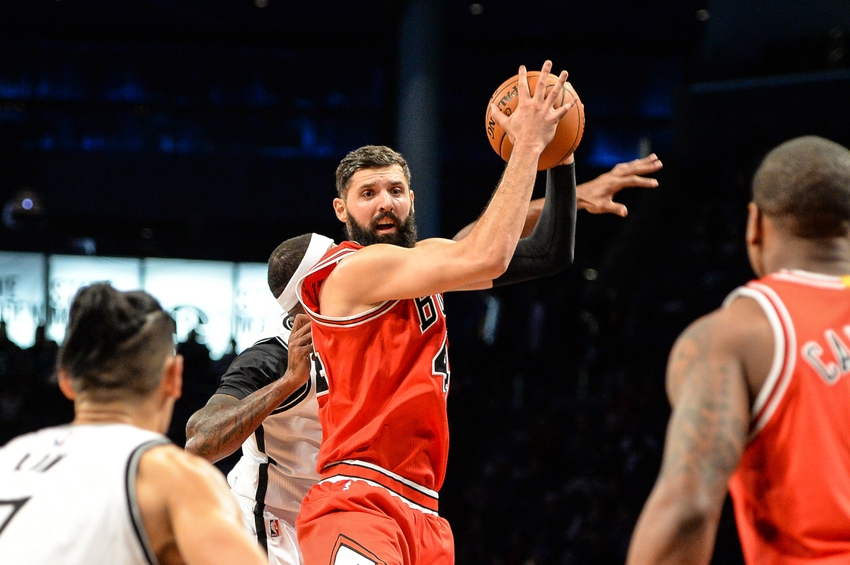 Chicago Bulls forward Nikola Mirotic has had a pair of decent showings during the team's two-game win streak. Can he find a way to keep the trend going?
When the Chicago Bulls brought Nikola Mirotic from overseas prior to the start of the 2014-15 season, they did so with the hope that he would be able to provide outside shooting for a team ranked in the middle of the pack in this category.
During his rookie campaign, Mirotic averaged 10.5 points and 4.9 rebounds per contest on 40 percent shooting from the field and 31 percent from beyond the arc.
Those numbers improved during his second season as he averaged 11.8 points and 5.5 boards per outing while converting 39 percent of his attempts from long range.
Despite showing flashes of potential in his first two seasons, the knock on Mirotic was that he had not been able to find a way to play well on a consistent basis.
Coming into his third season, both the Bulls and Mirotic were hoping he would finally be able to shed that label and carve out a spot in the rotation. Through the team's first 10 games, though, the results have been a mixed bag.
On the first night of the new season, Mirotic chipped in with 17 points and six rebounds while shooting 3-for-6 from three-point range in Chicago's 107-100 win against the Boston Celtics.
Even more importantly, Mirotic played with confidence and was very deliberate about what he wanted to do from an offensive standpoint.
In other words, this was the kind of performance the Bulls were hoping for from the third-year forward who is expected to anchor the second unit.
Unfortunately, Mirotic struggled over the next four games. In fact, during that stretch, he shot an abysmal 6-for-28 from the field, including a 3-for-19 effort from beyond the arc.
Then, as luck or fate would have it, in back-to-back wins over the Miami Heat and the Washington Wizards, Mirotic has come back to life, averaging a respectable 13.5 points and 8.5 rebounds.
With the start of annual Circus Trip on the horizon, the question is what can the Bulls do to help Mirotic build upon his recent success?
"I think the biggest thing is try and keep confidence in him,'' Fred Hoiberg said, via the Chicago Sun-Times. "That's all you can do. Believe me, I'm a person that went through a lot of struggles in this league and there's not a worse feeling in this world.

"As a shooter sometimes it takes that one game to take the lid off and then you take off from there. We gotta try and keep him confident, try to pump him up as much as possible through this stretch, but also show film and see the mistakes that are being made, especially on that other end of the floor, so it's just continue to talk, keep him as upbeat as possible.''
While the Bulls are hopeful that Mirotic will take his game to the next level this season, the fans have seen this story before. Even the most casual follower of this team remembers what happened with Tony Snell.
Like Mirotic, there were times when Snell did play well, but for some reason, he never found a way to string together solid games. This is the same problem that Mirotic is now facing.
And unless he finds a way to turn that trend around, his days as a member of the Bulls could be numbered.
This article originally appeared on