Chicago Bulls: Midseason Report Card From 2016-17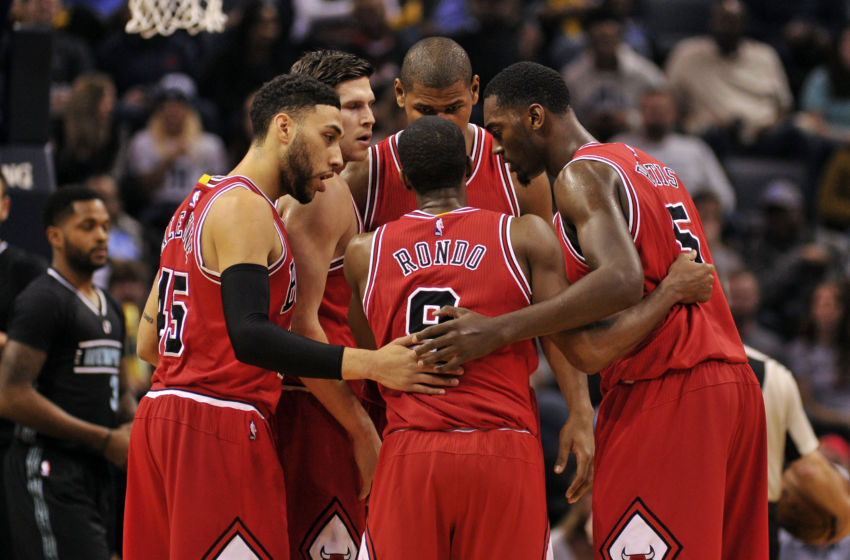 The Chicago Bulls have reached the halfway point of the 2016-17 season. Here is a look at their midseason grades.
The Chicago Bulls were riding a two-game winning streak heading into their matchup against the Dallas Mavericks on Tuesday night. In the previous meeting between the two ball clubs, the Mavericks cruised to an easy 107-82 victory.
That being said, the Bulls were hoping for a different outcome this time around.
After Jimmy Butler drilled a jumper to put the Bulls up by two (98-96) with 23 seconds left in regulation, it appeared the Bulls were in position to avenge their early season loss to the Mavs.
But thanks to a defensive breakdown on the ensuing possession, Mavericks guard Wesley Matthews buried an open three-pointer, giving the Mavericks a 99-98 lead.
The Bulls had one more opportunity to win the game, but Dwyane Wade was unable to hit a contested jumper, allowing one of the worst teams in the Western Conference to escape with a victory.
Unfortunately for the Bulls, the maddening theme of being consistently inconsistent continues as they have managed to notch victories against upper-echelon teams in the league (Cleveland Cavaliers, Toronto Raptors and San Antonio Spurs) only to follow up those efforts with disappointing performances against sub-.500 opponents.
With the first half of the 2016-17 season now in the books, it is time to take a look at the Bulls' midseason report for the starting five.
Robin Lopez
The Chicago Bulls acquired Robin Lopez as part of the trade that sent former MVP Derrick Rose to the New York Knicks.
After watching the previous guy who held down the center spot during the past two seasons, Pau Gasol, attempting to replace that type of production with Lopez may have seemed like a stretch on paper.
However, while Ro-Lo won't give you a double-double on a nightly basis, there other things that he does quite well. He sets effective screens and he defends the pick-and-roll reasonably well.
Although Lopez's averages (9.1 points and 7.1 rebounds) do not favorably compare to the numbers Gasol put up during his two-year stint with the Bulls (17.6 points and 11.4 rebounds), Lopez is a solid rim protector (leads team with 1.7 blocks per contest) and he is a big reason why the Bulls are the best rebounding team in the league.
Additionally, Lopez has no problem sacrificing even if it means watching games from the bench in the fourth quarter.
"If you want to win, when you want to get to the upper echelons of this league, everybody on the roster is going to sacrifice," Lopez said, via the Chicago Sun-Times. "I think the couple of guys that have won -championships on this team can tell you that."
Simply put, Lopez is doing exactly what the Bulls hoped he would when they traded for him during the offseason. His game may not be flashy, but it is effective.
Midseason Grade: B
Taj Gibson
After years of playing the role of good soldier behind the likes of Joakim Noah, Gasol and even Nikola Mirotic, Taj Gibson was finally inserted into the starting lineup prior to the start of the season.
To be honest, it should have been a no-brainer once Gasol and Noah departed via free agency, but everything is a process I suppose.
In the starting power forward role, Gibson continues to produce at high level. His 12.0 points per contest is his highest scoring output since the 2013-14 campaign.
Secondly, Gibson is pulling down 7.3 rebounds per outing, which represents his highest mark since his 2009-10 rookie season when he averaged 7.5 rebounds.
Furthermore, Gibson does not take a ton of bad shots and is becoming a better mid-range shooter.
This assertion is supported by the fact that he is connecting on 52 percent of his shot attempts, including a career-best 66 percent conversion rate between 0-3 feet and a 46 conversion rate between 10-16 feet, the second best mark of his career (per Basketball-Reference.com).
As has been the case in years past, Gibson plays whatever role he is asked to without a lot of fanfare — a huge positive trait from the last member of the Bulls team that advanced to the conference finals back in 2011.
Midseason Grade: B+
Rajon Rondo
After trading Derrick Rose to the New York Knicks prior to the 2016 NBA draft, the Bulls signed Rajon Rondo just two weeks later.
The hope was that Rondo's high basketball IQ — coupled with the fact that he has played on a championship team — would be a good choice to help fill the void created by Rose's departure.
Early on, all was well. The Bulls were playing with the pace that Fred Hoiberg wanted and even more important, they were winning games. However, following a 111-101 loss to the Indiana Pacers on Dec. 30, Hoiberg decided to bench Rondo for the next five games.
As is the case with most competitive players, Rondo did not take the decision very well. Although he handled the situation as well as anyone could expect, he also called the situation a slap in the face.
In all fairness, that is probably an accurate statement being that Rondo was brought here to fill the lead guard position.
Despite his obvious displeasure about the recent development, Rondo has remained professional and has accepted his new role as a reserve.
On the season, Rondo is averaging 6.9 points per contest — his lowest average since his 2006-07 rookie season and is shooting a career-low 36 percent from the field.
Looking at the situation from the other side of the coin, though, Rondo has never been a great perimeter shooter — something the Bulls were well aware of when they acquired him.
Additionally, he leads the team in assists (6.9) and continues to be a model teammate despite being relegated to a reduced role midway through the season.
Having said that, Rondo may not be the difference-maker that the Bulls hoped he would be, but he hasn't been a total disappointment either.
Midseason Grade: C-
Dwyane Wade
When the Bulls entered the offseason on a low note, the thought of acquiring Dwyane Wade was the furthest thing from their mind. After he and the Miami Heat were unable to reach an agreement on a long-term deal, though, Wade all but fell into Chicago's lap and the rest is history.
Given the fact that Wade is a three-time champion and a 13-time All-Star, he was given the green light to voice his opinion during practices from the moment he arrived in training camp.
From ESPN Chicago's Nick Friedell:
"No question," Wade said. "That's one of the reasons I'm here as well. One of the reasons they were interested in me is because of what I come with from the standpoint of being there. I've been to five Finals and have a lot of experience. Sitting down with [Hoiberg] talking about all our young guys and what they can learn from me and also Jimmy [Butler] as well and [Rajon] Rondo as well.

"As I said in my post, it's about us policing each other, us three leaders but also passing it down to other guys. So, yes, he gave myself — and I'm sure he gave Rondo and Jimmy — carte blanche to be able to say the things we need to say, but at the same time respect what coach is doing and respect what coach is saying and find your times to talk."
On the court, Wade isn't doing too bad either. This season, he is averaging 18.8 points, 4.1 rebounds and 3.8 assists on slash lines of .427/.372/.798. Furthermore, the 35-year-old veteran still has the ability to take over a game down the stretch, as illustrated in the highlight clip below.
In that game against the New Orleans Pelicans, Wade pumped in 17 of his 22 points in the final 12 minutes. In other words, the guy still knows how to be a closer when it is needed.
Considering the fact that Wade has been an asset to the Bulls both on and off the court, he is deserving of a solid grade at this point.
Midseason Grade: A-
Jimmy Butler
Jimmy Butler (a.k.a. Jimmy G. Buckets) has been the Bulls best player and top scoring option in each of the last two seasons. For those of us who thought that Butler would wilt under the pressure of being the cornerstone of the franchise, that assessment would have been incorrect.
Once again, Butler is spearheading Chicago's attack, leading the team in points (24.8), steals (1.7) and minutes played per contest (36.8).
Additionally, in six clutch-game scenarios (plays that occur in the fourth quarter or overtime, with less than five minutes remaining, and neither team ahead by more than five points) between mid-December and early January, Butler scored a total 40 points on 12-for-18 shooting from the field; converted 16 of 17 attempts from the charity stripe while committing just two turnovers.
Even more important, the Bulls posted a 4-2 record over that stretch.
One other point that is worth mentioning is the fact that Butler has performed well even Wade doesn't suit up.
In four full games that Butler has played in when Wade was out of the lineup, he posted averages of 33.5 points, 9.0 rebounds and 5.5 assists per contest on an efficient 54 percent shooting.
So to recap, we have a player that leads the team in multiple categories while getting the job done at both ends of the floor. Along with that, Butler continuously rises to the occasion when another star player is out of lineup and he is a legitimate MVP candidate.
Based on the solid production, it is safe to say that Butler's grade at this point is a no-brainer.
Midseason Grade: A+
This article originally appeared on