Chicago Bulls Make Light Work of Utah Jazz in TNT Match-up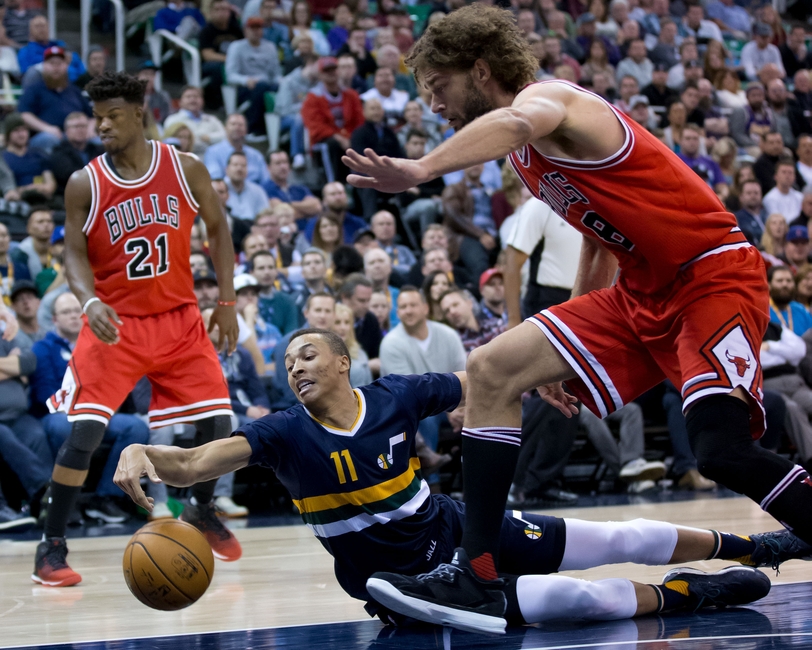 The Utah Jazz's highly-anticipated match-up on TNT against the Chicago Bulls resulted in a huge disappointment for the home team.
It had been a long four years since the Utah Jazz had appeared in a game on TNT. And after Thursday's performance against the Bulls, maybe it would've been best had they waited a little longer.
Because the national audience definitely didn't catch the Jazz on their best night.
Perhaps it was the nerves of playing on a national stage. Maybe the Jazz, accustomed to playing so many games in such a short time, got a little too much rest going into this match-up. Or who knows, maybe the 8:30 start time was just a little too late for them.
Ok, so I'm being facetious, but really your guess is as good as mine as to what threw them off so badly in Thursday's contest. But whatever the case, it was undoubtedly one of the ugliest games the Jazz have played this season as they fell 85-77 to the Chicago Bulls.
VS.
| | | | | | |
| --- | --- | --- | --- | --- | --- |
| | 1 | 2 | 3 | 4 | T |
| Jazz | 26 | 17 | 15 | 19 | 77 |
| Bulls | 25 | 16 | 25 | 19 | 85 |
The Bulls didn't look all that great either, particularly in the first half as they shot just 28.8 percent. Nevertheless, even after their dismal early shooting performance, Chicago only trailed by two going into the break.
But things picked up significantly for them from there. Even though it was the Chicago Bulls who were playing in the second game of a back-to-back, the Jazz looked much more sluggish as they came out horribly flat in the third quarter and put up only 15 points, a season-low for the team in a quarter.
And the fourth quarter wasn't much better. Utah did manage to close the gap to five on a huge three from Dante Exum late in the period, but a two-point dagger by Wade in the subsequent possession put the Bulls up by seven and they never really looked back from there as Chicago closed out the game well to earn the eight-point win.
The Jazz simply could not find their offense throughout the game. Gordon Hayward was absolutely outmatched by Jimmy Butler all night long and struggled to get any momentum as he was smothered by double team after double team and could not get his jumper to fall. While Butler finished with 20 points on 36.8 percent shooting, Hayward went just 3-of-15 for a meager eight points.
But the fault for the loss by no means rests solely on Hayward's shoulders. The team as a whole had an absolutely dismal shooting night. Utah shot 38.5 percent from the field as a team and went 5-of-25 from deep.
While Utah had some good looks from behind the arc, they simply could not convert or get into any sort of rhythm.
And in all honesty, I thought Utah settled for far too many three-pointers. Rather than being aggressive and trying to get easy looks, Utah attempted to win the game on the perimeter despite the fact that shots refused to go down all night long.
The two bright points for the Jazz were the team's two leading scorers Rudy Gobert and Dante Exum. Gobert finished with 16 points on 7-of-9 shooting and 13 rebounds and Exum scored 14 points on 41.7 percent shooting from the field.
While Rodney Hood logged 14 points, he did so on a disappointing and inefficient 5-of-16 shooting night that included going 1-of-7 from deep. Meanwhile, the Bulls were led by Butler's 20 and Dwyane Wade's 18.
Thursday's loss was tough for a number of reasons. Not only was it the second loss in a row for the Jazz, but it marked their third home loss of the year dropping their home record below .500 (2-3).
And while it was frustrating to see Hood and Hayward struggle, it wasn't completely unexpected. Hayward obviously still isn't completely comfortable with his formerly fractured finger and Hood was returning to action after sitting out last game due to illness.
However, the continued and now almost expected struggles of Boris Diaw, Shelvin Mack and to a point Trey Lyles are becoming very discouraging. Of course their frustrating performances are accentuated by the fact that they are logging more minutes than Jazz fans would like them to be with both Derrick Favors and George Hill sidelined.
But in spite of the injuries, it still seems like the Jazz should be much better than how they have looked in these past two games, especially considering how phenomenally they played in their five-game eastern road trip. Yet with so many injuries and such inconsistent play, it's been really hard to judge just what kind of team this Utah Jazz squad is.
Now after dropping two straight at home, Utah will face the daunting task of playing the Rockets and Nuggets on the road on Saturday and Sunday. I suppose the lone positive to that is that Utah currently holds a 5-3 record away from Vivint Smart Home Arena, so perhaps playing in these road contests won't phase them as much as one might think.
Plus, it's hard to imagine it getting any worse than how the Jazz looked Thursday, so it's not a stretch to believe that we'll see some vast improvements in Utah's next two games.
More from Purple and Blues
More than anything, the Jazz need George Hill back. In his absence, it has become so apparent just how much of a positive impact he has on this team on both ends of the floor. Utah's offense has had no life in the past two games and is in dire need of their floor general returning to get things back on track.
He's already been out longer than many had suspected, so hopefully his return will come sooner rather than later. If not, Thursday's disappointing loss could be a sign of turbulent times ahead for the Utah Jazz in their upcoming contests.
In playing against two fast-paced, high-scoring teams in the Rockets and Nuggets, Utah won't be able to rely on their defense alone and will need to actually put up some points of their own if they hope to avoid sliding below .500 for the third time this season.
All stats courtesy of NBA.com
This article originally appeared on