Chicago Bulls: Jimmy Butler, Confident Not Egotistical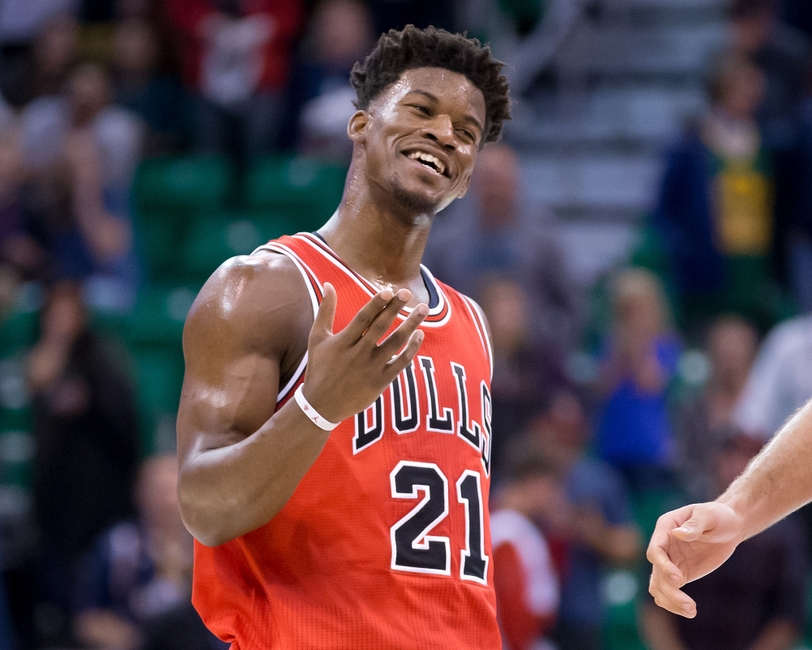 After dealing with negative criticism regarding his ego all summer, Chicago Bulls star Jimmy Butler is channeling confidence to drive his success in 2016-17.
Just 12 games into the 2016-17 season, and the Chicago Bulls look nothing like they did last year.
Not just when it comes to the revamped roster, either.
With a record of 8-4 as of Friday, the Bulls are two games into their last ever Circus Trip — a trip that, to put it lightly, usually doesn't go too well for the men in red. However, for now Chicago is 2-0, securing a 113-88 win against the Portland Trail Blazers and a 85-77 victory over the Utah Jazz.
On the eve of a Saturday night matchup versus the Los Angeles Clippers, the organization is pretty darn pleased with themselves. As they very well should be.
After all of the drama on and off of the court last season, culminating in disappointment as they missed out on a spot in the postseason, the Bulls were due for some good news. Ultimately, this began with restructuring the team this summer, but is fortunately continuing today.
In no small part thanks to Jimmy Butler.
Butler, who is averaging 24.2 points, 6.6 rebounds and 4.2 assists a game on 34.6 minutes of play so far this year, has not had an easy road to the top, and it goes beyond just his journey to the NBA period.
Because after being hyped up after the 2011 NBA Draft, Butler had a lackluster (at best), rookie year. Because as a sophomore, he did not improve all that much. Because even when people started taking note of his stat-line, his numbers were overshadowed by conflicts with the likes of Derrick Rose and Joakim Noah. Because last year, instead of being praised for averaging 20.9 points, 5.3 rebounds and 4.8 assists per contest on 36.9 minutes of play, he was being called egotistical.
But now in his fifth year, Butler is finally being looked at as the superstar he is. As the leader he was trying to be all along.
All while remaining confident.
When asked if he believed he is one of the 10 best players in the league this season, Butler was well… brutally honest.
"Do I dispute it? No. Do I believe it? Of course.  I think you can ask people we have on this team, I walk around and say certain things I really mean."

"I'm not gonna tell you exactly what I say but I think you know what I'm talking about. I don't talk about it in public. But between these guys, they know how I feel, they know the way I go about the game and how I love it and how I love being better. I place myself where I place it and I hope my game continues to speak."
And while last year, these types of comments may have rubbed the media, fans and even his own teammates the wrong way, things are certainly different now, because his performance on the court has continued to back up his word.
Perhaps more importantly though, his interactions with other members of the organization have done the same.
"I'm surprised at how mature he is," teammate Taj Gibson remarked. "He's a lot more mature as far as how he's been with the guys, how he's communicating. He's always critiquing the game, but he's always positive. Last year, he had his times where he was a little frustrated and he didn't know how to let out…"
Even head coach Fred Hoiberg has only good things to say about Butler, a guy who publicly spoke out against his coaching style last season.
"I'd put him up against anybody in the league as far as one of the top two-way players in the game."
Chicago has a lot to credit for their recent success. However, it's no secret that Butler has played a major role in turning this team around this year. And the best part is, he has been able to do so while remaining as confident as ever.
This article originally appeared on