Chicago Bulls: Dwyane Wade To Return Against The Miami Heat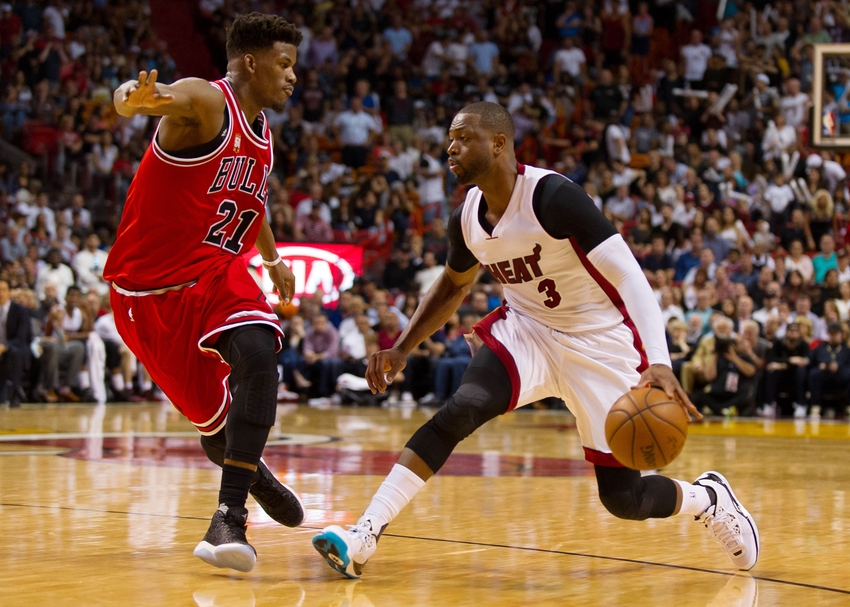 The Chicago Bulls are heading to South Beach on Thursday, to take on the Miami Heat in Dwyane Wade's first game against his old team.
The 2016-17 NBA season is exciting, period. Especially for Chicago Bulls fans. After a year of turbulence both on and off of the court, the organization worked hard all summer to turn things around and revamp the roster.
However, Thursday's game in South Beach against the Miami Heat is definitely going to be one for the books. Because Dwyane Wade is finally facing off against his former team. A team he was a part of for 13 years.
But it goes beyond just that.
Wade was the face of the franchise.
Just as Bulls fans were anxiously awaiting the opportunity to host Derrick Rose, Joakim Noah and the rest of the New York Knicks, Heat Nation is salivating at the thought of seeing Wade play in their house again.
The difference of course being that while Rose and Noah were not necessarily received in the most open of arms, Wade should be welcomed back like royalty.
In fact, many are already talking about the tribute video the Heat are set to play for Wade.
Emotions will be running high.
It is no longer a secret what caused Wade to leave Miami behind, and in that things are bound to get emotional.
While the superstar may not have seen eye to eye with president Pat Riley, he certainly did not ever want to leave guys like Udonis Haslem behind.
"We keep in touch. We talk all the time. I watch his games," Haslem told the Miami Herald. "I'm sure he watches our games. He told me he thought we had a good team. I'm sure he does watch our games. Our friendship continues to carry on."
But alas, he now has a new group of guys to rely on, and
has not been shy about
 trying to prepare them for Thursday.
"He just said, 'Y'all better be ready to play on Thursday. I'll tell you that much,'"

Taj Gibson

explained.
"Nah, I ain't. I don't know what kind of emotions will come over me. I don't know how I'll feel. What it'll look like…"
The Bulls as a whole may not have much at stake (minus winning or losing another game on the docket) but for Wade, this will be so much more than a game.
Of course, the same will go for the Heat.
Beyond losing a great teammate, leader and mentor, the organization suffers tremendously on the court in regards to missing talent.
Currently 2-4, Miami has had a rough start.
With Goran Dragic and Hassan Whiteside leading the pack, there is a new youth movement happening in South Beach, one that will take time to develop and mold.
So with that said, one has to believe they will do everything in their power to beat Chicago: the already-sort-of-rival-now-turned-enemy that lured away their heart and soul.
In theory, that will be easier said than done. For starters, Wade knows the premise behind Miami Heat basketball and exploiting their weaknesses on both ends of the floor should be a no-brainer.
The Bulls also have been strong offensively, with Wade suddenly getting hot beyond-the-arc and Jimmy Butler going to work as the new team leader. And for now, Chicago just looks like a better team, period.
However, they will be coming off of a road game against the Atlanta Hawks on Wednesday night. Back-to-backs are hard enough as it is at home, let alone while traveling. So fans should certainly expect some fatigue.
On top of that, while Wade himself might be highly motivated to win this one, he is facing an entire franchise, organization, team and fan base that has the same passion. Talk about pressure.
Regardless of who wins though, Thursday night is set to be a must-see contest. And while Wade has been thanking the Heat incessantly ever since he announced his decision to leave, now Miami gets their turn to do so too.
This article originally appeared on