Chicago Bulls: Dwyane Wade Providing More Than Numbers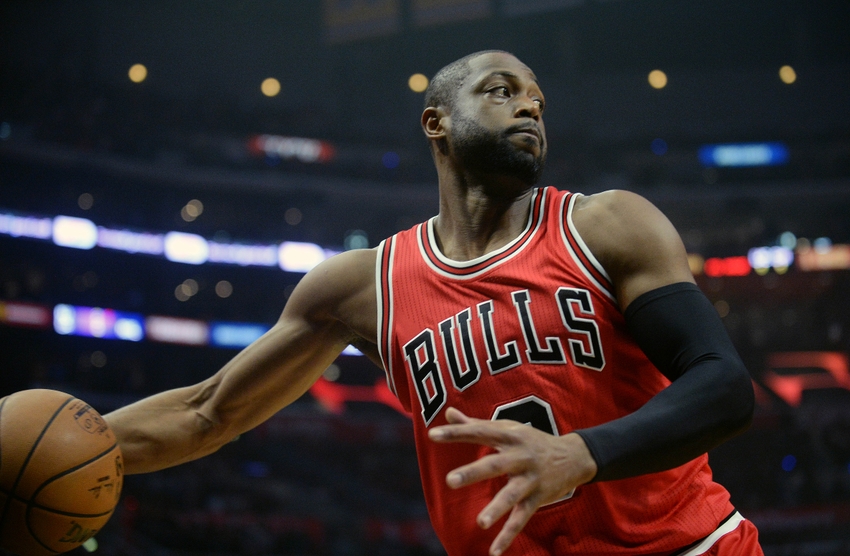 NBA superstar Dwyane Wade is helping the Chicago Bulls this year in ways far beyond what can be found in his stat-line.
At 34 years of age, Dwyane Wade is currently averaging 18.1 points, 4.3 rebounds and 2.9 assists a game on 30.3 minutes of play. He is also shooting 87.3 percent from the free throw line and 37.8 percent from beyond the arc, both career-highs.
And yet, these numbers mean little in comparison to the rest of the ways in which Wade is helping the Chicago Bulls succeed this season.
It all started in the summer, when he announced that after 13 years he would be leaving the Miami Heat to come back home to Chicago.
Although at the time there was no guarantee that the aging superstar would bring much to the table, the decision alone brought a sense of hope to the organization and its fans.
After already signing Rajon Rondo to the roster, adding Wade solidified the notion that the Bulls could in fact lure big names over their way. And it signified that the front office finally kept their word: changes would be coming.
Then there were things like the fact that on opening night against the Boston Celtics, Wade finished the evening with 22 points, six rebounds, five assists and one block. Talk about starting things off on a positive note.
That's not to mention when he went off against the New York Knicks on Nov. 4, recording 35 points, 10 rebounds and an assist.
Baller.
But now, 14 games into 2016-17, it is clear that Wade is contributing in so many ways off of the court too.
Like stepping into the role of a leader, while simultaneously still letting it be Jimmy Butler's team.
"I don't come in and use that pedigree all the time and say, 'Hey, listen, I got three championships. Listen to me.' It's more about, 'Hey, when I make a mistake, I want them to call me out on my mistakes.' It's about pulling aside, the way you talk to a guy."
That level of respect is exactly the reason Wade has been such an effective leader. In years past, guys like Derrick Rose and Joakim Noah may have had the talent and experience to want to take over a team, but they certainly had no notion of how to go about doing so.
And that, in the end, led to massive locker room drama.
But in a way, no one should really be surprised by Wade's comprehension of how to be a good teammate. After all, he shared the stage with LeBron James and Chris Bosh, a situation where egos could have easily gotten in the way.
"That's just who I am. That's how I've been successful in my career. I've been a part of five Finals in Miami. It doesn't happen by mistake that players want to play with you. I know as a teammate what I bring to my guys off the court. And I know how important that is."
Beyond being successful in leadership and collaboration however, Wade also houses another important off-the-court trait: self-awareness.
Although some stars would want to stay relishing in the limelight no matter the circumstance, Wade knows better. As a veteran with a high basketball IQ, the guard understands how taking himself out of the game  can sometimes actually be more beneficial to the team.
"It's really started since the beginning of training camp," head coach Fred Hoiberg said of his communication with Wade. "With practices, with two-a-days, seeing how his body feels after a practice and make the determination if he's going to sit out or if he's going to go through part of practice, do the non-contact portion…"
And it goes beyond practice, obviously. For example, Wade sat out in the Bulls' Sunday night 118-100 win over the Los Angeles Lakers.
After scoring 26 points with eight rebounds and three assists in 36 minutes against the Los Angeles Clippers only one night before, Wade knew it was time for his body to rest.
Fans should definitely expect more on-court high-level performances from Wade throughout the season. However, beyond that, they should expect the superstar to keep propelling Chicago forward in other ways as well.
This article originally appeared on