Chicago Bulls: Best Case Scenarios For 2016-17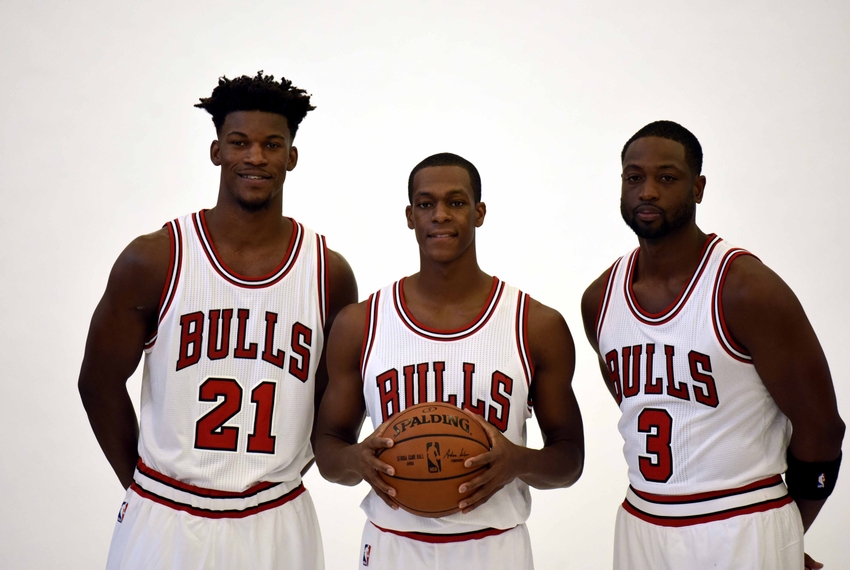 The Chicago Bulls have great roster on paper, but can all of the different pieces co-exist? Here are the best case scenarios for 2016-17.
It now seems like a lifetime since the days that the Chicago Bulls were looked at as true contenders in the Eastern Conference and were the favorites to dethrone any LeBron James led team.
But realistically, those days were six seasons ago. Back when Derrick Rose emerged as the next perennial superstar of the league, becoming the youngest MVP winner at 22 years and six months old.
Joakim Noah was one of the most dynamic big men in the NBA at the time with the ability to hang a triple-double any given night.
Tom Thibodeau had Chicago as one of the elite defensive teams in the league and it seemed like only a matter of time until they eventually lifting up the Larry O'Brien Trophy sooner rather then later.
Oh, how the times have changed. While their off-season additions this summer may look pretty on paper (or fantastic on NBA 2K), the signings of Dwyane Wade and Rajon Rondo certainly don't help for the team's lack of outside shooters.
To make things even worse, they lost Pau Gasol to the San Antonio Spurs in free agency. The 36-year-old certainly isn't what he once was when he helped Kobe Bryant and the Los Angeles Lakers to a couple of NBA titles, but he can still be a big piece of putting together a playoff roster.
Heading forward for this team, there are number of puzzle pieces to put together and factors that need to be handled correctly from head coach Fred Hoiberg if they want to return back to the postseason.
Let's take a look at some best-case scenarios for the Bulls this season.
Butler Remains The Focal Point
In the past, when you come across Dwayne Wade or Rajon Rondo's name on a roster, it's safe to assume that they are that respective team's top player in terms of production. But in Chicago, that role is limited to one, and one player only–Jimmy Butler.
Since entering the league in 2011-12, Butler has emerged as one of the best shooting guard in the league. Since his rookie season averaging an unimpressive 2.6 points per game, he now averages 20.9 and will likely continue to increase that number.
It isn't only on the offensive side of the ball where Butler has made strides. He is viewed to the majority as a top two-way player in the entire NBA.
Each night, the three-time NBA All-Defensive second-teamer is rewarded with the responsibility of guarding the oppositions best perimeter player, whether it be at shooting guard, small forward, or even sometimes, the point guard position.
Butler had a career-high usage percentage of 24.4. For the past three season, Butler has seen that number increase an average of 3.2 per season. If that rate were to continue, he would be somewhere in the top 20 players league-wide based off last season's ratings.
If the Bulls plan to maximize their potential, continuing to have Butler involved as much as possible is what needs to happen.
The glaring problem is the fact that Wade and Rondo are so used to being the ball-dominant player on their teams. Last season for the Miami Heat, Wade had a usage rate of 31.6–good enough for fifth in the league.
Rondo ranked second in the NBA in touches per game with 95.0–only second to John Wall's 98.7 according to NBA.com.
Guaranteeing those two players are willing to take a step back in terms of involvement within the offense will be something that remains to be seen.
Wade did this once before when LeBron James and Chris Bosh teamed up with him in Miami, but it's unsure if he'd be willing to do it again on a team who will be hoping for a playoff berth rather than being a frontrunner for a championship.
Rondo hasn't seemed to deal well with having the ball out of his hands more often. During his stint in Dallas, he was basically kicked off the team during the playoffs after he and head coach Rick Carlisle continuously butted heads about what sets were being called.
Rondo thought he should have more control over what was being called. As a result of this, the team exiled him in their opening playoff series by putting him on the inactive list.
The Bulls belong to Butler. It needs to remain that way.
Mirotic and McDermott Exceed Expectations
The only realistic threats from three on this Bulls roster right now are Nikola Mirotic and Doug McDermott. McDermott was fifth in the NBA in three-point shooting percentage at 42.5 compared to Mirotic's 39.0.
Last season, there were other players such as Aaron Brooks, E'twan Moore, and Pau Gasol who could put fear into the defense from deep alongside McDermott and Mirotic. As a team, Chicago ranked third overall in three-point percentage (37.1) last season.
If McDermott and Mirotic can lead the team again to that sort of production, it would make them a difficult match-up for most teams.
The scary part of all this is how bad Butler, Wade, and Rondo were. Butler was 31.2 percent, Wade shot an abysmal 15.9 percent, and Rondo shot a respectable 36.5 percent, but has a 28.9 shooting percentage for this career from outside.
Barring all three of those players have some miraculous off-season workout program that fixes those flaws, McDermott and Mirotic will be depended on heavily throughout the season to stretch the floor.
If they can't it spells trouble for this team because opposing teams will stack the paint with defenders and clog up lanes for Butler, Wade, and Rondo to attack.
Ideally, both players would like to be shooting in the mid-to-high 40s in order to stretch the floor around Butler, Wade, and Rondo. If they can do that, Chicago will be in good shape.
Fred Hoiberg Connects With The Players
Another struggle this team suffered from last season with the disconnect between the head coach and the players.
Their rankings in offensive and defensive efficiency rankings, 23rd and 21st respectively, can attest that there were definitely concerns with how the players and Fred Hoiberg were connecting on a philosophical standpoint.
Hoiberg reflected on the team's struggles last season to the  the Chicago Tribune:
"The biggest thing that I have to improve on is to get our team to play more consistently. We had a 7-1 record against the top two teams in the East that were playing in the Eastern Conference finals (the Cavaliers and Raptors), and we missed the playoffs. That shouldn't happen."
He continued by stating that he, Wade, and Rondo had all been in contact throughout the summer:
"We've put a lot of work in this summer," Hoiberg said. "I've had really good conversations with Rajon, with Dwyane. We've watched a lot of film together and shared ideas.
Gaining the respect of Rondo and Wade will be crucial because both will be a veteran presence in the locker room. Wade's words will have much more weight to them, but Rondo will also be a leader to the younger players.
How Good Can They Be?
If these best case scenarios play out, the Bulls could garner a few more wins than last season's 42. At about 44 wins, they could finish anywhere from sixth to eighth place depending how the rest of the conference fares.
In order for this to happen, Hoiberg needs to have the perfect system in place. With the players on this roster and considering all of their strengths, it's difficult to honestly say this team is going to be a legitimate threat this season.
It's possible that if they can pride themselves on the defensive side of the ball, they'll have a much better chance to win consistently. It just seems like there are two many factors (the main being Rondo), that if the train even slightly gets off tracks, this operation could get ugly in a hurry.
Predictions are just that. Predictions. For all we know, the Bulls could come out and be a cohesive unit from the get-go, but until then, their ceiling will remain at 44 wins.
This article originally appeared on