Chicago Bulls at Portland Trail Blazers: Instant Analysis of Bulls Win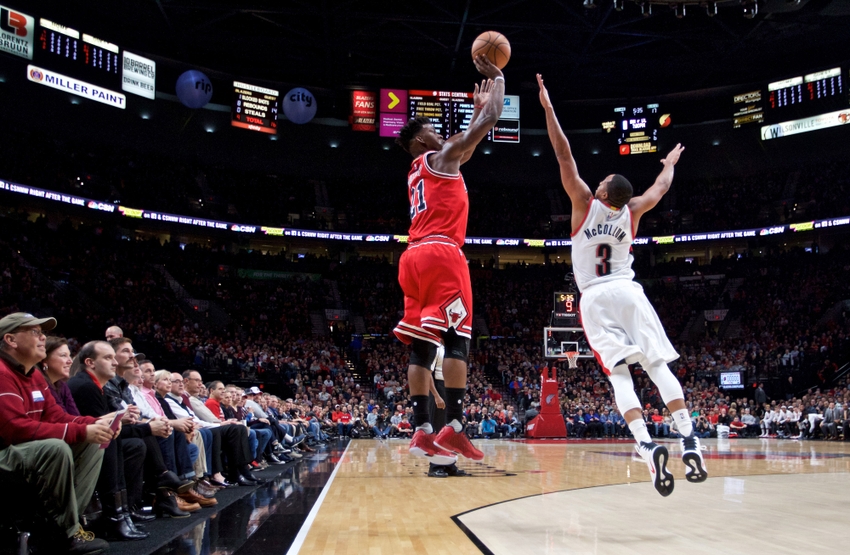 The Chicago Bulls got out to a hot start against the Portland Trail Blazers on Tuesday night and never looked back. Thanks to a huge night from Jimmy Butler, the Bulls got out to a huge lead and started out their Circus Road Trip, the last one they'll embark on, with a big win.
How's this for a return to your old team: Robin Lopez returns to Portland, gets ovation and then scores the first basket of the game. Butler followed him and then moments later the Bulls storm out in transition and thanks to a ridiculous pass from Jerian Grant who got the start in place of Rajon Rondo, get to 8-0 lead just 88 seconds into the game forcing a timeout from Terry Stotts.
Blazers didn't get a field goal make until the 6:48 mark in the first quarter. Jerian Grant gets assist to Lopez, Butler and Grant both can 3-pointers. Another timeout called as Bulls lead stretch to 22-7, 5:03 left in the first quarter. Bulls push lead all the way to 30-9. Dwyane Wade was first player out of game, subbed for Isaiah Canaan. All four other starters played the first 10:16 together. Butler scored 13 points in quarter, Lopez had nine points and seven rebounds.
Mirotic subbed in for Gibson at 1:44 left in first quarter. It was 35-14 at end of the quarter with Jimmy Butler and Robin Lopez playing the entire quarter. Grant played 11:24 with five points, two rebounds, one assist and one steal with no turnovers. Butler, Lopez, and Grant were all +21 in the first quarter. Damian Lillard was 0-for-7 in the first quarter for Portland. Allen Crabbe had seven points off the bench to lead all Blazers.
Evan Turner got hot for a couple baskets and the Bulls ran into a more resolute Portland defense early in the second, but still held a huge lead. The game was far enough out of hand that Bobby Portis and Denzel Valentine found their way into the game at the beginning of the second quarter. Canaan and Mirotic got extended run, but going with a smaller lineup – no Lopez, Felicio, or Gibson – proved a difficult task. Still, interesting to see a lineup of Canaan, Valentine, Portis, Mirotic and Wade. The Trail Blazers performance was ugly enough that it elicited a technical foul out of Stotts.
Blazers went on a mini-run, forced Chicago to call timeout at 42-26 Bulls midway through the second quarter. Bulls only shooting about average at that point in the game, 42.5 percent, but Portland was awful, shooting just 28.9 percent over the same stretch of nearly 18 minutes of game play. It was pretty clear that Butler is feeling it right now, after sitting for an extended period of the second quarter, he scored back-to-back baskets as soon as he returned to the court, picking up right where he left off.
After a lopsided first quarter, Portland steadied themselves in the second quarter. C.J. McCollum led the way with nine first-half points, while Lillard had just four points on 2-for-12 shooting. Butler lead all players with 19 in the half along with six rebounds and three assists. All five Chicago starters had at least eight points in the half, providing a fairly even distribution of contributions. Despite eight-plus minutes of play for Mirotic and Valentine each, neither player scored a single point. Portis was also blanked in nearly five minutes on the court and Canaan had just two points. The story was definitely the Bulls starters while the bench did nothing to build on the overwhelming performance of the first five up, 56-37 Bulls lead at halftime.
When the third quarter got rolling, the assumption would be Lillard getting on a roll and righting the wrongs of a terrible first half. Instead, Chicago jumped on them early, increasing their lead to 24 points, capped by a huge Butler-to-Wade alley-oop, 66-42 for the Bulls. By the time the third quarter reached the midway mark, four of five Chicago starters were in double digits in points, Lopez already hit a double-double with points and rebounds, Bulls lead, 70-51. A few minutes later, Taj Gibson joined the double-double party, though he did it quietly with solid play while Lopez and Butler did all the loud things. Speaking of Butler, he also joined the double-double club during the third quarter.
The emerging storyline for this game, however, was not the continued excellence of Butler. This game marked the first start for Grant and he marked the occasion by playing stellar basketball. He was outplaying not just Lillard, but absolutely destroying the performances of Chicago's Rondo. The Grant performance is a revelation on the same day that Tony Romo held a press conference about his status as a deposed starting quarterback, while his rookie replacement emerges to help the team win. Does this Grant performance mean anything at all? It should. We won't know if it means the same thing to Hoiberg that it does to us until Thursday night when the Bulls take on the Utah Jazz.
As the game was well out of reach for the Trail Blazers, the hope was that Chicago would allow Cristiano Felicio, Paul Zipser and new guard, R.J. Hunter to get some time on the court. Instead, we got more Mirotic and Portis alongside Butler and Wade who were no longer needed as the Bulls had maintained their 20-point lead, 99-79, with 6:46 left to play.
More from Pippen Ain't Easy
As the game rolled on, it was clear that this just wasn't the night for any late heroics from Lillard. The big thing to keep in mind is that the first quarter was the key to everything. If you take away that opening 10-0 run, this game was much closer the rest of the way as the scoring in the second, third and fourth quarters were all basically deadlocked.
Butler was the star of the game with 27 points, 12 rebounds and five assists. He's still hitting a ton of shots, getting to the rim, taking the game as it comes to him and hardly forcing the game. It isn't hyperbole to say that Grant's performance, while not the same impressive stat line, eclipsed Butler. The hustle, athleticism, willingness to shoot and play defense all looked much better with Grant than the $13 million starter, Rondo. It was also a huge night for Robin Lopez, back in his old stomping ground, putting up 13 points and 11 rebounds.
If you're looking for things to be critical about: perhaps the bench guys should have received a lot more run. With a 106-82 lead, 4:21 remaining, Zipser, Hunter and Felicio still had not made it on the court. It was a good opportunity for Portis and Valentine to get some valuable court time, but they should have been joined by their benchmates. Even then, all three of those young players finally got in the game at the end.
Chicago started the game hot and let that carry them all the way to a big victory. It was surprising in the same way that Lillard being outplayed by Grant was surprising. Portland's flat first quarter was puzzling, just like the Bulls 7-4 record. The Bulls next play at Utah on Thursday night, talk about a statement game. We're going to find out a lot about the Bulls, Grant and the Jazz.
This article originally appeared on