Chicago Bulls at Portland Trail Blazers: Four Takeaways, Butler Shines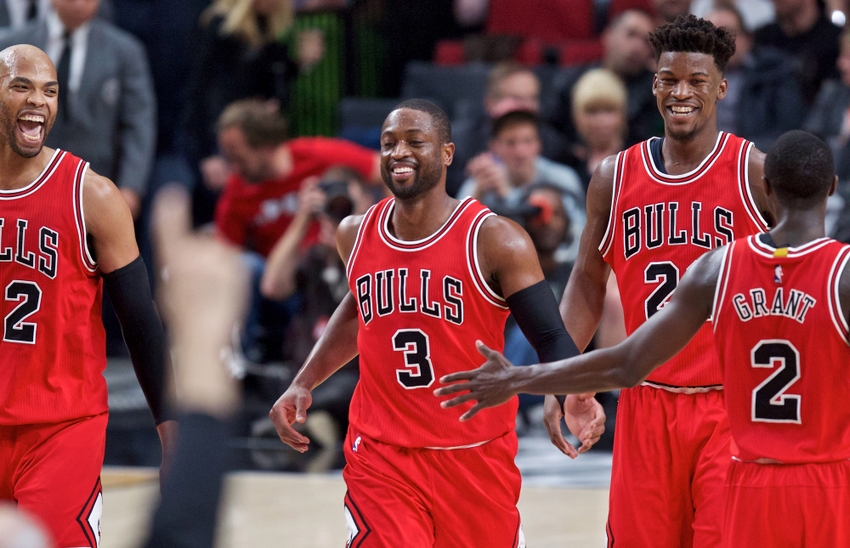 It was a monster win for the Chicago Bulls on Tuesday night as they took down Damian Lillard and the Portland Trailblazers, 113-88. The Bulls are 7-4 for the season now after tonight's commanding victory.
The Bulls came to play on Tuesday.
In what Fred Hoiberg called the Bulls' most complete game of the season, the Bulls grabbed a decisive win in Portland against the Trail Blazers. While it was never a particular close game, the entertainment factor was up there, with Jerian Grant steals and Jimmy Butler dunks to spare.
The Bulls started off at a lightning fast pace, running up an 8-point lead on the Blazers before the game was two minutes old. It never got better for Portland either, as Damian Lillard's squad had one of their worst shooting nights of the season and missed the reliability of starting power forward Al-Farouq Aminu. Rajon Rondo and Doug McDermott also sat this one out with injuries.
Tuesday's game was the first of the annual circus trip for the Bulls, the road trip that the Bulls take every fall while the circus occupies the United Center (Fred Hoiberg said on Monday that this would be the last circus trip).
Before tonight's game, Blazers came in ninth in FanSided's power rankings, while the Bulls took tenth. It's safe to say that the Blazers were not playing like the ninth best team in the league tonight.
Let's take a look at the four biggest takeaways from Tuesday's win.
The Jerian Grant Game
Second year point guard Jerian Grant had arguably the best game of his NBA career Tuesday night.
New to the Bulls this season, Grant has received limited playing time thus far after excelling for the championship winning Summer Bulls (still waiting on that banner). But Grant took full advantage of the opportunity before him with Rondo out due to a left ankle sprain.
Grant scored 16 points (3 shy of a career high) on 6-for-13 shooting and recorded an impressive five steals. A few of those came right out of Damian Lillard's hands, and nearly all of them led to transition layups.
K.C. Johnson of the Chicago Tribune was high on Grant's performance.
These may be Jerian Grant's best minutes as a Bull—including summer league.

— K.C. Johnson (@KCJHoop) November 16, 2016
Johnson wasn't alone in his thoughts either; several other voices chimed in with similar remarks. Matt Moore of CBS Sports came at it from a slightly different angle.
Here's a note: Never give up on a point guard after he's had to play in the Triangle.

— Hardwood Paroxysm (@HPbasketball) November 16, 2016
Phil Jackson shade aside, this much is true: Grant's performance on Tuesday was a great sign for the Bulls' point guard situation, which has looked shaky so far as both Rondo and Michael Carter-Williams battle injuries off the court and shooting the ball efficiently on the court.
Portland's Many Struggles
Although the Bulls put together an impressive effort in this win, it would be misleading not to mention that the Trail Blazers also played far below their potential. They're not without their weaknesses of course, as Rip City Project's Jeff Luten points out here, but this is a potent offense with Damian Lillard and CJ McCollum on the court, capable of much more than what we saw.
What we saw on Tuesday night was a team that succeeded in finding open looks, but failed to make the shots they found. Lillard missed his first 11 shots of the night, didn't score a field goal until well into the second quarter, and finished the night with an inflated 19 points on 7-for-22 shooting.
More from Pippen Ain't Easy
As a team, the Blazers shot 35.8 percent from the field. To put that number in context, the Orlando Magic currently have a field goal percentage of 41.0 percent for the season, and it's good for dead last in the NBA.
Every team has its off nights, and this loss is certainly not a reason for any panic to ensue in Portland. The Blazers embark on a road trip of their own on Thursday, taking on the Rockets, the Pelicans, the Nets, the Knicks, and the Cavs. Provided they can go above .500 on the trip, Rip City fans should have no reason to worry.
Jimmy's Helluva November
Bulls star Jimmy Butler kept right up with his spectacular play, giving himself a strong case for Eastern Conference Player of the Month for November. Look at these numbers from 670TheScore's Cody Westerlund:
Jimmy Butler in his past 4 games:

30.8 ppg
7.0 rpg
6.5 apg
3.0 spg
51.3 FG%
40-44 FTs (90.9%)

— Cody Westerlund (@CodyWesterlund) November 16, 2016
Those are All-NBA type numbers, and they're yet another example of Butler showing us that his ceiling is higher than we think it is. Against the Blazers, Butler dropped 27 points and grabbed 12 rebounds while going a perfect 8-for-8 from the free throw line.
Getting to the free throw line has been a hallmark of Butler's game for a while now, but he's on another level so far this year. Including Tuesday night's game, Butler has taken 101 free throws this season. Only four players have taken more, and only one of those four (Damian Lillard, ironically) is shooting a better percentage than Butler.
To add fuel to fire, Butler looks even more rejuvenated from the knee injury that helped to derail the Bulls' season last year, according to Nate Duncan and Stephen Noh of The Athletic.
If Jimmy can keep up this kind of production without sacrificing his trademark tenacity on the defensive end, the Bulls could reasonably set their season expectations higher than we thought.
Bulls Dominate the Boards
Tuesday's win was another one where lots of players did their part. All five starters scored in double digits, with Butler, Gibson, and Lopez all earning double-doubles as part of the Bulls' superb rebounding effort.
The Bulls grabbed 67 total boards in the game, an absurd number that ranks as the most rebounds by any team in a game this season. It's also the most rebounds the Bulls have recorded in a single game in 14 years.
The 67 rebounds are the most by the Bulls in a game since pulling down 68 against the Raptors in 2002.

— Jeff Mangurten (@JeffGurt) November 16, 2016
It's not as surprising that the Bulls managed such a feat tonight if we look at how both teams have worked the glass so far this season. The Bulls currently lead the league in rebounds per game and they're second behind the Denver Nuggets in rebound percentage. How do the Blazers match up in the same stats? 25th and 30th, respectively. Throw in the fact that the Blazers missed roughly ten more shots than they do on average, and 67 rebounds doesn't seem quite as crazy.
The Bulls' reliance on traditional big men like Lopez and Gibson has been great for their rebounding, and as we've seen this season, more rebounding leads to more second-chance points and more fast-break opportunities. Let's hope the Bulls can keep this hot streak going.
This article originally appeared on