Chicago Bulls at Memphis Grizzlies: The Good, The Bad and The Ugly in a Win
Ryne Prinz/FanSided via Pippen Ain't Easy

Fansided
The Chicago Bulls headed to Memphis after a solid win against the New Orleans Pelicans on Saturday night. After a horrendous first quarter, a Doug McDermott explosion and clutch play from Jimmy Butler, the Bulls barely defeated the Grizzlies.
It took all four quarters, but at the end of Sunday night, the Chicago Bulls closed out against a Memphis team who is 12-3 in games with a point differential of three or less in the final 10 seconds, according to NBA Stats.
The Grizzlies won against the Rockets on Friday during a poor showing by MVP-candidate James Harden, but have found themselves positioned seventh in the West following Sunday's loss.
After a two-game winning streak for the Bulls, they've landed at a .500 record once again and retained the eighth seed in a meddling Eastern Conference playoff race.
It wasn't the prettiest of performances by either team, especially out of the gate. Both squads shot below 35 percent from the floor through the first 12 minutes. The Bulls themselves missed 16 of their first 22 attempts, scoring only 14 points. The Grizz faired only slightly better, taking a five-point advantage into the second, where Doug McDermott lit them up.
Doug's 31 points was a game-high that kept the Bulls in the contest when Jimmy struggled early while being hounded by Tony Allen. Chicago as a whole put the ball in the basket far more efficiently in the second, scoring 38 in comparison to Memphis' 27.
After a back-and-forth second half, with good play out of Michael Carter-Williams and Taj Gibson, Jimmy Butler closed out the Grizzlies with a series of excellent plays on both sides of the court.
But now, here are three takeaways from Chicago's win.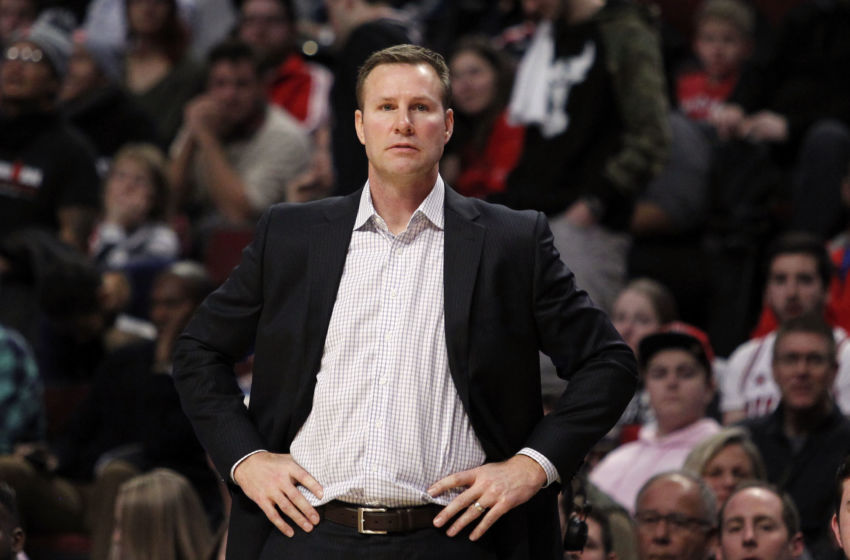 Both Chicago and Memphis struggled early
In a game that ended in exciting fashion, the beginning was quite the opposite. The Bulls and Grizzlies missed far more shots than they made. And I mean FAR more.
Even though NBA players are professionals, this will happen from time to time. But to the extent to which it happened to the Bulls especially, is a little strange.
To be fair, Chicago is by no means an offensive powerhouse. They rank 19th in Offensive Efficiency and 29th in True Shooting Percentage, according to John Hollinger's Team Statistics on ESPN. Apart from Jimmy Butler, the team just doesn't score the ball well, and in a quarter when even Butler below average, it didn't look good.
Paul Zipser, starting for a resting Dwyane Wade, shot the best of any Bull. He looked pretty calm and cool out there, and disregarding a couple of errant turnovers, played well.
Chicago's early trips to the line were putrid, missing seven of their first nine attempts from the charity stripe. Both Robin Lopez and Jimmy Butler missed three freebies.
Taj Gibson's shots weren't falling in the mid-range; an area where he generally scores from. He was attempting multiple different maneuvers to get his shots, from step-backs to turnarounds to floaters, rather than simply setting himself for a jumper. He missed four of five attempts.
To add to his free throw woes, Jimmy settled for two threes and a long two, thanks in part to Tony Allen and the Grizzlies defense. Butler was obviously a focal point for Memphis early, and no matter what he tried, it didn't work.
Luckily, the deficit was only five points after one, leading to an odd, but thrilling quarter from Doug McDermott.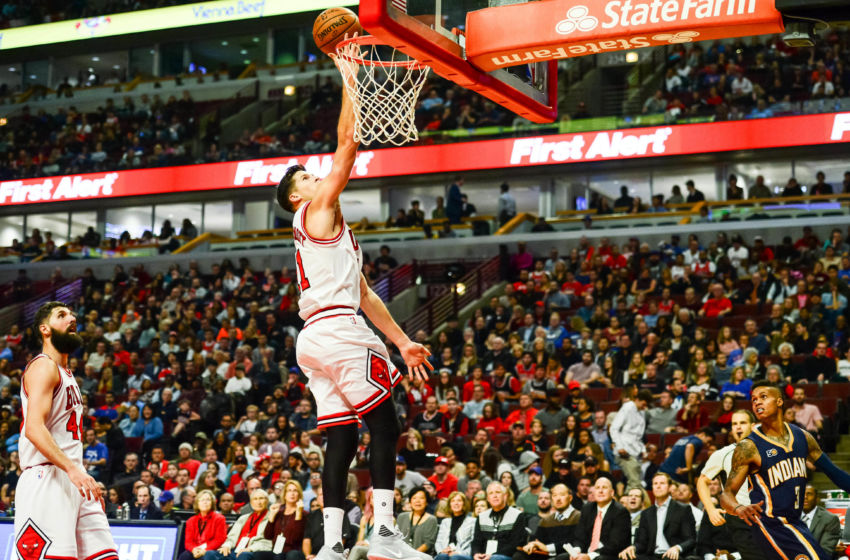 McDermott scores 31 points in one of his best games
Much has been said about Doug McDermott's role and value to this Bulls team since he was drafted in 2014. He struggled to find the floor under Tom Thibodeau, a coach known for his reluctance to play young guys, especially those who don't defend.
Last season, under new coach Fred Hoiberg, Doug shot 42.1 percent from three in 81 games.
This year, with a different roster and rotation, McDermott's played through his ups and downs. His importance to this team can't be defined until he becomes more consistent.
Before tonight, Dougie McBuckets was slumping in Chicago's games against the Thunder, Wizards and Knicks.
For whatever reason, McDermott found a rhythm tonight, especially in the second quarter, leading the Bulls to an eleven point advantage in that period.
Doug scored his points in a variety of ways. Offensively, he has the tools to become a threat to opposing defenses.
His first two points came from a backdoor court with time dwindling in the first. McDermott is hailed generally as a shooter. (Funnily enough, he's shooting below league average this season.) However, he's one of the best cutters on the Bulls. Maybe it's a result of defenders fearing him from beyond the arc, but time and time again, Doug sneaks behind for easy layups and dunks.
He shot 3-of-6 from deep against Memphis. I'm by no means a shot doctor, but the flow in which his makes came from is notable. His third 3 of the game, and second quarter for that matter, came off a drag screen from Bobby Portis and was highly reminiscent of Kyle Korver in Atlanta two years ago.
With Troy Daniels guarding him, Doug posted up and drew a foul while sinking the jumper. It'll be interesting to see Hoiberg incorporate more touches for Doug down low moving forward. He's tall for most shooting guards and small forwards, and his quick release should allow him to fire off shots against those who can match up with him height-wise.
What's to be expected from Doug moving forward? It's hard to say. As previously mentioned, he has yet to find any semblance of consistency and is a minus on defense. On offense, he's the team best shooter, although that's not saying much. Doug works well with Rajon Rondo, whose only true contribution to this team as of late has been hitting cutters and finding shooters.
Even if McDermott isn't scoring 30 a night, hitting a few shots and catching defenses off guard is enough of a contribution to take some of the weight off Jimmy and Dwyane Wade's shoulders.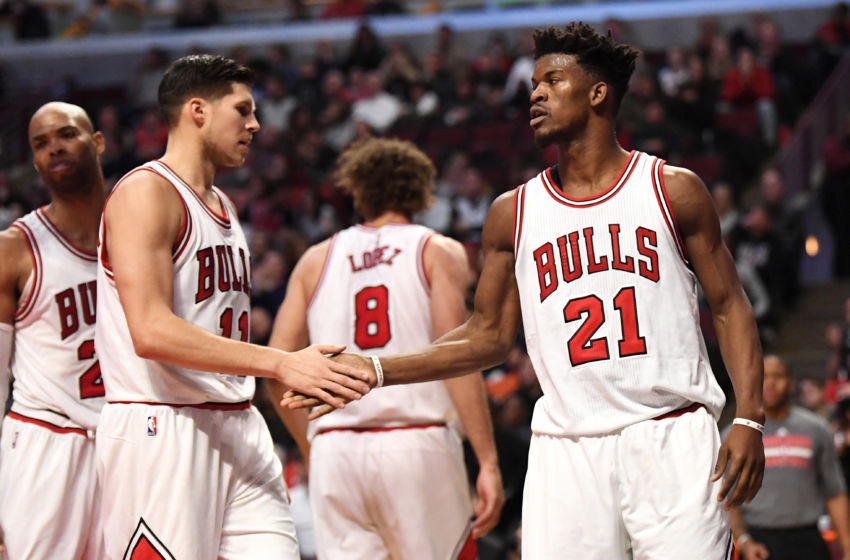 Jimmy secures the win
When all else fails, the Bulls can depend on Jimmy Butler. Always.
And once again, with less than a minute to play, Butler took over and decided the game.
Hoiberg and the Bulls decided to run the pick-and-roll with Jimmy handling the ball and Carter-Williams setting the screen for the last several possessions. Although Doug played well all night, he was stuck in the corner late. As a side note, it would be interesting to see him screening for Jimmy, giving them more flexibility.
Anyhoo, with 59 seconds to go, Butler received the pick from MCW at the top of the key going right. Tony Allen chased him over the screen, but Jimmy pulled up and stepped back at the free-throw line extended, and Allen was left sprawling. With enough room to fire from a spot he like getting to, Butler nailed the jumper to put the Bulls up 104-102.
Mike Conley Jr. came down for the Grizzlies and hit a jumper to tie the game back up at 104.
Once again, Butler started with the ball, this time high on the right wing. Carter-Williams set a screen for Jimmy to get to the middle of the floor. Conley, MCW's defender, tried icing the pick, but Jimmy crossed over quickly, splitting the screen and finding himself in the open floor. Grizzlies center Marc Gasol stepped up to defend Jimmy's jumper from the elbow with no luck. 106-104, Chicago.
Butler guarded Mike Conley on Memphis' next trip down the floor. The Grizzlies tried setting a high screen for their point guard, but Jimmy fought around it, contested the deep 3 and forced the miss.
Two McDermott free throws later, and Chicago was up four with less than 10 seconds to go. Butler, now pressuring Conley in the backcourt, was screened by Zach Randolph so Gasol could pass the ball in. Butler dodged the pick, diving to the floor to snag the pass. I cursed at the TV.
The Bulls' All-Star wing didn't play his most complete game by any means. He had only scored seven points before the fourth quarter. With the game on the line, Jimmy got buckets and stops, something he's done time and time again down the stretch in close games, which only makes it all the more impressive.
In the span of 60 seconds, Butler made back-to-back-to-back-to-back game-deciding plays. He's something special.
This article originally appeared on