Chicago Bulls at Indiana Pacers: Three Big Takeaways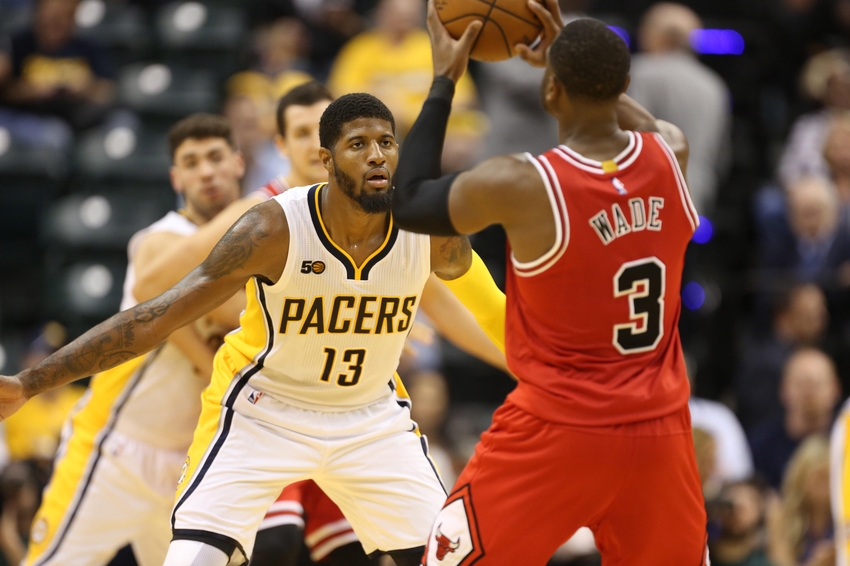 For a second night in a row, the Chicago Bulls lost in ugly fashion as the Indiana Pacers put a hurt on the Bulls despite a third quarter ejection for Pacers star, Paul George.
It wasn't terrible at the beginning. No, it took a good three minutes of play before the Pacers built a large, permanent lead.
There could be talk about the effects of the second game of a back-to-back, the dreaded SEGABABA that the league has been working to reduce in team scheduling. There could be debate over the validity of claims that it truly impacts teams' ability and win probability this early in the season. The best discussion might be more about the aging stars on the roster – players that looked flat from the start.
No matter how you cut it, Chicago was on a SEGABABA against Indiana and presumably still reeling from the big loss they suffered against the Knicks the night before.
Ultimately, the same problems that plagued the Bulls on Friday night, and against Boston on Wednesday, were present in defeat on Saturday night. Chicago failed to run a cohesive offense, failed to move the ball in productive ways, failed to take care of the ball and shot poorly from everywhere other than the free throw line.
It was a rough outing, so let's sift through the aftermath for some takeaways moving forward from this ugly loss and then put it behind us.
Paul George
George was on fire early, putting up 13 points in the first half, leading his team to a huge halftime lead, 62-43. In fact, pretty much everything was going well for George when he just made a terrible decision that was likely the product of being in the moment. Still, the ball should never be launched into the crowd because, you know, it could hit some unsuspecting Pacers fan right in the face. That is, of course, exactly what happened.
Before that incident, George was leading Indiana to a huge win. In addition to his 13 points, he had seven rebounds, three assists and two steals. He also drew a prescient charge on Jimmy Butler right before halftime. The play doubles as the perfect example of how good George was playing and how awful the playcalling was for Chicago.
Indiana is off to a rough start, just like the Bulls. Both teams are now 3-3 and have absolutely dominated each other, taking advantage of home court advantage. What the Pacers and new coach Nate McMillan don't need is their star player taking a fine and possibly missing a game or two because of a very, very bad decision. The fine is pretty much a guarantee, but the league could add a suspension of a game or two. It's unlikely, but something to watch for. Indiana needs to build off the momentum of a huge win, not take a step backward, miring themselves in the messy Central Division.
Dwyane Wade SEGABABA
So much is made of playing a SEGABABA, but this did a lot to show the age of Dwyane Wade and where he's at in this stage of his career. The blowout status of the game cut the minutes of all Chicago starters, Wade played just 21 minutes after going hard against the Knicks on Friday night.
His stat lines on consecutive nights were alarming. Wade fired off 33 points on 60 percent shooting, including five made 3-pointers on seven attempts. He always grabbed 10 rebounds, good for a double-double. In 33:20 of game time, he had three fouls and three turnovers. That was Friday.
Saturday night, his playing time cut to 21 minutes, he shot 11.1 percent (1-for-9) from the field with zero assists, two fouls and two turnovers. To put it mildly, he was bad. This early in the year, a SEGABABA shouldn't take a massive toll on teams, particularly on such a short trip from Chicago to Indianapolis, but Wade must have been feeling the effects to go from "can't miss" to "don't shoot" so quickly.
This is what happens when Wade doesn't get his beauty rest at age 34. It's fair to say that this clip could be taken out of context, but when it is combined with his stat line and the overall performance of the starting give, it all adds up. I don't think Fred Hoiberg knew what he was getting from Wade on SEGABABAs, so this is probably an eye opener for him as well. It'll be interesting to see how they use Wade in these types of situations moving forward as they rely on him for so much of their offensive firepower.
One other quick note on Wade: He's been gambling on defense in some very questionable ways. He's been wandering around the baseline against opposing bigs who were operating out of the low block in ISO sets, essentially swiping at the ball and never coming close to a steal, leaving himself standing on the outside of the entire play and creating unnecessary mismatches because he had a whim. This happened again in a smaller way against Indiana, when he gambled on a steal that his mind could read but his body couldn't complete.
It might be nothing, but it might be a symptom of just how disorganized and truly bad Chicago's defense is this season.
The Numbers Are Still Keeping It 100
After yesterday's game, I dove into the numbers. Chicago and their fans are touting the stellar offensive rating and rebounding numbers. What isn't being mentioned is their shocking inability to create offense through ball movement. When the ball moves, and produces scoring, assist numbers are inherently higher. The Bulls are struggling with this.
Derrick Rose almost single-handedly had more assists than the entire Chicago squad on Friday night. The Pacers didn't match the productivity of the Knicks, but still crushed the Bulls, 27-15 in that category.
Assists could indicate several things, poor ball movement – which the Bulls qualify for – or a lack of players able to consistently hit shots – a big yes for Chicago, again, are two things I would imply from that number.
The Bulls do a lot of "ball movement" that looks like this Doug McDermott miss from Chicago's first matchup against the Pacers this season:
This is a common action for the Bulls offense this season. But they also randomly ran much better action and don't have the shooters to make the opponent pay. Fans and bloggers alike can try to convince themselves that Isaiah Canaan is Kyle Korver reincarnate, but that is far from the truth. Fortunately, McDermott has been more good than bad. When he's on, he's as good a shooter as Chicago has on the roster.
An elevator set!?
Transition!?
Unfortunately, they don't run their offense consistently and it shows. If they ran elevators or moved the ball with lightning pace in transition regularly, I might be painting a different picture. But, I digress. Assists are not being produced in whatever variation of offense the Bulls are running and it probably has to do with the starting lineup. McDermott isn't a part of that lineup and neither are Michael Carter-Williams – who is out with injury – or Nikola Mirotic. Of course, Mirotic has consistency problems of his own. He shot 40 percent from the field and 100 percent at the line on Friday night, but much like Wade, he had a major fall off on Saturday, shooting 0-for-6 with some awful defense.
The Bulls also have major turnover issues, committing more turnovers than the Knicks or Pacers in their weekend matchups. They shot worse from the field and 3-point range than both opponents. Some of it is genuinely head-scratching:
The new era of Hoiberg Rugby-Ball is upon us. Or this is just some genuinely sloppy basketball and miscommunication. Chicago has seemingly limitless issues with ball control. From offensive fouls to dribbling off their own feet to passing to no one in the middle of the floor to a team-wide inability to handle passes from Rajon Rondo, it's an issue. They keep finding more and more ways to turn the ball over in situations that they should be making into scoring opportunities.
All the rebounding in the world can't cover up the tremendous woes in other areas like passing and shooting which are kind of, you know, important.
More from Pippen Ain't Easy
This article originally appeared on