Chicago Bulls at Detroit Pistons: Three Takeaways, Butler Does It Again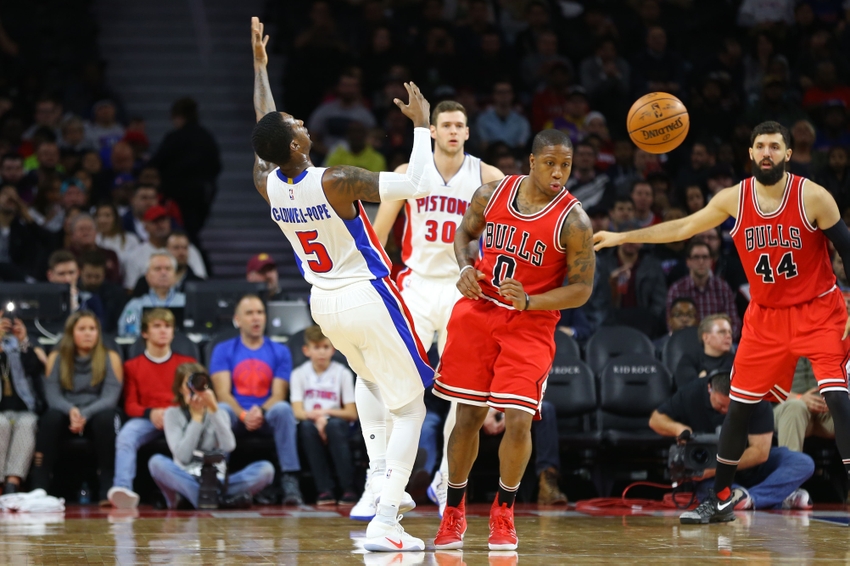 The Chicago Bulls finally ran out of gas Tuesday night in the Motor City. They trailed early, big, and for most of the game and a lot run wasn't enough to steal victory over the Detroit Pistons.
It was a good game from the opposing point of view. Reggie Jackson is back in action and already reconnected to Andre Drummond in some majorly productive ways. Tobias Harris had a great game.
Chicago had more turnovers and fewer steals, potentially correlated, and lost the assist battle 24-15.
There may have been some tired legs on the court for the Bulls. That would explain to awful night of 2-for-15 shooting from 3-point range.
Chicago continues to win the free throw battle against opponents, though that seems to be less and less of a thing while they continue to rack up losses. In fact, this is the fourth loss for the Bulls in their last five games. Their only win in that stretch is over LeBron James and the Cleveland Cavaliers, so try to make some sense of that.
It can't be proven, but it is possible that Chicago went a little too hard, believing too much in their own 10-6 record. But would you want the team to not believe in their own ability to win, be great? Now, they're 11-10. We're officially more than 25 percent through the 2016-17 season and the Bulls have gone from third in the Eastern Conference to seventh over the course of just a few days.
It won't be getting easier for Chicago, who plays the San Antonio Spurs on Thursday night, so let's grab a few takeaways from their dud in Detroit.
Rajon Rondo Returns
There is some kind of chaotic poetry in the way that Rondo elects to carry himself. He played his best game as a Bull against the Cavaliers and then follows that up by embroiling himself in a Dallas fiasco.
Think about how this must be orchestrated for some type of symmetry in his career arc. Rondo mostly kept his head down during a lone season in Sacramento after being banished from the same Mavericks team he was facing. He starts the whole affair by making a public show of amends with the same coach he famously clashed with, Rick Carlisle, while in Dallas.
Next, he gets into an altercation with one of Fred Hoiberg's assistant coaches. His own coach. While playing a game against his former coach. A coach that he clashed with to the point that it got him sent away from the team despite a playoff push. Who else would even bother to be that guy? Imagine the effort that would take for anyone, anyone other than Rondo.
He's on some Lord Alfred Tennyson ish with this one. I'm pretty sure his post-game quote was something like, "Tis better to have argued with a coach and been kicked out of one team and suspended by another than never to have argued at all." Alright, so he totally didn't say that with his words. But his actions make it clear that he carries himself exactly this way.
Speaking of actions, have a look at some Rondo defense tonight.
Further, the Bulls might have been on their lone four games in five nights stretch, but with the day off and Rondo's team-enforced suspension, he had two days off before getting it handed to him by the Pistons.
Cristiano Felicio Gets Minutes
It took a lot of outrage, a lot of hard work and a whole lot of #FreeFelicio, but it finally happened. Bobby Portis has been relegated to the bench, unfortunately. But Felicio is getting playing time and doing a lot of work. It isn't always panning out quite how it is intended, but he's crashing boards, attacking the rim and making some serious effort on the defensive end.
It was a bad night. That extended to Felicio. He played 14 minutes and scored four points on 2-for-4 shooting. He added a block on defense and pulled in an impressive four offensive rebounds. As a team, the Bulls had just nine, so without Felicio, that could have been much worse.
Another thing to pull from Felicio's game tonight was the interesting plus/minus line he carried – it was the worst on the entire team. Now, I'm happy to be one of the first in line to say that plus/minus isn't everything, but when you're -17 in just 14 minutes there must be a little something there. Also, with a larger negative score than the difference between teams (-17 compared to -9), there is probably something to be said for the lineup at the very minimum as being detrimental.
And there is this:
There was some decent back and forth between myself and Jake Weiner about this particular play. I think he might correct, but I want to explain what I'm seeing here.
Felicio is playing strong, or ball side defense. He's containing the most direct route to the rim for the ballhandler. This is fine, if his man is also strong side. He is not. Felicio is standing right in the middle of the lane, caught between committing to help defense and patrolling the lane from the weak side, where his man is stationed. That hesitation and linger forces him to vacate the lane before getting a defensive three seconds call against him.
At that point he has to choose if he is going to vacate away from his man or toward him. He elects, correctly in my opinion, to vacate to weak side where the player he is "guarding" is located. The problem is that he didn't get his man and stick to that side of the lane from the beginning and that caused him to rush out of the lane, and away from the ball, after the play had been set and was in motion. Then he's out of position and never recovers. He's not solely to blame here, but his decision to position himself poorly and not recognize the intention of the offense cost the team in a chain reaction.
It's small and he did some good things, but it caught my eye and seemed to be worth noting as an area where he can improve.
Finally, I can't stand his screens. Against Detroit they were just lean aways. He wasn't squaring up and putting a body into his screen and he wasn't rolling to the rim out of it. He had the right ideas, but he seemed to have no command on his physical being. He was leaning away from his screen before it was even set, he's not standing up. Then, he failed to get clearance from the defense on his roll to the rim and doesn't pick his head up often enough or struggles to put his eyes back on the ball.
Year of Our Jimmy
Look, I'm going to keep coming back to this every single game of the season. Why? Because Butler, that's why.
He's the best player on this team and it isn't even close. Before all the trolls jump in with well actually statements about Dwyane Wade's career, let me be clear: Wade is a shell of the player he was and that player is a Hall of Fame all-time great, but he's not that full actualization anymore. Jimmy is at or approaching his peak, even if he won't even have the career that Wade is in the latter stages of forging.
More from Pippen Ain't Easy
Someone on Twitter tried to talk down to me about how there's a whole team out there and it isn't just one player. Everyone who has ever watched basketball on purpose is aware of that fact. That doesn't negate the fact that if a team wants to succeed, they can only approach their maximum potential so much as their best player can reach his maximum potential.
In accordance, when the Bulls were getting absolutely hammered by Detroit, trailing by as many as 17 points in the second quarter, it was the slow-starting Butler who helped mount a comeback, including a 16-0 run that put them right back in the game. He scored 14 points to close out the half. They stayed in the game until the middle of the fourth quarter when they truly seemed to run out of gas and were just outplayed by a team that probably ends up being significantly better over the course of the season.
To sum up Chicago's night in a single play that cruelly included Jimmy:
This isn't all on him, he's hustled for the rebound and tried to fight his way free. Not his fault that Drummond was just standing there, ready to cherry-pick a jam. Still, it happened and it was unfortunate, but it was a Bulls fumble that resulted in an opportunity for their opponent who took full advantage.
Butler scored 32 points, included 10-for-10 from the free throw line, over the course of 42 minutes. He has played a lot of minutes in the past week. It's too bad that such a strong Butler performance wasn't part of a win, but that has been the trend and probably something we're going to see a lot of this season.
Oh, and a quick thank you to Rondo for his words of support:
Rondo: "Whatever you guys write, good luck with what you're writing."

— K.C. Johnson (@KCJHoop) December 7, 2016
The energy just didn't seem to be there at the end of the game for Butler, who didn't have much in the way of help. After shooting well during the second and third quarters, he finished the game by going 4-for-9 in the fourth, attempting precisely zero free throws. The free throws in probably the biggest indicator of where he was at during the final frame as they have become a cornerstone of the 2016-17 version of Jimmy Butler.
He'll have a day off, but then it's right back into the heat of battle against none other than Kawhi Leonard in the first of two games the teams will play this month. Hopefully, Jimmy will be rested enough to meet the challenge and give us all a present to look forward to on Christmas Day.
This article originally appeared on