Chicago Bulls at Denver Nuggets Instant Analysis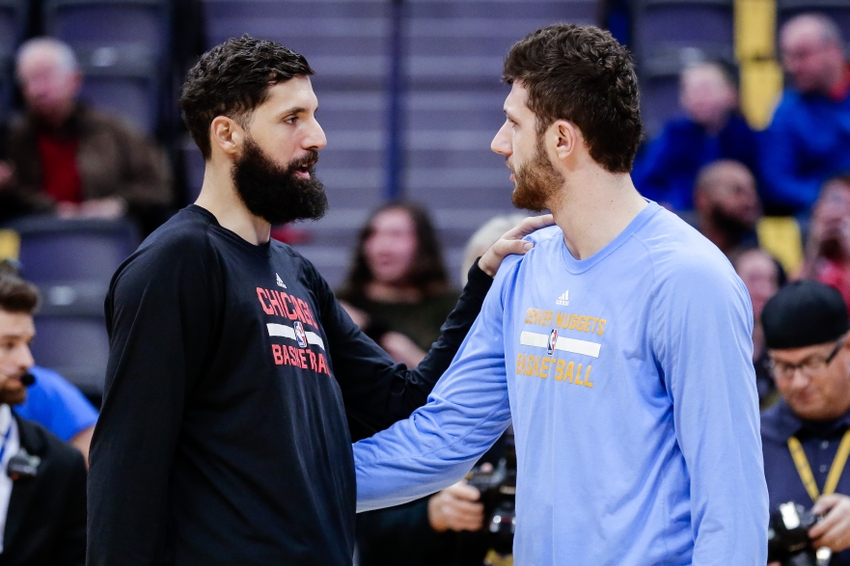 The Chicago Bulls fell to the Denver Nuggets, 110-107, on Tuesday night despite another tremendous performance from Jimmy Butler.
Chicago has been starting off strong every game and that has helped them get out to a 3-1 record on this road trip. They did it again against Denver, jumping out to a 9-2 lead, capped by a Butler 3-pointer, forcing Mike Malone into a timeout early.
The Bulls were trying things like ball movement and some amount of defense. It was working, and they extended out their lead over the course of the first quarter. Isaiah Canaan, Nikola Mirotic and Denzel Valentine were the first group off the bench. Butler and Robin Lopez stayed in for the entire quarter.
Butler's hot performances recently continued as he opened 4-for-4 with 10 points, four rebounds, two assists and a block. Rajon Rondo kept his bad habits under wraps, committing just one turnover and notching three assists in his opening seven minutes. It was 31-19 after the first quarter, Bulls ahead.
The second quarter didn't start so well for Chicago, who rested Lopez and Butler for the first time to start the period. On cue, Denver went on a 9-0 run to erase the big lead the Bulls build in the first quarter. The first six minutes of Valentine and Canaan was a bit odd, both players combining for just one assist and zero points on one combined shot. That's a lot of work for two players that primarily function as shooters with little to offer on the defensive end with no production to show for it.
The 9-0 run Denver started with turned into a 18-0 run, led by rookie Jamal Murray. And then that run turned into a 24-0 run. Murray put up 17 points during that stretch to start the second quarter. He was so hot, Chicago was forced to put Butler on the rookie.
Wade and Butler just kept doing what they do, trying to keep the Bulls within striking distance while the Nuggets ran all over the Chicago defense. Quietly, Wade has gone from a curiosity to fully capable 3-point shooter and Butler has incredible strength to finish through contact.
The Bulls relied heavily on the great work from Butler, which was expected, but also from the surprising play of Nikola Mirotic, who turned in a second consecutive solid performance. The biggest standout was his defensive effort and impact, which had been absent prior.
The Bulls grabbed a huge lead, got run hard by the Nuggets in return, and then steadied themselves. The key, as noted, was Butler. When he and Lopez sat, the Bulls were terrible. Kelly Scaletta weighed in with this tweet a little over half way through the second quarter:
The Bulls are +22 with Butler right now, -22 without him.

— Kelly Scaletta (@KellyScaletta) November 23, 2016
Denver was all about their bench scoring. Murray finished the first half with 17 points, all in the second quarter, and Wilson Chandler added another 12 off the bench. Danilo Gallinari led all Nuggets starters with six points which isn't a lot. Butler had 17 for Bulls, Wade added 12 and Mirotic had 10 off the bench. Rondo had nine points and five assists with just the one turnover. It was 60-60 at halftime.
Second half started as a more even affair, the two teams exchanging baskets. Both teams were committed to getting their inside game going on the offensive end. The Nuggets scored their first 14 points of the quarter in the paint.
In a back-and-forth quarter that didn't have any particularly outstanding moments for a majority of the gameplay, the noticeable slide in focus and effort from Rondo defensively was apparent.
Both teams went back and forth, Butler led the way for Chicago and Murray for Denver. The Nuggets were close to pushing their lead to several scores as the third quarter wound down, but a return volley from the Bulls kept it within one score and the team stayed locked in a close battle, tied 93-93 with 8:50 to play.
More from Pippen Ain't Easy
Play tightened even more as the game wore down to the final moments. Frustratingly, Lopez came up with multiple huge blocks at the rim, only to have his play negated by the mental absence of Rondo who predictably allowed multiple Nuggets possessions to end fruitfully when he neglected his assignments completely.
The ending sequence of the game was best described as bananas. After Denver moved to a 105-101 lead that felt like a dagger at 1:40, Butler came right back, drawing a foul on a 3-point shot attempt, hitting all the free throws. After another Denver basket, Butler came off a screen and Gallinari hedged, 100 percent believing that Butler was going to drive. Butler popped the open 3 to tie the game, 107-107.
There were a bunch of plays in each direction, a charge here, a no call there, but in the end, Barton hit two free throws for the Nuggets with 9.5 seconds left to give Denver the 109-107 lead. Out of the following ATO play, Hoiberg had Isaiah Canaan come off the screen for a catch and pop 3-point attempt that hit front rim with Faried throwing the ensuing loose ball off Mirotic for Denver possession. After a foul, Gallinari hit one of two free throws and then Lopez grabbed the rebound and was fouled with 0.3 seconds left.
On the final possession, Taj Gibson chucked up a 3 as time expired. It rattled in and then out. A perfect ending to surmise the sum of the game: Chicago was messy, hung around, couldn't get it to work. There are a lot of questions to be asked about Fred Hoiberg and his ATO calls, but for now the Bulls are 3-2 on this road trip with one more road game against Philadelphia on Friday before returning home.
This article originally appeared on