Chicago Bulls at Boston Celtics Game Outlook: Four Things to Watch For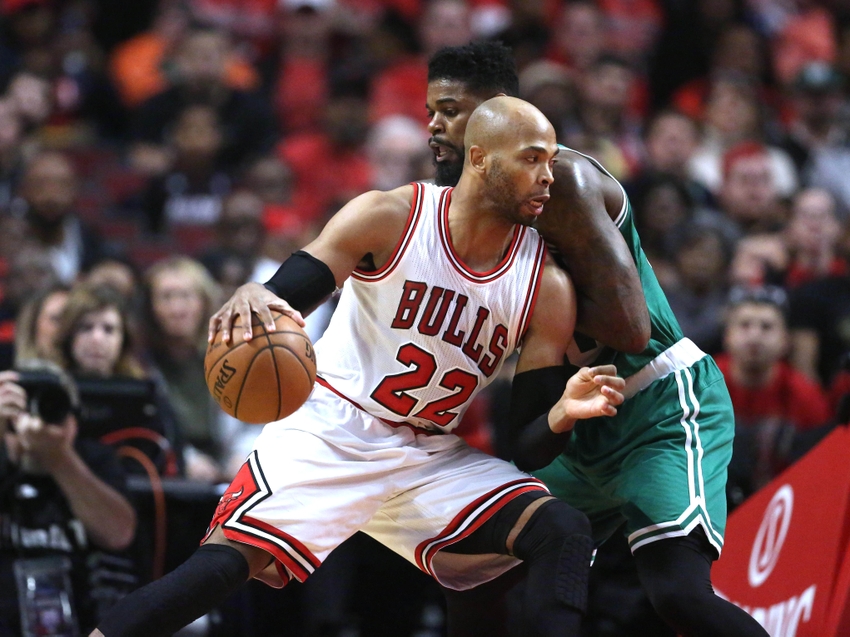 The Chicago Bulls visit the Boston Celtics at TD Garden tonight in a rematch of their close contest in Chicago last week that the Bulls won, 105-99, thanks to some timely shooting from Jimmy Butler and Dwyane Wade.
Can the Bulls keep this going? It's probably one of the hottest questions on the basketball internet right now. The 3-0 start that launched a thousand takes and leaves everyone confused will be put to the test tonight.
The Bulls will be without Michael Carter-Williams (knee, wrist) and Doug McDermott (concussion protocol) is a gametime decision:
Doug McDermott is still in the concussion protocol. Will know status for tonight pregame.

— Sean Highkin (@highkin) November 2, 2016
Al Horford (concussion protocol) is out for the Celtics, while Kelly Olynyk (shoulder) and Marcus Smart (ankle) are both questionable. Olynyk is unlikely to play, but Smart claims he will play:
Horford seems like a bigger loss than McDermott, but given the streaky play of Dougie McBuckets, you never know when he's going to scorch the entire earth with his 3-point shooting.
Many doubted the Celtics after they struggled in their game against the Brooklyn Nets before they dropped a game to the Bulls. A week into the season and the rematch looks more like a possible playoff preview than an afterthought.
It should be an exciting game to watch, if you happen to not be watching the Chicago Cubs in Game 7 of the World Series. Maybe get two screens going and have the ultimate November 2, 2016, viewing experience.
Taj Gibson
Let's start with the obvious: Gibson is really good. We knew this long before the Bulls started 3-0 in 2016. We knew this when he was backing up the slow-shooting, YMCA mid-range jacking Carlos Boozer. We knew this when he was backing up the confusing Pau Gasol-Joakim Noah combo. To this day, I'm still amazed that Gasol was every bit as loud as Boozer while putting up stats that I would categorize as basically the same and about as useful.
Anyway, putting aside the Gasol-Boozer takedown, it's time to appreciate Gibson. He's a great player and a fixture of Chicago basketball. A year ago, he was part of a long-running Bulls core, this season, he's the last man standing. They might trade him before the deadline or he could be here for the duration of his contract, which runs out as season's end.
We're just three games into a long season, but Gibson's numbers are currently well above his career averages. He's shooting 63.6 percent on field goals, his career average is 49.2 percent. He's playing 25.7 minutes per game this year, which is his lowest per game since the 2012-13 season, but his 14.7 points and 9.7 rebounds are both career-high numbers.
This is a huge win for Chicago. If they keep Gibson, he's producing at roughly what you would expect from a starting four in a lineup shared with Wade, Butler, Robin Lopez and Rajon Rondo. If the goal is flip for assets before his contract expires, he's off to an impressive start. Gibson is getting hot at the right time for himself and for the team.
Statement Game
Any team can beat any other team in the league on any given night. Over the course of a season is when you start to get a better idea of how teams stack up against each other.
Chicago might be better than Boston and they might be worse. One game into their season series, the Bulls are 1-0, and 3-0 overall. The Celtics are looking up at Chicago in the standings. This is an intriguing development.
A second win over Boston, at TD Garden, with both teams on a day of rest could do a lot to shift the perceptions of both teams. The Celtics were supposed to be the champion that the rest of the Eastern Conference could believe in, the team that would serve as their hope in the eternal losing battle against the inevitability that is LeBron James. A second loss to Chicago in a single week would definitely cause that status to be in doubt.
For the Bulls, losing to Boston without Al Horford wouldn't be the end of the world, but it would serve as the gravity that pulls the meteoric start for Chicago into a much closer orbit with earth. The prospect of starting 3-1, holding home court against the Celtics, still stands as what most would have considered a "best case" scenario just seven days ago.
A Bulls win would also go a long way to illuminating the keys to their success. To date, the Bulls have won thanks to lackluster work from their opponents and inconsistent offensive outbursts. McDermott shoots the lights out one night, Isaiah Canaan completely reverses course and suddenly starts dropping 3s, Butler ties a career-best for made 3-pointers, Wade goes clutch. It's been something different every night. The Bulls need to develop consistency. Who is going to be reliable the entire season?
Bulls Bench
The need for stability sits almost squarely on the shoulders of the Bulls bench. McDermott is not a starting guard or forward on this team. Each player ahead of him in the starting rotation deserves to be ahead of him. Because of this, he will face the same challenge that all bench players must fight through – how to make an immediate impact when you're coming in cold.
Nikola Mirotic is going to have the same struggle. Except, for Mirotic, this is a real struggle. He's nowhere near the kind of player that everyone hoped he would be by year three in the NBA. Still shaky, inconsistent, unable to win the starting job even when the space and perimeter shooting he should be able to create seemed essential to the survival of the Bulls and their new lineup of extremely limited 3-point shooters.
It runs all the way down the line. Fred Hoiberg is using his full roster and needs contributions from everyone. In their blowout win over Brooklyn, Hoiberg used 13 players. Against the Pacers, 13. Against Boston last Thursday, 10.
Hoiberg hasn't been the coach that we might have expected or wanted, but in his second season, he might be starting to show us more of the coach that he is and can be moving forward. And it has to do with the bench and how they perform and can be utilized. Hoiberg is relying on his squad to run 10-13 players deep, if that dries up, don't be surprised if the wins follow suit.
Predictions
Boston is missing Al Horford, so this sets up for the Bulls to take advantage and steal a fourth consecutive win to start the season.
There is still so much to learn about Chicago – who is this team. Carter-Williams is out, McDermott is a game time decision. We know the starting five, but what about Jerian Grant, Denzel Valentine and Bobby Portis?
Player of the Game: Taj Gibson
Score: 97-92, Boston wins.
The Bulls are looking good, but the success of the bench doesn't seem repeatable, yet. It's too early to know how consistent and productive the bench will be and Chicago seems like they might be due for a loss. Even without Horford, it will be hard to win on the road against the Celtics.
Who do you have for player of the game? Who wins? If you disagree with our predictions, let us know who you've got in the comments.
This article originally appeared on