Chicago Bulls at Atlanta Hawks: Game Outlook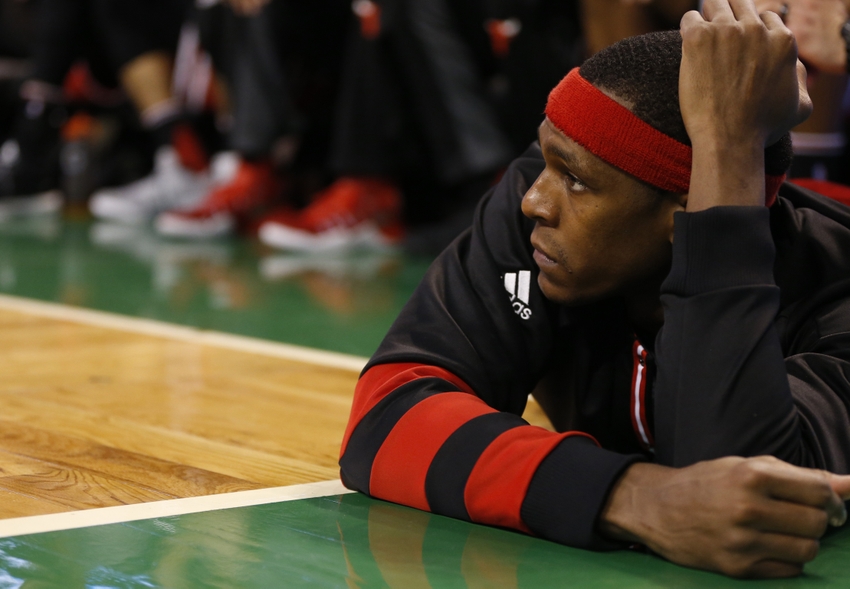 The Chicago Bulls just snapped a three-game losing streak when they dropped the hammer on the Orlando Magic on Monday night. Up next, the Bulls take to the road to visit the Atlanta Hawks who are coming off a game the night before against the Cleveland Cavaliers.
First off, the Cavaliers lost a basketball game. That might be shocking if not for the bizarre development in the Presidential race on Election Day. And it was the man, Kent Bazmore, that put it away. A fascinating development consider the nastiness between Bazmore and LeBron James that exists.
The point is this: The Hawks just beat Cleveland and they sit in third place in the Eastern Conference with a record of 5-2.
Atlanta has been playing some great basketball of late, but Chicago might be catching them at just the right time: a SEGABABA. The Bulls got off to a 2-0 start for the season playing Boston and Indiana, both on SEGABABAs. It's been a mixed bag for Chicago since that good start to the season. If there is a silver lining to facing the only team to hang with the Cavs this season, it's going to be the SEGABABA. Atlanta will be riding high after their big win on Tuesday night, but the quick turnaround to face a rested Bulls team coming off a huge win of their own could make this more of a contest than it looks like on paper.
Here are a few of the keys to the game on Wednesday night:
Atlanta Frontcourt
Taj Gibson has been tearing up opposing frontcourts every single time out on the floor this season, but he's about to get his toughest matchup of the year: Paul Millsap and Dwight Howard.
Robin Lopez is no slouch, either. He's a great rim protector with solid skills on both ends of the floor with one major flaw – mid-range and perimeter defensive coverage. The good news: Howard can't shoot. But that won't stop him from being a terror around the rim. In the Hawks win over the Cavs, Howard only scored seven points, but he grabbed 17 rebounds and swatted three shots.
There were a lot of questions entering the season about his long-term ability to stay healthy and live up to any contract that he was seeking. Essentially, he was the same kind of risk that the Bulls took on Wade and Rajon Rondo. So far, so good. Dwight has seemingly enjoyed his time in ATL and is playing like it. That will pose a lot of problems for the Bulls. I haven't had time to run and tape on the Hawks so far this season, but this is serious frontcourt pairing based on history.
More from Pippen Ain't Easy
Lopez is going to have his hands full and must hope that age is going to check up with Howard on the second night of this back-to-back.
Gibson has been a legitimate starter for Chicago this season and has been doing all kinds of great things out of the post and on the boards. Fortunately, he'll have the advantage on the boards over Millsap, who put up 21 points and five boards against the Cavs on Tuesday. However, Millsap has the ability stretch the floor. He was 2-for-4 from 3-point range against Cleveland and that will create some issues for the Bulls.
Gibson can follow him out near the line, but likely won't push for a closeout at any point if Millsap puts up a shot because of that other guy, Howard.
It's going to be a tough matchup for Chicago in the frontcourt.
Atlanta Backcourt
Part of the Hawks' success is due to their backcourt pairing with the frontcourt. Bazemore and new starting point guard Dennis Schroder combined to shoot 62 percent on 29 shots against the Cavaliers on Tuesday.
Schroder, if you squint, looks a bit like Rondo, but with much better hair. Much better hair is easy in comparison to Rondo, but that is beside the point. They both stand 6-foot-1 and have a lot of trouble shooting well. Of course, I say that immediately after he shoots 10-for-16 from the field the night before facing Chicago.
The point remains, he's shooting 33.3 percent on 3-point attempts and coming into this season, his first as the primary starting point guard, he hasn't developed the elite passing and high IQ of Rondo and really hasn't shown a knack for assists despite having an offense that predicates itself on movement and provides capable pick-and-roll partners in Millsap and Howard.
It feels like the struggling Rondo, who found his way to the bench pretty early against Orlando, might be the perfect defensive matchup to facilitate Schroder in his efforts to keep his hot streak rolling. Switching won't be a great option either, because the more explosive shooting guard, Bazemore, is coming off his own 8-for-13 nights with 25 points, 4-for-6 from 3-point range.
As mentioned earlier, Bazemore was probably keyed up to take on LeBron and the Cavs, which could have contributed to his big night, but he's going to have a good chance to follow up Tuesday with a second big game. The guard switching option isn't there, Wade and Rondo are equal parts unable to cope with a dynamic guard that depends more on athleticism than skill, which is how I understand Bazemore has been playing. Again, haven't had a chance to scout the Hawks yet this season so hit the comments if you're seeing something different from Baze this season.
If Wade or Rondo gets pulled, we're probably talking about Isaiah Canaan and Doug McDermott as the replacements. While Canaan at least tries, neither player has strong defending capabilities and won't offer an upgrade over the starters for much of the game.
The ability to cope with this Atlana backcourt is going to come the same way it has all season – if you can't stop them, outscore them. Hopefully, tired legs with have the Hawks looking flat and slow in transition where Chicago really needs to show effort to improve their game and take advantage of easy looks at the rim.
Dwyane Wade
Speaking of the old man, what do we expect from Wade?
We've seen roughly three versions of Wade so far this season. There was the Splash Brother version of Wade, canning a whole bunch of pull-up and wide-open 3s, moving the ball and only holding it long enough to find the next pass.
Then there is the disengaged Wade, the one that knows the offense is going to ride on him if Jimmy and (insert random bench player name here) don't have big nights to carry the team. This version of Wade tends to look for post-ups and the ball seems to stick when it hits his hands. He just comes out flat and isn't mentally prepared for the Hoiberg era any more than us fans watching the game at home.
Finally, we have the back-to-back Wade. This Wade has two distinct personalities. The front-end version of Wade generally plays a very limited number of minutes and has a minimal contribution, but might flash some of that Splash when the mood strikes him. The back-end version of Wade in this scenario, inserted into the mighty SEGABABA is pretty dangerous to even put on the floor. His body doesn't really like it, nor does his brain or soul. He's just had enough of them this far into his career.
The real trick is that Chicago probably gets a decent game from Jimmy Butler, even though he'll be facing off against the underrated Thabo Sefolosha. He's not a prolific scorer, but he's a grinder when his head is in the game. If he makes Jimmy work for his offense, that could cause his defense to suffer. Butler is more likely to keep his defense effort high, which means he must sacrifice on the offensive end of the court. So they will be looking for scoring off the bench and from somewhere else in the starting lineup to help offset the long shift Butler will have to put in on Wednesday night.
That's where the Bullls will be counting on Wade. Except, he's totally focused on the game the following night against the Miami Heat – the team he just left and scorned in the media. Knowing that Wade will want to show out in that game, there is a real danger that he plays extremely limited minutes or just fails to put in a great deal of effort – saving himself to go absolutely HAM on Pat Riley, uh, I mean, the Miami Heat. Clearly it isn't personal or anything.
Predictions
Atlanta has a stacked frontcourt that will give the Bulls fits all night if healthy and focused. Howard is going to be hunting rebounds, a thing that Chicago also likes to do, and it'll make for some interesting matchups near the rim because Butler will probably have to chase Millsap out to the arc more than he would like to.
The backcourt doesn't let up. Both Bazemore and Schroeder had huge games against Cleveland on Tuesday night and don't face stiff resistance from the starting pairing of Rondo and Wade. Wade in particular is going to be suspect because he likely has already focused himself on taking it to the Heat the following night.
What gives the Bulls a slight advantage, or maybe just levels the playing field, also hinders them from committing everything. The Hawks should be on tired legs as they participate in their SEGABABA while the Bulls might not be willing to fully chase the win knowing that they have their own SEGABAB in Miami the following night. If they want to win for Wade, they'll surely have that on their minds.
Basically, I'm saying that this is a trap game for the Bulls. If they move the ball, get out in transition, shoot from the perimeter when it opens, they have a strong chance to take advantage of an Atlanta team still basking in their triumph over the Cavs. However, if they can't do this and the Hawks get their legs under them, this could be the start of a long stretch of hard road tests that Chicago will face in November.
Player of the Game: Jimmy Butler
Score: 107-98
Winner: Atlanta Hawks
The Bulls are going up against a team that has a top 10 ranked defense, pace and offense. It's going to be tough ask for them to go on the road and steal one from one of the better teams in the East. What do you have for the score and who is your player of the game? Let us know in the comments.
This article originally appeared on