Chicago Bulls 15th Man: Thomas Walkup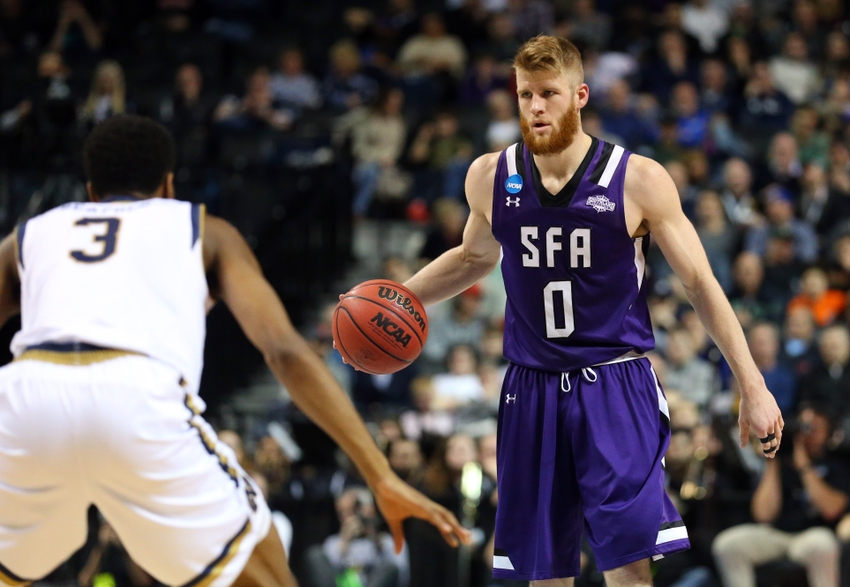 As the regular season looms, the Chicago Bulls will have to start making cuts. With 18 players still on the roster, we take a look at what Thomas Walkup has done so far and where he goes from here.
The Bulls waived forward Vince Hunter on October 4, cutting their roster number down to 18. Still, they'll need to make three more cuts before the season starts.
One of the guys on the bubble is Thomas Walkup. We gave you a great profile of what Walkup did for Stephen F. Austin in college, but now it's time to look at what he's done through three preseason games and where he goes from here.
There isn't much to say about Walkup or the other bubble players right now. He has played in just one game for a grand total of 2.4 minutes. During that time, he committed a turnover, grabbed a rebound and missed a shot.
There's a lot of potential for Walkup, as this video of his NCAA tournament performance this spring shows.
Walkup dominated in a huge upset win over West Virginia and did a great deal of work on the offensive end of the floor to keep his team within striking distance of Notre Dame.
The outlook for making the Bulls roster is essentially zero. He didn't shine in summer league with the Golden State Warriors, either. Walkup will be a prime candidate to join the Windy City Bulls as that roster continues to take shape.
As a 6-foot-4-inch guard, he has the size to make it work at the professional level. In his highlight video from the 2016 NCAA tournament, you can see that he has the ability to get to the rim and flashed some accuracy from mid-range and beyond the 3-point line.
If Walkup wants to make a late push for a shot at the Chicago roster or wants to lock up an offer from Windy City, he'll need to work well in whatever limited time he sees the court over the four remaining preseason games. Naturally, the decision from the Bulls perspective is going to factor in all of his practice performance and behavior, something that we don't have access to.
Whatever happens, we can safely assume that Walkup is a name that will be associated with the Bulls in some way or another beyond the rest of this week.
More from Pippen Ain't Easy
This article originally appeared on