Checking in on last year's former Orlando Magic players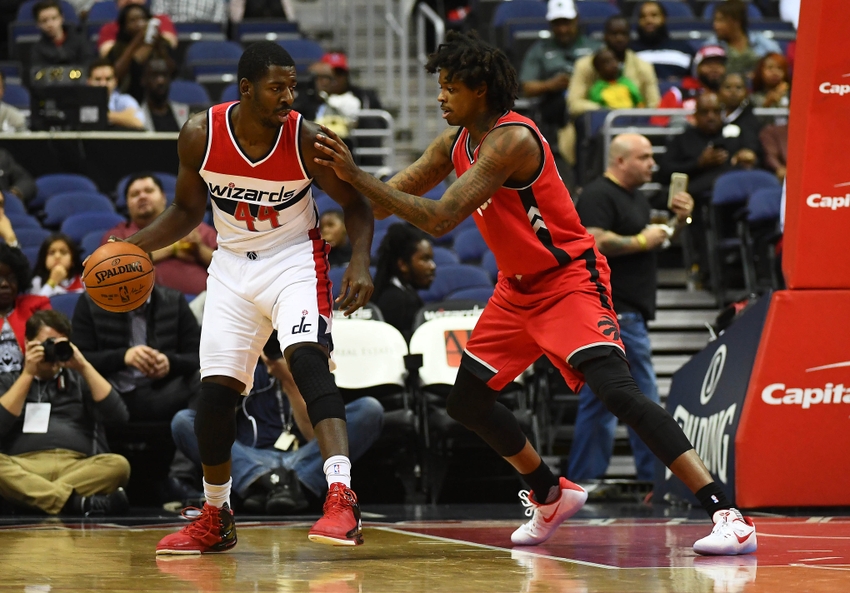 The summer brought change to the Orlando Magic. As the season has begun, how are the players the Magic let go doing. Does anyone have buyer's remorse?
The new season has brought new faces to the Orlando Magic. And having new faces inevitably means the old faces have to go somewhere to make room.
Some faces are eager to get out the door. Others struggled with goodbyes. The fans applauded some face-swapping and lamented others.
At any rate, the rosters are set (for now at least). And the Magic have made a start  with their new group. Whether that start is encouraging or enfeebling is up for debate, but it is the start the Magic have.
Eyes though tend to wander, especially as a team struggles. And with the Magic making so many changes, the team's somewhat uninspired 3-4 start has plenty of fans thinking about what could have been and what moves the Magic could have made in the meantime.
Orlando has already been reminded of what could have been in some respects with Jason Smith and Andrew Nicholson returning to the Amway Center on Saturday. They will get reunited with Victor Oladipo in Oklahoma City on Sunday.
So what about the old faces? Where did they land? Are they in a better situation? How are they playing? All things considered, what the Magic faithful want those faces back considering what we now know?
These questions will haunt fans if the Magic continue to struggle. And they will keep an eye on these players.
Victor Oladipo
Victor Oladipo represented the highest Magic draft pick since Dwight Howard in 2004. Not only did he bring considerable fan-friendly skills, but he brought a personality too. A dunk contest appearance mixed with constant singing renditions won him many hearts.
On the court last year, he was an energetic defender, often providing the example for other Magic players to follow. His offense struggled after Scott Skiles' mysterious decision to bench him but all agree he was the biggest name to have to leave the Magic this summer when he was dealt to the Oklahoma City Thunder.
Oladipo finds himself in a much clearer role than he ever had in Florida.
With the Thunder, with Kevin Durant headed to greener pastures, Oladipo is the de facto number two man. He has a front row seat to watch Russell Westbrook attempt to average a triple-double and essentially pick up the slack.
There is no doubt Oladipo can thrive in this role. His slashing ability mixes with Westbrook's ability to draw the D, and it would be no surprise to see him take on the opposition's best perimeter player as the season progresses.
Per Game Table

| Season | Tm | G | MP | FG | FGA | FG% | 3P% | eFG% | FT% | TRB | AST | STL | TOV | PTS |
| --- | --- | --- | --- | --- | --- | --- | --- | --- | --- | --- | --- | --- | --- | --- |
| 2016-17 | OKC | 7 | 33.6 | 5.7 | 13.6 | .421 | .355 | .479 | .704 | 3.4 | 1.6 | 0.6 | 1.7 | 15.7 |
| Career | | 231 | 33.2 | 5.8 | 13.4 | .431 | .339 | .474 | .805 | 4.3 | 4.0 | 1.6 | 2.7 | 15.8 |
As far as numbers go, Oladipo has experienced a drop across the board, despite his minutes being similar. This is understandable, given how Westbrook dominates the ball. In fairness, Oladipo's shooting percentages are similar, aside from a strange drop in free throw percentage.
The Thunder, written off by many, have had a surprisingly strong start and it is clear Oladipo is a part of that. He has put up 21, 20 and 21 in two wins and a loss already.  Oladipo was never quite given space to show his talents in Orlando.
Considering Serge Ibaka's rough start, Victor may well be missed by season's end.
Not too much needs to be said about Channing Frye.
He was brought onto the Magic two seasons ago to provide some veteran presence (at age 32) and some strong outside shooting. Neither panned out too well and mid-season Frye was flipped to the Cleveland Cavaliers.
As we all know, the Cavaliers went on to win one of the most celebrated championships, breaking Cleveland's big four title drought.
Frye's role did not really change on the Cavs. He did play a memorable role down the stretch and the Cavaliers certainly made more use of his skills than the Magic ever did.
Frye plays a limited bench role even now, and is unlikely to really impact the regular season for the Cavs. Still, one cannot deny his use down the stretch and into the playoffs.
In all fairness, he is shooting 52 percent from three so far this year. Expect to be able to watch Frye long into the playoffs.
Dewayne Dedmon came out of left field last season. It was just his second full year with the Magic and the casual fan likely would not have been able to identify him on opening day.
Yet, as circumstances went, Dedmon found himself starting 20 games last year, despite only averaging 12 minutes per game. His stats were definitely nothing to brag about, yet he did plug a very dangerous hole for Orlando. He really showed his worth as a rebounder/defender.
The San Antonio Spurs, world-renowned for their ability to spot unseen talent, noticed this and plucked him from the Magic.
Already, six games in, critics have praised this move. In the Spurs system, Dedmon is flourishing in those hinted at talents.
Again, the numbers will not blow anyone away, but his impact is being felt instantly. Yes, this is the Spurs, and to judge any team against them is harsh. But San Antonio is already likely making Orlando wonder about just what they gave up with Dedmon.
At the start of last season, Tobias Harris was one of the longest tenured Magic players and many considered him becoming the 'number one option' going in.
True, Nikola Vucevic was coming off a great year and warranted the same attention, but most felt this would finally be the year Harris came into his own and grew into his skills. Harris, by all accounts, is a very talented basketball player.
Last season that did not shine through for a number of reasons. Harris became more and more misused, more and more frustrated and around midseason was traded to the Detroit Pistons for Brandon Jennings and Ersan Ilyasova.
The Magic fanbase were split on the decision.
Harris' potential was clear, but it was also obviously not working out on the court. The Magic did need a back up point guard at the time, so perhaps it would turn out OK.  And the Magic were making a move for cap room to make a big splash in free agency.
Others cried out that the Magic did not get fair value back. Seeing as neither Jennings nor Ilyasova are still with the Magic, and considering that all that promised free agent room only turned into Serge Ibaka (via tradde) and Bismack Biyombo, it is clear now the Magic lost the trade.
Especially considering the kind of year Harris is already having. His scoring average jumped from 16.6 to 18.8. And that is not his only improvement.
He hs bettered himself in terms of shooting and efficiency. Harris has seen a jump in field goal percentage (46.9 to 55.1) and 3-point field goal percentage (33.5 to 45.0).
In fairness, his rebounds and assists have taken a slight dip, but it seems obvious that after taking a few months to get involved, Harris is now a fully immersed Piston, ready to help the Pistons build on their eighth seed finish last year.
Harris will forever be looked upon as what could have been whenever the Pistons play. In all fairness to him, it could be argued last year was indeed the year for him to prove himself, and only the team's mismanagement held him back.
Looking back, one would have to say the option is clear. Given the choice, almost every Magic fan would have cancelled that trade in a heartbeat, perhaps that breakout year just got delayed by 12 months.
Ersan Ilyasova
As mentioned above, Ersan Ilyasova was only with the club for a few short months after the Harris trade. While Brandon Jennings was obviously the main bait Detroit dangled, the 6-foot-10 forward was not without his charm.
He had a few very productive years in Milwaukee and was hoped to be a presence inside. Of course, that did not quite pan out. Ilyasova averaged 8.8 points and 5.5 rebounds in his 28 games with Orlando, just about bordering on respectful.
It became clear Ilysaova simply did not fit with Vucevic and an already growing Aaron Gordon. Add Ibaka and Biyombo into the mix, and there was simply no room. It absolutely made sense for the Magic to send Ilyasova out west with Oladipo.
Ilyasova's western adventure did not last long. Already he has been traded back east to the Sixers, where he will make another run at holding down a spot in the NBA.
Brandon Jennings
Brandon Jennings played the second half of the season for the Magic last year and injected an initial jolt of energy into the team.
The experience was a two-way payoff: Jennings himself had only just returned from a year-long injury. The first few games were full of a running, dishing Jennings that helped the team lift its spirits. Of course, the effects were not long lasting as the hope of the playoffs came and went.
For the Magic last year Jennings scored 7.0 points per game while making 4.0 assists in just 18 minutes per game. His shooting percentage, at 36.6 percent, did nothing to help him. (He is only a career 39 percent shooter).
The Magic were clearly moving on. And once the call of New York City came, Jennings was gone. It was a final nail in the coffin for the Tobias Harris deal.
Jennings, with a personality seemed almost destined for the Big Apple, is currently Derrick Rose's back up, though he is definitely trying to sniff out any blood that might lead him back to a starting spot.
Shabazz Napier, of NCAA Tournament fame, began his career being heavily coveted by LeBron James. Shortly after that, an underwhelming rookie year landed him in Orlando for his second go around.
In theory, Napier should have had no pressure. Come in at garbage time and slowly earn the coach's respect. The injury to C.J. Watson put an end to that. Napier was suddenly asked to play. Not major minutes, but certainly more than he should have at that point. And he was tasked with running a ragged team's offense.
The result was averages of 3.7 points and 1.8 assists per game with a side of 33.8 percent shooting.
After appearing in 51 games for the Magic, Napier has gone to Oregon to play for the Portland Trail Blazers. In four games this year he is averaging just five minutes per game and posting less than a point and an assist per game.
Napier will look to finally make his mark on the NBA this year.
Andrew Nicholson
Andrew Nicholson may be one of the forgotten names of the 2016 season. Always considered a potential diamond in the rough, Nicholson did show the odd glimpse here and there for the Magic last season.
But he only appeared in 56 games with zero starts, and posted 6.9 points and 3.6 rebounds per game. It may have even escaped the casual fan that Nicholson has since moved on and is now playing for the Washington Wizards (until this past weekend's game at least).
Nicholson's numbers remain in the same area, although his shooting has suffered. It is now up to the Wizards to discover Nicholson's potential talent.
Jason Smith
Despite only being 30 years old, Jason Smith was one of Orlando's de facto veterans last season. And, in all fairness, he delivered.
Smith had always been able to carve a niche for himself on teams. He is a smart and physical player. And he has fine tuned an elbow jumper. The Magic would often turn to him when they needed to slow it down and cool their heads.
Conversely if an opposing player needed a bit of roughing up, Jason was your man. He was reliable and the type of player that Orlando needed.
He also went to the Wizards, his fifth team. Despite the average age for the Magic being higher this year (as well as there being less minutes for Smith), it would not be surprising to see the team missing his understated value.
This article originally appeared on