Charlotte Hornets Unveil New Video Scoreboard and Other Arena Changes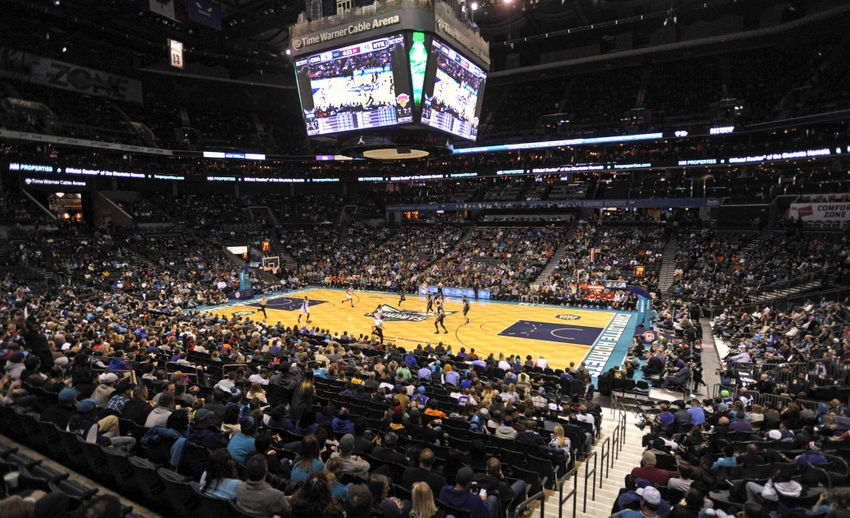 The Charlotte Hornets recently unveiled their new video scoreboard and other in-arena changes that will be noticeable this season.
The Charlotte Hornets have finally unveiled their new state-of-the-art video scoreboard to the public. The team recently held an event at the newly renamed Spectrum Arena to show their new scoreboard to season ticket holders and media. They announced the construction of the video board earlier this summer and now that it is completed, it is arguably the best in the NBA.
The in-arena renovations didn't stop at just the new video scoreboard, they also added four new auxiliary boards in each corner of the arena. Not just that, but there are also new double-ring LED ribbon boards. The organization's outstanding changes to the arena should only help the game experience for fans.
One of the most unique features of the new scoreboard is the underbelly which consists of a honeycomb style hive with a Hornets' logo. There are also two huge underbelly screens that will hope improve the game experience. The new additions are really quite amazing and the team has made an active effort to make improvements.
More from Swarm and Sting
The Hornets' old scoreboard wasn't horrible but the new one makes almost every other scoreboard look outdated. The new sideline boards are a 181% increase from the previous screen. The new look and High Definition gives the arena a new look and feel. It should do the same to games this season.
The new sideline screens are now the tallest in the league at 42.8 feet wide and 25.2 feet high. The team's PR said that they are the highest quality HD boards in the league. The quality of the video is a noticeable improvement over the previous screens.
Fans, media members, and even Marvin Williams was impressed with the new additions to the arena. Fans should be able to have an amazing experience sitting anywhere during the games this season.
The Charlotte Hornets now have one of the best video scoreboards in the National Basketball Association. Fans will be amazed and surprised by the outstanding in-arena changes. With all of the new video boards and the underbelly hive, going to games at the Spectrum Arena is now one of the most unique experiences in all of sports.
This article originally appeared on