Charlotte Hornets: The Undervalued Play of Ramon Sessions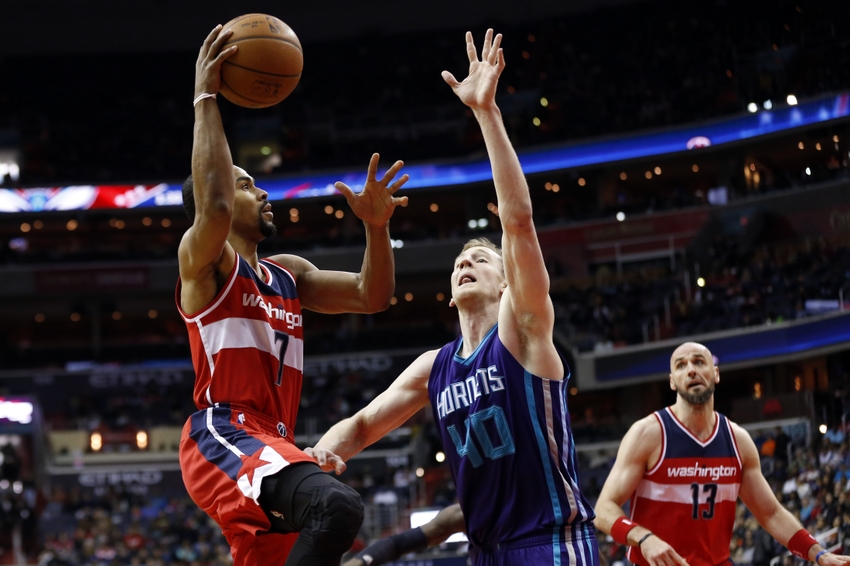 There will be a lot of pressure on Ramon Sessions this season as he makes his return to the Charlotte Hornets but he is the perfect man for the job.
Ramon Sessions is not a big name signing but he is an important player for the Charlotte Hornets going forward. He has been overlooked and undervalued for most of his career but Sessions will get his chance to shine this season. The Hornets are one of the best teams in the Eastern Conference from last year and Ramon should play a big role for the team.
While there may have been other point guard options for the Hornets to choose from this summer, Sessions was the best and most logical choice. The team was able to sign a veteran player at somewhat of a discount this offseason. He should provide great leadership and production from the bench.
The 6'3 point guard has played nine seasons in the NBA with plenty of teams such as the Milwaukee Bucks, the Minnesota Timberwolves, the Cleveland Cavaliers, the Los Angeles Lakers, the Charlotte Bobcats, the Sacramento Kings, and last season with the Washington Wizards. Durability and health are big for Charlotte this season and Sessions played in all 82 games last year. His play has been consistent over the past few seasons and Ramon has a great amount of experience at this level.
More from Swarm and Sting
When Jeremy Lin signed a three-year, $36 million deal after only one season with the Hornets, many fans didn't expect the team to find a viable replacement this offseason. Charlotte struck a two-year, $12.2 million deal with free agent point guard, Ramon Sessions this summer. That contract includes a team-option for the second year and at the price, he comes in at a much cheaper price than that of Jeremy.
According to the Charlotte Observer, Steve "Clifford indicated Lin would be the toughest to replace because of his versatility to defend both point guards and shooting guards." Contrary to that belief, Ramon Sessions can replace Jeremy Lin's production single-handedly. Although it is unlikely that he will be able to do so, Sessions is a great player whose play has been somewhat overlooked.
Ramon isn't the household name that Lin is but his play on the court is just as good, if not better. Sessions can fill the void that Jeremy left by being the sixth man and playing alongside Kemba Walker in a two point guard set. He is about the same size as Lin with both players being 6'3. The team shouldn't see much of a drop off in offense or defense from Jeremy to Ramon this season.
Per Game:
Lin: 11.7 PPG, 3.0 APG, 3.2 RPG, 26.3 MPG, 41.2% FG/ 33.6% 3P/ 81.5% FT
Sessions: 9.9 PPG, 2.9 APG, 2.5 RPG, 20.3 MPG, 47.3% FG/ 32.4% 3P/ 75.6% FT
Per 36 Minutes:
Lin: 16.1 points, 4.1 assists, 4.4 rebounds
Sessions: 17.5 points, 5.2 assists, 4.4 rebounds
Per 100 Possessions:
Lin: 22.4 points, 5.8 assists, 6.2 rebounds
Sessions: 23.7 points, 7.0 assists, 5.9 rebounds
Based on the per 36 minutes and per 100 possessions stats, Sessions was better last season than Lin was. Although he is mostly overlooked, these advanced stats show that Ramon is a real threat. He has been a quality player in the NBA for years and is the perfect replacement for Jeremy. With the added playing time that Ramon will get this season with Charlotte, he should replace most of Jeremy Lin's production from last year.
Want your voice heard? Join the Swarm and Sting team!
Return to Charlotte
Sessions will be making his second stint in Charlotte after playing with the team from 2012-2014. He played for one and a half seasons with the team before being traded to the Milwaukee Bucks. During his time in Charlotte, he played alongside Kemba Walker.
He has experience next to Walker and even though Ramon did not play under Steve Clifford, his familiarity with Kemba and the city should make the adjustment easier. During his time with the then Bobcats, Sessions averaged 12.5 points per game, 3.8 assists per game, and 2.5 rebounds per game. He appeared in 116 games for the team but only made seven starts.
The 30-year old point guard is accustomed to coming off of the bench and playing the back-up point guard role. His first stint in Charlotte was successful but he will need to be even better to help this team make the playoffs and succeed this season.
It will be interesting to see how Ramon plays for the Charlotte Hornets. I would expect him to play a vital role for the team this season. He will be leading the second unit from the bench. With the amount of money spent this offseason, Sessions is one of the steals of the summer.
This article originally appeared on