Charlotte Hornets: The Early Season Hornet Heroes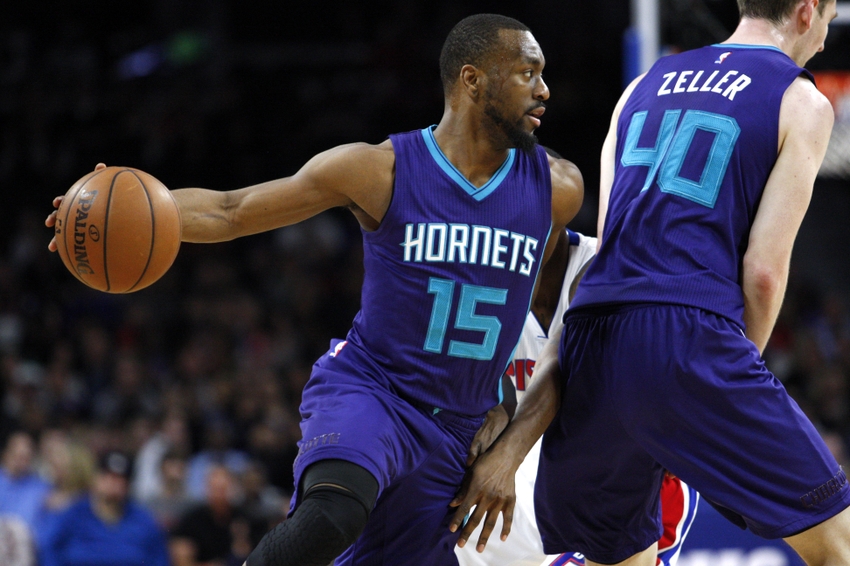 Plenty of Charlotte Hornets' players have stepped up to the plate early in the season with the team off to their best start in franchise history.
As it stands, the Charlotte Hornets sit at an impressive franchise best 5-1. Whether behind the heroic efforts of one of multiple players, the team has seemingly continued the success of last year's squad despite losing three of its best players, having multiple experts expecting a decline and failing to sign a star player. What has happened has been far different than most have expected.
In the first six games, the team has only lost one game to the Boston Celtics (3-3), who were widely projected by many to finish ahead of them in the Eastern Conference standings. After many early season growing pains, including early injuries as well as slow starts, the Hornets have developed a working dynamic that ultimately led to the utter destruction of the 122-100 win over the disappointing Indiana Pacers (3-4).
Now rising through the ranks, the Hornets have become more than relevant this year. And thanks to the play of some of the team's highlighted players, the season have gotten off to the best start in franchise history. Here's a list of some of the early season heroes for the Hornets thus far into the young season.
More from Swarm and Sting
Kemba Walker – 24.3 PPG, 5.5 AST, 49 FG%, 48.7 3PT%
Cardiac Kemba has played great for the Hornets this season and is off to a career-best year in points and both field goal and three-point field goal percentages. Often taking over games and leading the team in critical moments, Kemba has proven why he is a leader on an underdog Charlotte team. After dropping 30 points against the Brooklyn Nets (3-4) in a winning effort, Kemba returned home to score 24 points along with 10 assists in a blowout without playing a single minute into the fourth quarter.
The play of Walker has indeed elevated, and it's looking increasingly more realistic that he may indeed make his first All-Star game as well as giving Charlotte its first All-Star since Gerald Wallace in the 2009-10 season.
Nicolas Batum – 13.3 PPG, 4.5 AST, 6.3 REB, 37.3 FG%
The $120 million dollar man is a jack-of-all-trades. Since returning to Charlotte, Batum has become both a fan and player favorite with his play. Though his point total may not be seen on an All-Star level, Batum's play screams high profile. During this season, Batum has combined his trademark crafty passing with fewer turnovers, undervalued scoring, and helpful rebounding.
The knack of finding open and cutting teammates has given life to an improving Charlotte offense. Also, if counted on to score, fans will remember his 17-point third quarter against the Philadelphia 76ers (0-6), where he was the spark that ignited the Hornets and gave Charlotte the lead that would ultimately secure the win.
Michael Kidd-Gilchrist – 9.7 PPG, 7.8 REB, 53.7 FG%
After missing the majority of last year's campaign with a season-ending shoulder injury TWICE, many people waited with angst to see what version of the young forward that the Hornets would unveil, and what happened was tremendous. MKG exploded against the Milwaukee Bucks (4-3) gaining 23 points and 14 rebounds.
Though he isn't known for his offensive capabilities, he demonstrated the offensive ability that he worked hard to improve upon. Defensively, MKG didn't miss a beat in his return. His ability to affect offensive players and a little extra protection at and near the rim has added to the team's defensive mindset.
Want your voice heard? Join the Swarm and Sting team!
Cody Zeller – 11.3 PPG, 4.5 REB, 61.5 FG%
After starting the season behind newly signed Roy Hibbert, Zeller entered with a bang. Showing that last year wasn't an accident, Zeller exploded on the offensive end while also showing his added strength by holding his own defensively. The union between both Charlotte and Zeller has worked tremendously well thus far, and after signing a $54 million dollar extension, Zeller has been rewarding the team with superb play. Zeller has also highlighted more than a few plays on both ends of the floor by hammering down drives to the basket and strong defensive plays.
Hornet's Bench
The Hornet's bench has also become quite the surprise. With players such as Marco Belinelli, Spencer Hawes, Jeremy Lamb, Frank Kaminsky, and even Ramon Sessions, each of Charlotte's bench players have shown flashes of great play during the season. However, Belinelli and Hawes have been the two of the most notable faces lately.
With Lamb sidelined with a strained hamstring, Belinelli has taken over sixth man duties while simultaneously getting more comfortable in the Hornet's play system. His ability to lead the second squad, shoot from anywhere and create for other teammates have helped the team successfully transition from starters to reservists. Hawes, playing in place of the injured Hibbert, has also enjoyed increased duties while playing solid basketball.
The 7-foot stretch five has done his job of stretching the floor for the team while converting at a positive rate. Sessions, the undervalued reserve guard has done an awesome job of filling in for Walker. His ability to drive the lane and attract fouls at a constant rate easily helps the Hornets rest walker and replaces some of the points lost by the departure of Jeremy Lin.
Frank Kaminsky, the second-year player out of Wisconsin has been showing improvement since last year. After an offseason of improving his post moves and getting more comfortable in the NBA with the team, Kaminsky has shown improvement in both the preseason and offseason. Though much more is to be expected of a top-10 draft pick, Kaminsky is slowly becoming an asset with his improving post moves and long shooting range.
This article originally appeared on