Charlotte Hornets Takeaways: The Starting Five Makes Easy Work of the 76ers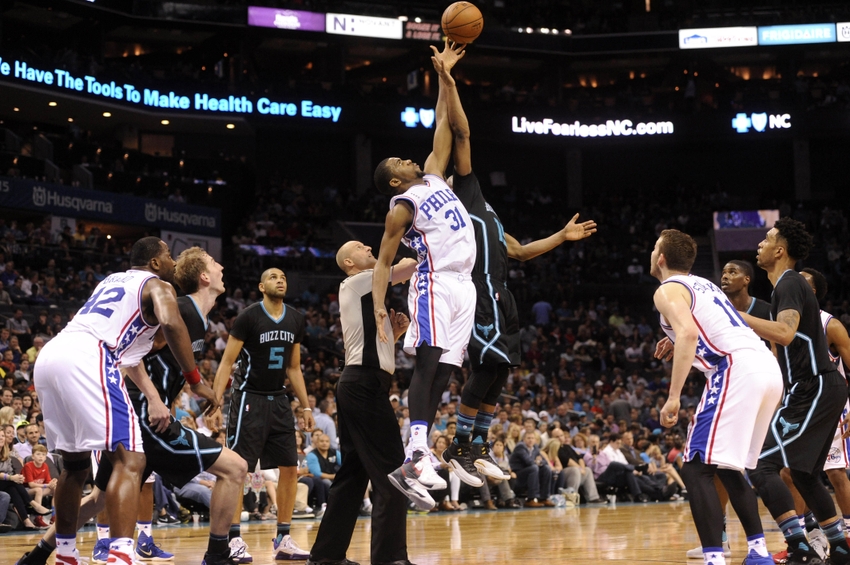 The Charlotte Hornets' starting five successfully defended the Hive with a strong 109-93 victory over the winless Philadelphia 76ers.
Nic Batum (20 points, four assists, seven rebounds) used a 17 point third quarter explosion to spark a full-fledged comeback over the Philadelphia 76ers, while Kemba Walker (22 points, seven assists, four rebounds) once again led the Charlotte Hornets in scoring on a 50% shooting night from the floor.
A slow offensive start pumped life into the 76ers, inflating their largest lead of the game to 13 points shortly before halftime. A break that became the key to victory.
Coach Clifford's squad came out of the locker room a new team, outscoring Philadelphia by 23 points in the second half. The suffocating defense that has been a staple under Clifford, reared its head in a second half where Philadelphia had no answer for the Hornets constant, tight switching.
More from Swarm and Sting
Philly became the third team this season held under 100 points by the Hornets, scoring a measly 40 points in the closing half. Charlotte's defense is allowing a respectable 96 PPG, making them a top five defense in the league after the first week.
The Hornets Starting Heroics
The Hornets starters were very efficient in this contest posting a plus-85 mark to the Philly's -20 disappointment. Philly rested their star rookie Joel Embiid (17.3 PPG, 6.3 RPG, 2.7 BPG) on the second night of a back to back as he continues to come back from nagging foot injuries.
Embiid's absence opened the door for Charlotte's stretch big men to make an impact. Cody Zeller, Spencer Hawes, and Frank Kaminsky combined for 35 points on 63% shooting. All three were imperative in stretching the floor and Kaminsky kept the 76ers honest with his range (2-6 from three).
Zeller showed up big time in his first game since inking a new deal with the team and he continues to lead Charlotte in field goal percentage at 64% on the season.
Rebounding responsibilities fell on Michael Kidd-Gilchrist (six points, 13 rebounds) and Marvin Williams (11 points, eight rebounds) who both hounded the boards all night. the two combined for over 30% of the teams' rebounds and will continue to serve as the Hornets glass cleaners all season.
A sloppy start put this victory in doubt, but this is the NBA, and the better team usually finds a way to win. Charlotte was pushed to the ledge of defeat and fought back against the ongoing "Process" in Philadelphia. Now its time to prove it against the leagues elite, and they'll get another chance Monday when they take on Paul George and the Indiana Pacers.
This article originally appeared on