Hornets coach politely informs the media that they don't know anything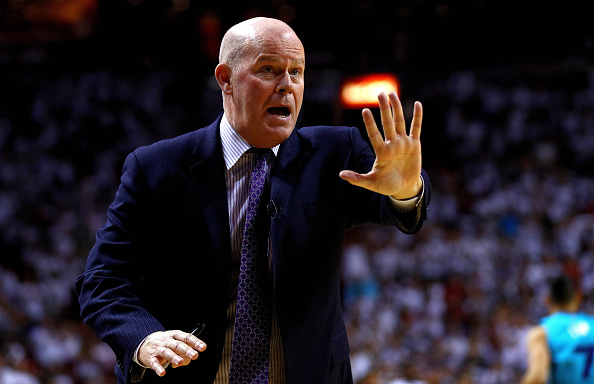 The Charlotte Hornets are down two games to none in their first-round series against the Miami Heat. They've been outscored by 44 points and allowed Miami to shoot a scintillating 57.8 percent from the floor.
But despite his team's defensive issues, Hornets head coach Steve Clifford doesn't think he's being outcoached, just that his team is being outplayed. And, with refreshing transparency after Game 2, he explained why game-to-game adjustments that are pushed by the media don't ever really make a ton of sense:
Outside the fact that some members of the media do watch film, and do study the numbers, this is still one of the best answers you'll ever hear an NBA coach give during a press conference. Clifford was honest and direct through his understandable frustration. Whether he's right or not is beside the point, even though a quick look at what's happening might suggest that changes are in order; stagnation is death in a playoff series when you're repeatedly getting smashed in the face with a sledgehammer.
Not to be disrespectful, but you guys, you watch these games, you just come up like something's got to change…So, this knee-jerk thing about something's going to change…everybody's asking me for two days, 'What about starting Al so your offense is better?' Our offense was 1.07 points per possession. You guys are looking at 91 points. You're wrong. Sorry.
-- Steve Clifford
The Hornets are scoring 106.7 points per 100 possessions. That's really good, and would place just outside the top five if plugged into the 2015-16 regular-season rankings. Unfortunately, their defense is allowing 132.3 points per 100 possessions. For perspective's sake, that number is so bad that the gap between it and the 30th-ranked Los Angeles Lakers is greater than the gap between the Lakers and the top-ranked San Antonio Spurs.
The Hornets are allowing higher shooting percentages from just about every area of the court than every other team in these playoffs. Clifford's point about on-court performance vs. off-court strategy is well taken, but whether he makes an adjustment or not, this series isn't a very good look for a Hornets team that some picked as a dark horse to reach the Eastern Conference Finals.